DERRY — ExpoIT, an information technology company reselling computer hardware and software to clients nationwide, has set up its headquarters in Derry alongside a new high-end car storage facility called MotorLoft.
Owner Katerina "Kathy" Kubec and her partner Tony Cerqueira celebrated a grand opening for their 9,360-square-foot building at 22 Manchester Road, unit 7, earlier this month. They bought the section of building in March for $529,000 with financing from Salem Co-operative Bank and spent about $50,000 to $60,000 renovating the space.
Kubec said she has been selling the technology for the past 15 years.
The company had a presence in Salinas, Calif., with about four employees a year ago, and with Kubec; her sister, Nicole Kubec; and Cerqueira working out of their homes or occasionally a rented office in New Hampshire.
Now, the California office has doubled to eight employees, and they employ 14 in the new Derry office with a dedicated sales and customer service staff as well as a recently-hired social media marketing person. Kubec says the economy has been good for business.
"It was either turn away clients or grow," Kubec said.
She said their clients include Dole Food Co., Chiquita Brands, Fresh Express, a big pharmaceutical company based in Massachusetts and the state of Florida's government offices. Kubec estimates about 80 percent of their clients are in California.
"So, we get pretty busy towards the end of the day," she said.
Kubec said the company prices aggressively, they offer priority technical service response times as fast as two hours when needed, and clients prefer working with a smaller provider like ExpoIT because it can be more agile, and buyers can deal directly with Kubec.
Agility will be an increasingly valuable asset, she said, as the industry is currently facing a shortage of Intel processors and is staring down the end-of-life date for Windows 7 in mid-January, when Microsoft stops supporting the operating system. After that, companies may be forced to upgrade platforms for security purposes.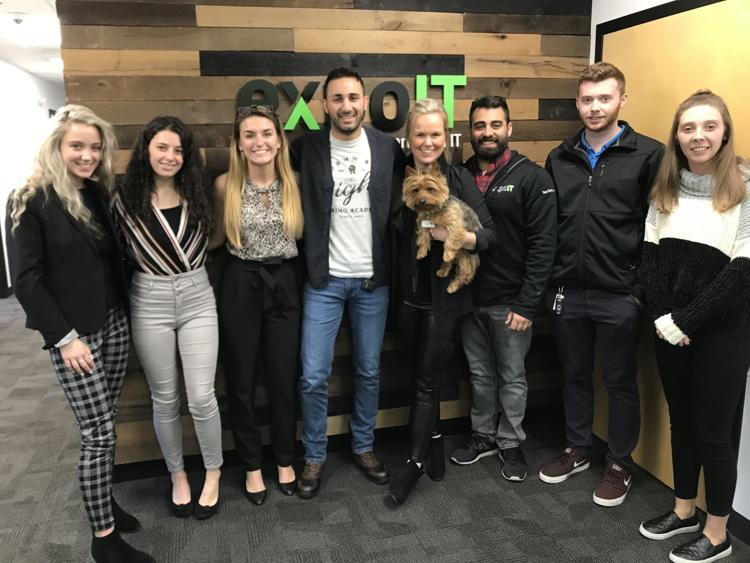 Kubec and Cerqueira are proud to have done most of the renovating work themselves, saving thousands of dollars on contractors and finding deals on aftermarket materials. Cerqueira, a mechanical engineer by trade and a professional motorcycle racer, quit his day job in the spring of 2017 to work on the businesses full-time.
They worked between March and July to finish the office space, and finished the car storage facility a couple weeks ago.
Cerqueira said they originally declined buying this space when they first looked at it because it was in such poor shape. The metal recycling company that previously occupied the space left it covered in grime and dust.
"It was filthy," Cerqueira said. "You could feel the debris in the air."
The floor was so deeply soiled that even after power-washing it, they were still tracking in dirt into the adjacent office space. They ultimately hired Northeast Flooring Solutions in Londonderry to grind and seal the floor.
Kubec had the idea of starting a high-end car storage company after viewing the space and brainstorming potential uses for the extra space. She and Cerqueira describe themselves as longtime car and motorcycle enthusiasts.
"This is our fun business," Kubec said.
Owners can store their car at MotorLoft for $160 per car per month. The facility provides a heated and secure space to store luxury sports cars over the winter.
They currently have 10 cars (mostly classic Porsches) and three motorcycles stored in the garage, with three more Harley Davidson motorcycles and a 1988 BMW 6 Series on the way. Cerqueira said the roughly 6,000-square-foot facility has room for about 30 cars.
The car storage business peaks around August and September when owners are looking to nail down their winter storage options, and drops off after that, Cerqueira said. Next year, they'll offer a referral program that offers a free month of storage for each referral.