CONCORD — Attorney General Gordon J. MacDonald said ever since Thursday when he announced a groundbreaking, nationwide agreement with phone companies to root out illegal robocalls, he's been thinking about the trauma that faced liver transplant survivor Kerry Forbush of Manchester.
MacDonald said most Americans refuse to answer the telephone because of the 47 billion robocalls that clogged up their lines in 2018.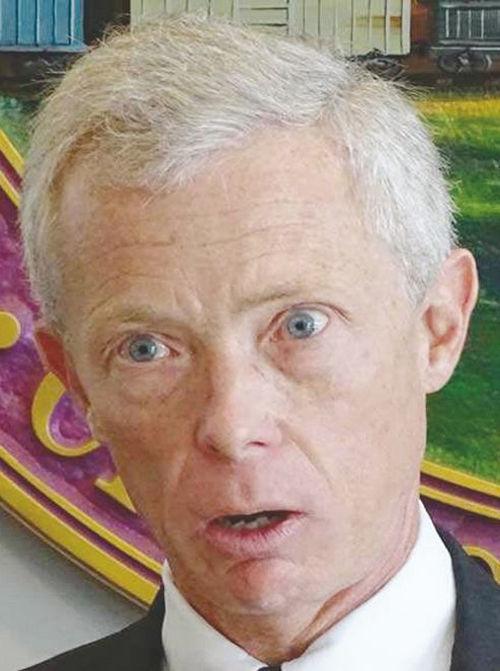 And three weeks ago, when a call identified as coming from Florida came up on her phone, Manchester's Forbush didn't answer it.
Unbeknownst to Forbush, this was the call for which she had been desperately waiting, the Union Leader reported Aug. 14.
Someone from Massachusetts General Hospital was on the other line with news that a liver donor had been found that would change her life.
"This epidemic of robocalls is changing the way we engage with telephones. Many of us don't answer the phone anymore and that's alarming," MacDonald said.
"The story of Kerry Forbush in Manchester really hit home with a lot of people at the announcement in Washington when I told the story. We ignore even legitimate calls because we don't trust them any more."
Fortunately, Mass. General left Forbush a voicemail message alerting her about the donor.
Goals aligned
About 18 months ago, North Carolina Attorney General Josh Stein and MacDonald got together for the first time on this topic.
"We decided we wanted to take this on and set up working groups that involved 40 attorneys general," MacDonald said.
While the work was complex and time-consuming, MacDonald, a former corporate lawyer, saw early on that the talks were heading in the right direction.
"From the beginning, the engagement was positive. There were some issues we needed to work through, but we did and got it done," MacDonald said.
"At the end of the day, the interest of law enforcement and the providers of a service align. They want people to use their service, they want legitimate calls to go through, they want their subscribers to renew, and they want to catch bad actors. Those are our goals, too."
With this agreement came eight principles the parties have embraced that commit the phone companies to using existing technology to better "authenticate" calls.
MacDonald said this means one day consumers will again have confidence in their telephones.
"There used to be a day when you could rely on your caller ID. No more. The whole goal of this exercise is to make sure there comes a day when it will actually be viable again," he said.
Arming consumers
The phone companies in this agreement have stepped up to arm consumers automatically with the programs that will block the obviously bogus calls.
"The industry has the ability to screen out problematic calls and scam calls. They have agreed to implement call blocking at the network level at no cost to the customer," MacDonald said.
Along with prevention and enforcement, the AG said he's most proud that this agreement will protect the most vulnerable citizens from being preyed upon.
"The third and most pernicious aspect of these calls is they are used as a tool by financial scammers and criminals to prey on members of the public and particularly our vulnerable population, especially the elderly. The robocallers use techniques that are deliberately targeted at these folks," MacDonald said.
"The most common feature is neighbor-spoofing. The number has been hijacked by the scammers, and you are more likely to pick up and engage with someone calling from that number because it has your area code and local exchange."
There is no timeline on when the phone companies must follow through on all these commitments, and MacDonald urged consumers to remain patient.
"This is an important first step, but it will take a while for it to be implemented. In the meantime, you need to be as vigilant as you possibly can be," he said.
"Some industry players are already doing these things. It will take a while for all these industry players to do all of these things."
Signing the pledge are larger mobile carriers, such as AT&T, Comcast, T-Mobile, Sprint and Verizon, which already have said they would implement such robocall protections, and in some cases have started testing them around the country. The other carriers adopting the pledge were Bandwidth, CenturyLink, Charter, Consolidated, Frontier, U.S. Cellular and Windstream.
"The fight against the scourge of illegal robocalls requires all hands on deck, and we welcome and appreciate the support of the state attorneys general," AT&T said in a statement Thursday.
The government's top telecom agency, the Federal Communications Commission, also has enacted a series of reforms designed to give consumers relief.
The FCC adopted rules this summer that pave the way for carriers to enroll customers in call-blocking technology by default. The agency did not require that these services be offered for free, though FCC Chairman Ajit Pai has urged the industry to provide protections without charge.
Shaheen backs federal law
Meanwhile on Capitol Hill, Sen. Jeanne Shaheen, D-N.H., is one of the leaders pushing a federal law to give regulators more time to find scammers, increase penalties for those who are caught and help coordinate enforcement to increase criminal prosecution of illegal robocall makers. The Senate passed the measure, 97-1, last month.
"I really am optimistic we will be able to get this passed. Similar legislation is pending in the House, and we hope there will be agreement between the two bodies in the near future," Shaheen said last month.
MacDonald praised Congress, but said consumers should not have to wait.
"I think the legislation is important, but as attorneys general, we are on the front lines of this. We have hundreds and hundreds of these calls every day, week or month. I felt the need to act was now and not to wait for the federal legislative process to work," he said.
Every day, consumers get legitimate robocalls — the most common ones in New Hampshire are school-closing alerts — but there are also those that advise about upcoming medical appointments or that prescription drugs are ready to pick up.
Senior Assistant Attorney General Brandon Garod, who heads the consumer protection and antitrust bureau, said consumers should trust but verify.
"The best practice is if you don't recognize the number, let it go to voicemail. If it is legitimate, the party will leave a message," Garod said.
MacDonald said state prosecutors working together can have enormous leverage. "The job I have is a special opportunity to be able to act to protect the public," MacDonald said. "When AGs across the country get together, we can really move the needle on issues, and I think this is a great example."