DURHAM — Commercial oyster farming in New Hampshire has been growing on the Seacoast as smaller operations ramp up to the scale of full production.
New Hampshire's 32 commercial mollusk operations already pull in an estimated $419,000 in sales annually. A bulk of that money comes from oyster farms, according to a research professor of biological sciences at the University of New Hampshire.
Ray Grizzle works at the New Hampshire Agricultural Experiment Station. He said not only are commercial oyster harvesters benefiting the economy, but they are also helping the environment because oysters offer free water filtration services during their lifetime.
A single oyster can filter as much as 30 gallons of water a day, according to The Nature Conservancy in New Hampshire.
"The farmers are providing a number of ecosystem services. That's a good thing they are doing for the environment," Grizzle said.
In 2013, four New Hampshire farms reported harvesting a total of 81,274 oysters. Last year, 11 farms sold 439,497 oysters, according to statistics from New Hampshire Fish and Game.
Fish and Game officials have now approved 26 licensed oyster farm sites. Most farmers have not even begun to sell their oysters yet, Grizzle said.
Grizzle said there has been some pushback from local residents around Little Bay in Durham, but said, "The bay doesn't belong to them. It belongs to the citizens of New Hampshire."
Opposition to expanding commercial harvesting operations from Little Bay into the mouth of the Oyster River could be felt on Tuesday morning during a public hearing at Fish and Game's regional office in Durham.
Christopher Gallagher, owner of Little Bay Beauties; Joseph Rankin, owner of Hidden Coast Shellfish; and Brian Gennaco, owner of Virgin Oyster Co., have submitted applications for permits to Fish and Game after the New Hampshire Department of Environmental Services in January approved harvesting oysters from the formerly prohibited area.
Now, harvesting is allowed in the mouth of the Oyster River from the beginning of May until the end of September.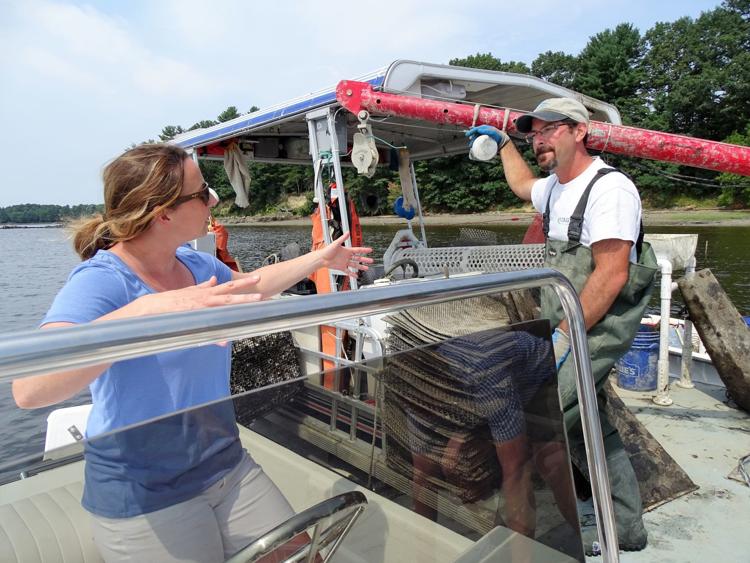 Gallagher explained to the crowd of about 80 local citizens that he has a 1-acre site in Little Bay and would like to expand operations to include 2 more acres on the north side of Oyster River.
Residents pelted Gallagher with questions about how his operation might affect motor boating, fishing, sailing, the UNH crew team and other forms of water-based leisure activities.
"I think we can coexist. I'm willing to work with recreation," Gallagher said.
Durham resident Malcolm McNeill expressed concern about the values of land farther up Oyster River. He insisted that approved permits must not adversely impact private property.
"I understand what you are talking about. I'm sure you are a good commercial fisherman and a scientist, but you're not a real estate expert," McNeill told Gallagher.
Rankin is seeking a permit for a 2-acre harvesting site to the west of Gallagher's proposed site.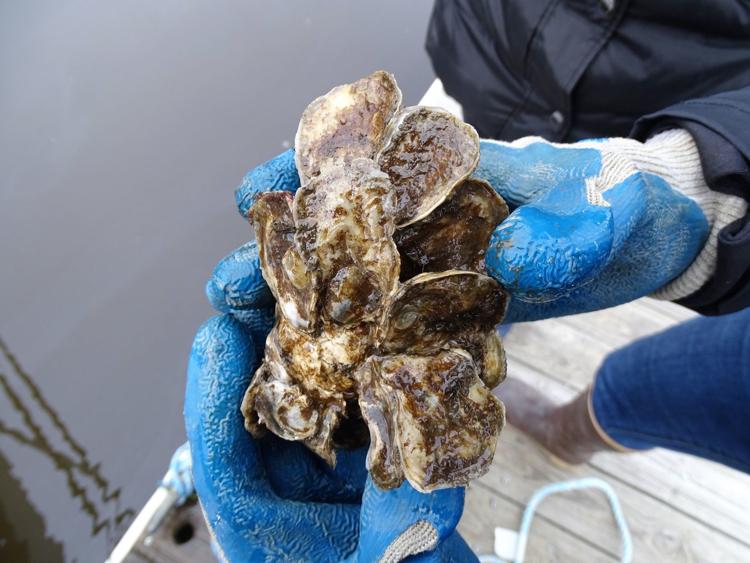 Gennaco seeks to develop a 2.1-acre site and had plans for some floating oyster gear prior to the public hearing but said he will take that out due to the opposition from those who spoke on Tuesday.
"We want to work with the public. We know we work in a public space, and we don't take that for granted," Gennaco said.
Gennaco said he is seeking a second site on the south side of the Oyster River because he wants some diversity in his growing locations. In 2014, he lost virtually his entire population due to a bad winter.
As oyster harvesting operations continue to grow and as they prepare for the future under the guidance of Fish and Game, DES and the New Hampshire Department of Health and Human Services, patrons visiting Seacoast restaurants have been driving demand for more of the local delicacies as they travel into cities such as Portsmouth.
Chef Jeremy Sewall, owner of Row 34 in Portsmouth, has been serving local oysters since the restaurant opened in 2015.
"Growing food takes a lot of hard work and dedication. Supporting local fisheries and aquaculture is important to us. By supporting them, we can keep locally grown food in our community and help the oyster farming industry. It is a big win for everyone, including the guests at our restaurant," Sewall said in a statement.
Fish and Game's public comment period for the proposed commercial oyster harvesting expansion into the Oyster River in Durham is open until Nov. 2.