Six more retail tenants will be joining L.L. Bean at Tuscan Village next fall, developers announced Monday.
The South Village section of the development will include national brands Old Navy, Ulta Beauty, JPMorgan Chase Bank and Chipotle Mexican Grill. Salem-based fitness company Drive Custom Fit and locally owned Pressed Cafe have also signed leases, according to a release.
Drive Custom Fit, currently located at 23 South Broadway, will be a 25,000-square-foot facility in the new development. Tuscan Village developer Joe Faro said the gym has about 3,000 members today and is growing, and that he's very excited to have them on board. "That is a very cutting edge, innovative fitness concept that has just taken the Merrimack Valley by storm," Faro told the Union Leader Monday.
Faro couldn't comment on the specific square footage of the other tenants, but he said this phase of the project currently under construction represents 200,000 square feet of retail for 26 tenants. Overall, the 170-acre development will have about 800,000 square feet of retail.
Pressed Cafe, which has two locations in Nashua and one in Burlington, Mass., will be in a stand-alone 5,000-square-foot building.
The 15,000-square-foot L.L. Bean store will be located adjacent to an artificial lake where customers will be able to test paddle sports equipment.
"It's not a traditional retail center. This is a mixed-use experience," Faro said.
Other possible brands that have been previously hinted at include Wahlburgers and The Beach Plum.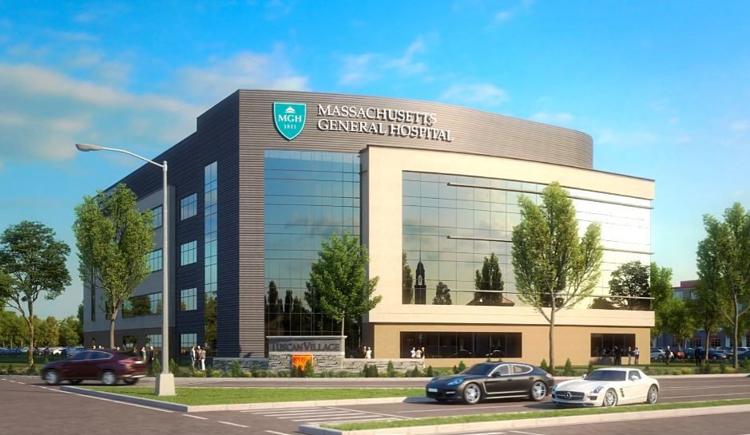 An online video tour linked in the press release shows a building with a sign that reads "Massachusetts General Hospital." Faro said a medical facility is planned to be in the Rock Office District section of the development, but no leases for the facility have been signed so far.
"We are working on a medical use, and we are hoping to name that tenant in the middle of December," Faro said. "But I cannot confirm nor deny that that is Mass General. But that is obviously one of the ones we were working with."
Faro said the big-name and local names attached to the retail parts of the development are "more validation" for the village.
"The next round of tenants will show you that as well," Faro said.
He expects another five or so retail tenants will be announced either before Christmas or next year depending on how quickly the leases get signed.
Developers hired Glenn Verrette in the spring to oversee commercial leasing for the office district.
As has been previously announced, Tuscan Market and Tuscan Kitchen will be relocated from their current location on Main Street into the Tuscan Village development.
"Tuscan Market takes the in-store culinary experience to a different level. Handmade pastas, freshly baked bread, hand-spun gelato, and other Italian specialties are made fresh every day," the release states. "A new and interactive cooking school will offer classes to truly transport guests to a kitchen in Italy."
Earlier this fall, sections of the North Village opened with a new Market Basket and Homesense, a home decor brand owned by The TJX Companies Inc. Those properties were sub-developed by Demoulas Super Markets Inc.