The Oracle sign atop a prominent Millyard building in Manchester is gone, and building owners have a replacement in mind.
The proposal is set to go before the Heritage Commission on Tuesday night.
This puts an end to a seven-year run of promoting a high-tech company renting a large amount of space inside the building. Dyn first installed its sign in 2014 before being sold to the Silicon Valley giant in 2016.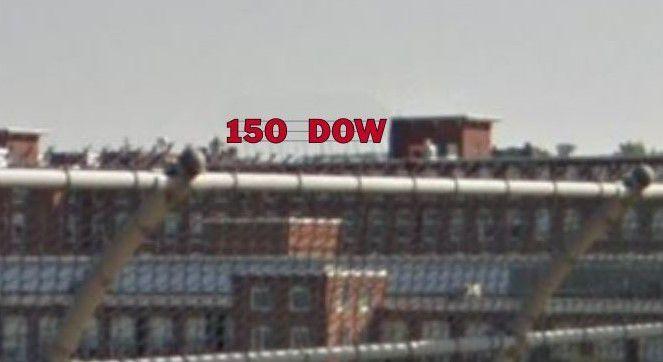 Oracle started vacating the 150 Dow St. space in 2019 — a little over a year after the sign was installed. The sign came down quietly last month.
Oracle bought Dyn for a reported $600 million. Dyn rose to high-tech prominence through its internet data traffic management services before it became a division of Oracle known as Oracle + Dyn. The company once had as many as 400 employees in the Millyard.
The building owner, Carlisle Capital Corporation, plans to have the new sign — "150 Dow" in red block letters — be permanent, according to Mark Graham, vice president and chief financial officer. The sign is highly visible from Interstate 293.
"We really like the prospect for the property," he said. "We've had a significant pick up on leasing lately. We are really bullish on Manchester's future."
The company is working on signing leases with two or three large tenants for the building.
"We hope to have an announcement soon," Graham said.
Advertisements show flexible floor plans between 2,500- and 100,000-square-feet. Original leasing information offered a "rooftop branding opportunity."
Jeremy Hitchcock, founder and former CEO of Dyn, said he isn't focused on the sign being taken down but rather what's being built across the Queen City, including more biotech companies, construction along the southern part of Elm Street and the future commuter rail station.
"Best days are still ahead," he told the Union Leader via text message Sunday.
Hitchcock and his wife, Elizabeth, have since founded Minim, a Manchester-based WiFi technology company. The company is headquartered on Elm Street.
The original Dyn sign was designed to draw attention to the Millyard as a tech-heavy area in the state. The company sought special permission to install the sign twice as large as allowed under the city ordinance in 2014.
Dyn designed the sign to mimic the massive Pandora Sweaters sign that dominated the Millyard for decades. The lettering was penned by Pandora owner May Gruber, who wrote out the Dyn name shortly before she died in 2013.
The "150 Dow" sign will be held up with brackets and will be lit up with an LED internal lighting system, according to the project application.
Some of the tenants in the building include Summit Ergonomics, Nathan Moreau Photography, Life Church and Hoyle, Tanner & Associates.
Kyle York, a former Dyn and Oracle executive, said on Sunday it's been exactly five years since Oracle and Dyn signed a definitive agreement. He drove by recently and said it was bittersweet seeing the sign gone.
He said it was only a matter of time before Oracle left the rented space given the company owns property in Nashua and Massachusetts.
"They committed to three years," York said.
The sign persisted about a year after the company stopped operating there.
He agrees with Hitchcock on the future of Manchester with potential for new "Dyns" springing up. York is now CEO of York IE, an investment firm.
"There are a lot of new investments happening across the state and Manchester," he said.
An earlier version of this story had an incorrect date for Oracle's purchase of Dyn.