ATKINSON — Due to an unforeseen quirk of the Tax Cuts and Jobs Act of 2017, a small drinking water provider in Atkinson is facing more than $1.15 million in federal taxes as a result of its involvement in constructing the Southern New Hampshire Regional Water Project.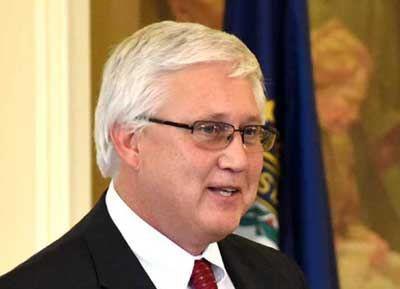 The Hampstead Area Water Company (HAWC) has already been handed a $300,000 tax bill for the $1 million construction of a new water tank, and is now looking at another $850,000 in taxes for additional components of the major water infrastructure project, according to state Sen. Chuck Morse, R-Salem.
Morse called the tax, which went into effect at the start of the year, unfair for the company and ratepayers. He said it could have a chilling effect on companies partnering with the state or municipalities on public utility projects, adding: "This is going to be a problem throughout the state of New Hampshire."
"This project wouldn't have happened if it wasn't for Manchester and Derry and Salem and Atkinson letting everyone use their pipes," Morse said. "The federal government is looking to tax us on a public benefit and that, to me, doesn't make much sense."
Over the next few years, new pipelines will be built to connect Manchester Water Works through Derry southward to Salem. From Salem, it will connect through the HAWC system in Atkinson, where it will ultimately connect to a brand new drinking water system in Plaistow.
HAWC General Manager Charlie Lanza said the new tax liability is the "unfortunate" result of recent changes in tax law.
"This is a burden to the Southern NH Regional (Water) Project and will cause additional burden to ratepayers of privately owned public utilities," Lanza said in an emailed statement. "It's important that legislators and affected parties bring this to the attention of federal lawmakers. HAWC is actively working on ways to do just this."
Morse said it was hard enough getting the project approved with all the various communities and stakeholders involved, without this additional tax. He said the rates communities are paying for water are just enough to cover operating costs.
"There's no profit baked into this," Morse said.What's taxed
The idea behind the federal Contribution In Aid of Construction (CIAC) tax is to tax industries that benefit from government or private donations related to construction. The tax is about 30 percent of the value of a construction project made possible through those donations, Lanza said.
State Department of Environmental Services Commissioner Robert Scott said the CIAC tax owes its origins to the 1986 tax reform law, but water utilities became exempt with subsequent legislation in 1996. The 2017 tax reform law lifted that longstanding exemption.
Scott said he first became aware of this wrinkle about eight months ago, after the Pennichuck water company was saddled with the tax when it connected homes affected by PFAS contamination with money provided by St. Gobain Performance Plastics in Merrimack.
By then, the regional water project was far along in the planning process. Scott said some tax attorneys are currently looking into whether the water project falls under an exemption for projects approved before Dec. 21, 2017, as part of a government's master development plan.
"I'm not sure there's a great solution in the short-term," Scott said.
Scott said it will likely take an act of Congress to fix the issue in the long term. NH DES has been discussing it with New Hampshire's congressional delegates, he said.
Morse said Gov. Chris Sununu is also aware of his concerns.
Grants from the state Drinking Water and Groundwater Trust Fund and the MtBE Settlement Fund are covering the roughly $27 million project.
An additional $300,000 loan from the trust fund is covering HAWC's initial tax liability for constructing the water tank, according to Morse. But that's only a stop-gap measure.
The additional $850,000 in tax liability is due to plans for Salem to build connecting pipes and other system components into HAWC's system and to later transfer ownership of those pipes to the company.
Similarly, infrastructure built in Plaistow in a latter phase of the project will also likely be gifted. HAWC is also tasked with using state funds to convert a number of its existing pumping stations for chloramine treatment.
All of the additional costs associated with the tax or any related loan interest are going to be passed on to the ratepayers in Atkinson and Hampstead, which Morse says he can't abide as a representative of Atkinson.