SEABROOK — Longtime customers at Seabrook Greyhound Park say they like the changes being made there.
"It's a lot cleaner. It's well groomed … The food is very good," Dan Septelka of Exeter said.
Septelka loves the thrill of betting on horses at the casino and says he enjoys spending time there, especially on a wet and lousy day.
Other customers at the casino agree, pointing out the improvements. CEO Andre Carrier of Eureka Casino Resort couldn't be more pleased.
Carrier, who has roots in Jackson, and his business partner, Greg Lee, who attended St. Paul's School in Concord, purchased the property earlier this year and are renovating the building. Chef Jon Moore has created a menu for a tavern environment, and parties to attract potential charitable foundation partners are being held at the casino.
Under state law, gaming rooms must give 35 percent of their gross revenues after prizes to local charities, which must be registered with the Secretary of State for at least two years.
The state receives 10 percent in games where tokens have monetary value and 3 percent in games where tokens have no value.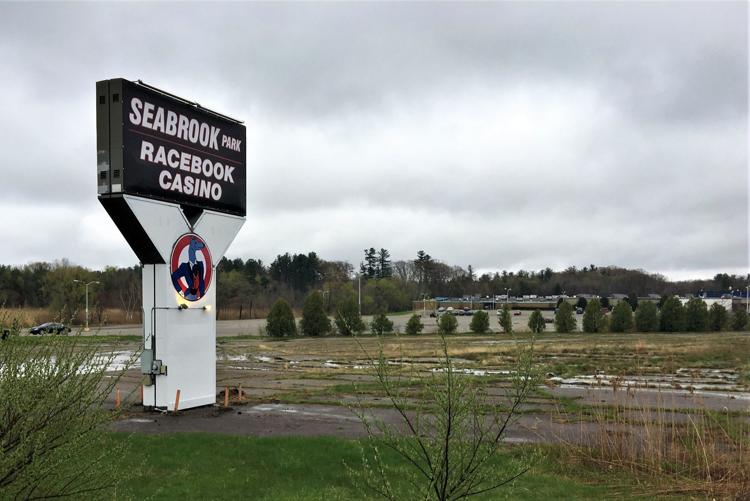 A party was held at the casino on the night before the Kentucky Derby, and at least nine charities were invited, including Rockingham Meals on Wheels and Future in Sight.
Of the new menu, Carrier said it was important to him that people view Seabrook Greyhound Park as a destination for quality food and entertainment.
"I wanted to give the customer a better experience right away," Carrier said.
Moore has pulled together a selection of food made from scratch that has some locally sourced products but is not too pretentious, he said.
"We're just feeling out what everyone is liking. We'll be featuring local meats and fish," Moore said.
The beer and bacon flight includes meat from a smokehouse in Claremont. Fresh seafood is purchased from fishermen on the coast, Moore said.
Locally produced beer from Smuttynose in Hampton, and spirits from veteran-owned Smoky Quartz Distillery in Seabrook are available at the bar.
Carrier said he is still committed to making sure the New Hampshire charitable gaming system is helping organizations in the local community.
"We are impact philanthropists. We tend to have a very active role in essential services for charities," Carrier said.
Carrier is also still hopeful that sports betting is soon allowed in New Hampshire.
"This will be the best place to get together and watch sports within 200 miles," Carrier said as he explained where all the big screen televisions will be placed.
Seabrook Greyhound Park on New Zealand Road just off I-95 was originally opened in 1973. Live greyhound racing took place there until 2010, when the practice was outlawed in the state.