CONCORD -- Buloze Rusesera fluffed pillows in Room 322 at the Courtyard by Marriott hotel attached to the Grappone Conference Center.
She sported a purple ski hat promoting "Colorado," though she's never been there. She only came to New Hampshire in November after fleeing the Democratic Republic of Congo and spending time teaching at a refugee camp in Burundi.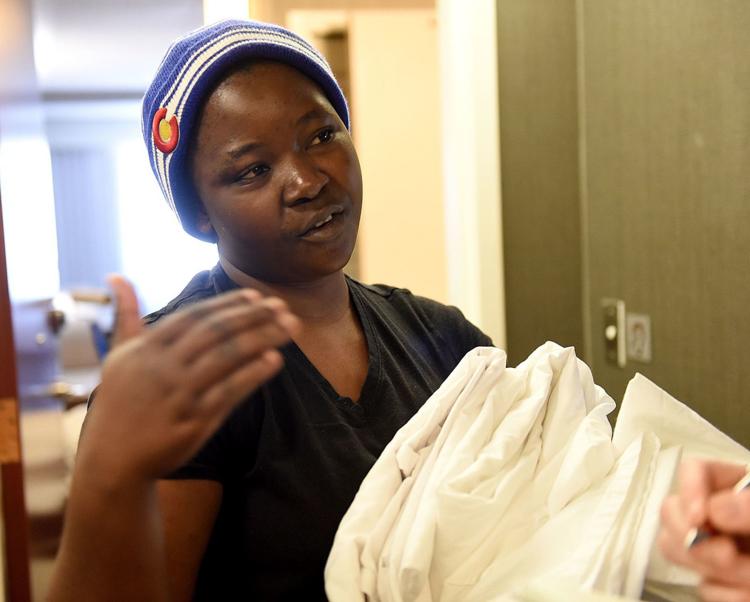 Rusesera, 21, is one of six Congolese refugees participating in a hospitality training program to help them learn English, American customs and job skills.
"The job is good," said Rusesera, whose mother and three brothers have since joined her in New Hampshire. "In Congo, there is not many job(s)."
Ascentria Care Alliance, a refugee resettlement group, partnered with Duprey Hospitality to help train refugees to work in the hospitality industry.
"All six were in some kind of refugee camp" — some for more than a decade, said Linnea Micciulla, a vocational English as a Second Language teacher for Ascentria.
More than 3,100 refugees have settled in New Hampshire over an eight-year period ending June 30, 2018. They have come from 18 countries, including Afghanistan, Iran, Syria and Iraq, according to state figures.
Bhutan topped the list with 1,205 refugees followed by 892 from the Congo.
Concord received 1,292 refugees — 50 more than Manchester — during that period.
"They do take entry-level jobs and are hard working and willing to work in jobs that might be slightly unpleasant to people and often are very willing to work overtime," said Barbara Seebart, the state refugee coordinator.
"You have refugees from all different backgrounds," Micciulla said. "We have people coming who might never have learned to read and write in their native language, and we have people coming who might have a medical degree."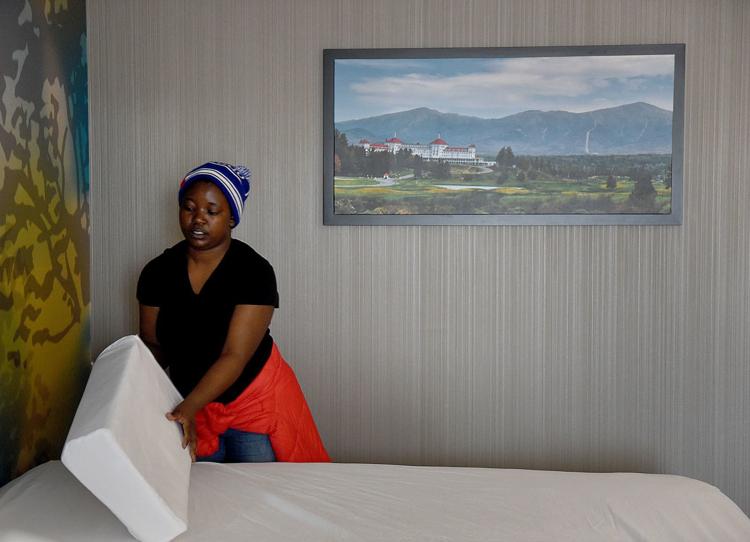 The office of the United Nations High Commissioner for Refugees explained the situation for many living in the Congo.
"The Democratic Republic of the Congo (DRC) is one of the most complex and challenging humanitarian situations worldwide, with multiple conflicts affecting several parts of its vast territory," the office said on its website.
Steve Duprey, who heads Duprey Hospitality, said he employs more than 30 refugees in his hotel, catering and property management businesses, making up 10 to 15 percent of his total workforce.
"Their work ethic is tremendous," said Duprey, who doesn't get any tax breaks for employing refugees.
He recalled one reliable Somali refugee who didn't show up for work one day because she was sick, so she sent her sister to fill in for the day.
The six Congolese refugees in the program, who entered the United States legally, are eager to get their first jobs but aren't plotting out career paths just yet, Micciulla said.
"I think it's hard for them to think that far in the future," she said.
Brianna Wombolt, housekeeping manager at the Courtyard, said the group appeared enthusiastic and filled with questions.
"I have my eye on a few of them right away" to hire, Wombolt said.
The students learned in the classroom at the Immaculate Heart of Mary in Concord and spent a week interning, shadowing employees in different areas of the hotel and learning about hotel careers. They take the course at no charge through a grant from the U.S. Department of Education.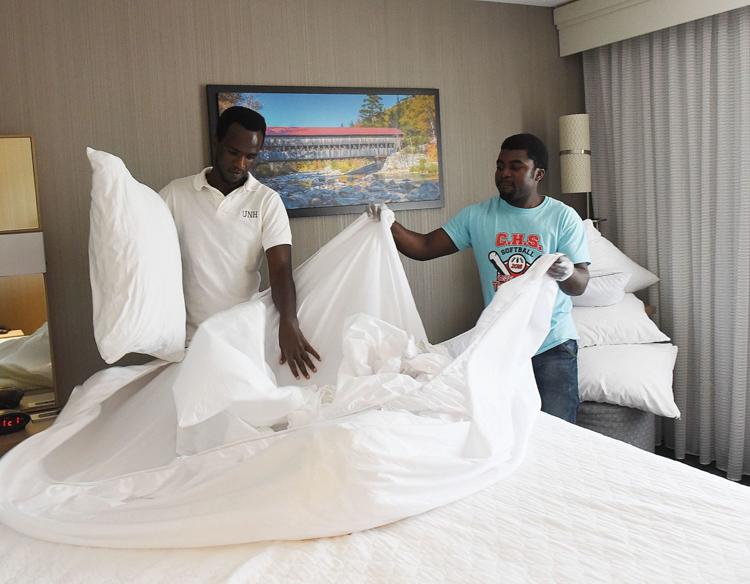 Congolese refugee Aimable Munyangeri, 28, who wore a white University of New Hampshire polo shirt, said he liked the United States because there are jobs for those who want them.
"It's a good country," he said.
Uwimana Nikuze, also a Congolese refugee, has worked as an employee at the Courtyard for about three years and was helping train the new arrivals and assisting with translating.
"Africa no money; America have money," she said.
A few refugees mentioned about how plentiful food was here. Rusesera said milk and chicken were her favorite items.
Earlier this decade, Duprey promised to invest $400,000 in refugee resettlement efforts in educating and training refugees as part of an effort to secure temporary tax breaks to build one of his hotels. He got the tax break and made the investment.
He said refugees not only help his business but help enrich the Concord community. "They don't take other Americans jobs," he said. "We have vacancies all the time."
He calls using refugees a good "pipeline" to attract workers.
"Refugees are good at telling other new Americans, 'If you're going to apply for a job, apply here,'" Duprey said.