CONCORD — One of the most popular rifles made and sold in the United States — the .22-caliber Ruger 10-22 — is the subject of a high-stakes court battle, with the Connecticut-based manufacturer accusing a rival gunmaker of unlawfully cutting into the market with a lookalike.
The issue is detailed in court filings that Sturm, Ruger & Co. initiated in July when it sued the Massachusetts-based Smith & Wesson and its sister company, Thompson/Center Arms.
Last week, lawyers for both sides spent three days in U.S. District Court arguing over a preliminary injunction that would block sales of the Thompson T/CR22, possibly during a heavy buying season.
Like the Ruger 10-22, the Thompson/Center rifle has a 10-shot magazine that allows semi-automatic fire with separate trigger pulls.
A key part of rifle hardware — the receiver, which is the housing for internal components such as the hammer, bolt firing pin and trigger — is the same length and width as its product, Ruger claims.
The T/CR22 has similar locations for safeties, bolt locks and trigger releases. Thompson/Center made its rifle adaptable to the hundreds of after-market 10-22 parts that owners use to customize their rifles.
"They added a couple of functions that I'll give them credit for, but to me it's still a 10-22, just their version of it," testified Mark Gurney, the director of product management for Ruger, last week in U.S. District Court.
The company Ruger is suing, the Arizona-based American Outdoor Brands Corporation, owns both Smith & Wesson and Thompson/Center Arms.
"Ultimately, this case is about competition — namely, Ruger's effort to stamp out lawful competition to grant itself a monopoly over the functional design of a .22 caliber long rifle," Manchester lawyer Christopher Cole wrote in court documents.
The Concord law firm Orr and Reno represents Ruger. Manchester-based Sheehan, Phinney, along with the Philadelphia firm Ballard Spahr, represents the defendants.
During the hearing, both sides had multiple lawyers on hand. A deputy U.S. marshal had to inspect each rifle before it was handled by lawyers, witnesses or Judge Joseph Laplante.
At one point, Laplante was the image of a G-man, sitting in his chair with each hand grasping a rifle at its forestock, the rifles' butts braced on his lap.
"My confusion level now is through the roof," Laplante said while holding the two rifles as lawyers argued about the marketing-type aspects of the rifles, referred to by lawyers as trade dress.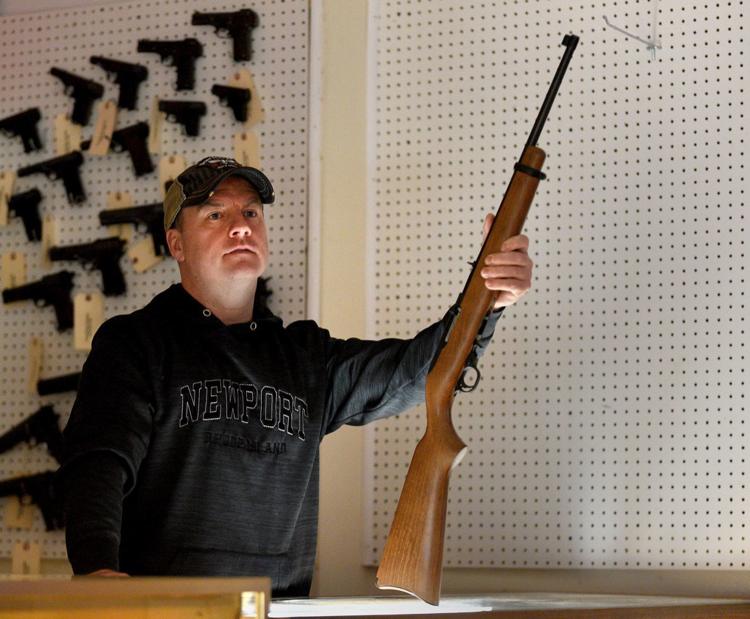 A ruling by Laplante, especially a quick ruling, could have a substantial impact on the companies. In most of the past 10 years, the FBI performed the single largest monthly number of background checks for gun purchases in December, according to the FBI website. Last year, background checks in December numbered 2.54 million, second to March, which was 2.77 million.
According to Ruger, it has sold more than 8 million 10-22s, a rifle designed by company founder William Ruger and launched in 1964.
The company has spent $1.5 million over the past 10 years advertising and marketing the 10-22, and the company logged 4 million unique hits on its website associated with the rifle.
Gurney testified that it is often the first gun someone owns, purchased by a child's father or grandfather and given as a gift.
"I like it for plinking," Vietnam veteran Herbert Watkins told a reporter outside Shooters Outpost in Hooksett. Plinking refers to the sound that a small-caliber bullet or pellet makes when it hits a tin target.
"It fires smoothly, there's no jamming, it's great for snapping, to get ready for hunting season," said Watkins, who estimates he has been shooting a 10-22 for three decades.
"It's probably the best semi-automatic .22 on the market," said Mike Crouthamel, manager of Wildlife Sports Outfitters in Manchester.
"It's a great varmint gun, an awesome target gun," he said. Nearly everyone has a Ruger 10-22, he said, and it's a household name among gun owners.
Crouthamel said the trademark infringement case pits two companies with New Hampshire ties against each other. Sturm, Ruger has a factory in Newport. Thompson/Center was founded in Rochester, but Smith & Wesson purchased the company in 2006 and moved its operations to Massachusetts in 2011, according to Union Leader archives.
Gurney spent several hours on the stand last Tuesday. At one point, Ruger lawyers played a #SundayGunDay YouTube video with NRA's "American Hunter" host Jon Draper discussing the $399 T/CR22.
Draper referred to the Ruger 10-22 as "that common rim-fire."
"This gun looks familiar, very familiar in fact. It also happens to function so closely to that other gun that stamped right on the T/CR22 spec sheet reads the phrase 'compatible with most aftermarket 10-22 parts and accessories.'
"How is this possible? ... I think it's safe to say that the legal suits on both sides of any potential issue have come to the conclusion that it's OK. That's good enough for me, and it should be good enough for you," he said.
Gurney said the video leaves the impression that it's OK to copy someone else's work.
By the end of the hearing, Sturm, Ruger lawyers had introduced 46 pieces of evidence, including the #SundayGunDay video. Smith & Wesson introduced 30.
Many exhibits from both sides were advertisements, articles and images of the rifles. Ruger also introduced the results of a July "confusion survey," as well as numerous emails.
Laplante ended the hearing by promising a written order in the case. He gave no time frame.