GRANTHAM -- With more than 1,400 homes built across the United States and around the world, Yankee Barn Homes in Grantham has its sights set on the future of home building.
The company is celebrating its 50th anniversary of selling post-and-beam, barn-type homes. Yankee Barn Homes supplies the timber as well as the wall and roof panels, leaving the interiors to be adapted by the homeowners to their specifications.
"Every home is a custom home," said Jeffrey Rosen, co-owner and creative director of Yankee Barn Homes.
The company was started in 1969 by Emil Hanslin on Cape Cod. Hanslin initially wanted to sell the plans for a barn-style home he designed, but was soon convinced to start selling the post-and-beam timber frames as well. Post-and-beam homes do not need interior walls for support, Rosen said.
Hanslin started using recycled beams from old New England mill buildings for the homes, but Rosen said the company now uses new Douglas fir timber to meet modern building code requirements.
The company moved to Grantham in the 1970s to expand its production facilities and to build homes in the Eastman housing community. Today there are more than 100 Yankee Barn Homes in Eastman, and more than 300 total in New Hampshire.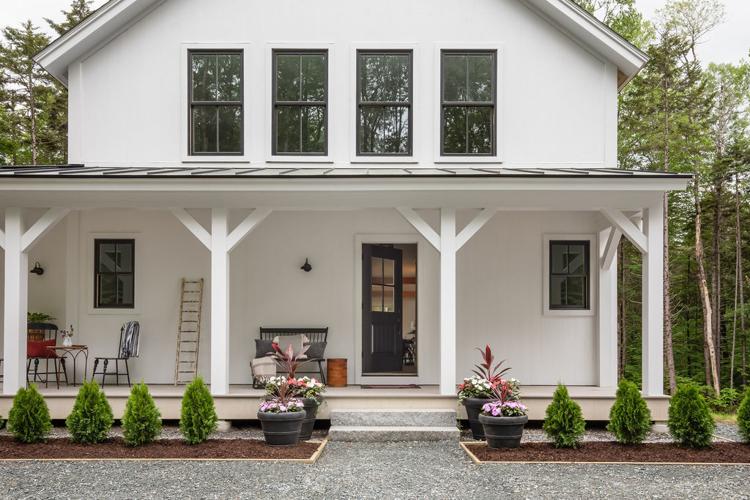 Rosen said the company was building about 40 homes a year during the 1980s housing boom, but today it builds up to 20 homes a year. Rosen said the company is able to offer any home style the customer wants, from a barn home to a farmhouse, cottage or mountain lodge.
Yankee Barn Homes recently built a whaling-type cottage in Nantucket, where strict historic district rules meant the home had to meet exacting specifications.
"Lots of people find us because they Google 'barn homes,'" Rosen said. "If they start to go through the process, they can go from barn to a completely different type of home."
Customers work with designers to find the right home, he said.
The production of the materials are completed in 60 to 90 days. Rosen said the home materials are then delivered on-site. Customers supply the foundation, electric, plumbing, interior design and finishing, he said.
The whole process — from design to completion — can take up to four months, Rosen said.
He hopes to see production double and triple in the years ahead as Yankee Barn Homes expands its offerings of energy-efficient homes.
"We're a small company and there's a family atmosphere. Most of our people have been here for a good number of years; some folks have been there for 15 or 20 years," Rosen said.