MANCHESTER — Former warehouse space on Frontage Road is being transformed into a premier indoor training facility for baseball and softball players.
The Sports Mill will include a large turf field, batting cages and pitching tunnels in its more-than-17,000-square-foot space, which has the flexibility for multiple uses, said Ernie Yerrington, general manager.
"We all realized that New Hampshire, as much as I don't like to say it, is a little behind Massachusetts, Rhode Island and Connecticut in terms of sports, in terms of being recruited, in terms of getting exposure," he said.
Entering the space at 159 Frontage Road, guests and athletes are greeted with the walls painted the same color as the Green Monster at Fenway Park to further spark inspiration (and to better see the baseball).
Besides clinics and camps, the space will be available for team practices or individual lessons. The Sports Mill will be home for New Hampshire Prospects Baseball Club, which focused on the development, training, performance and college recruitment for student athletes.
"Most other facilities in the area lack the size, versatility and availability a high-end program like the Prospects needs to help our players develop," said Matt Bouchard, director of baseball operations, in a statement. The club includes programs for athletes ages 9 through 18.
The company will bring in instructors such as Grant Lavigne, a Bedford native, who was selected by the Colorado Rockies in the first round of the 2018 Major League Baseball draft. He will be on board for November, December, January and part of February.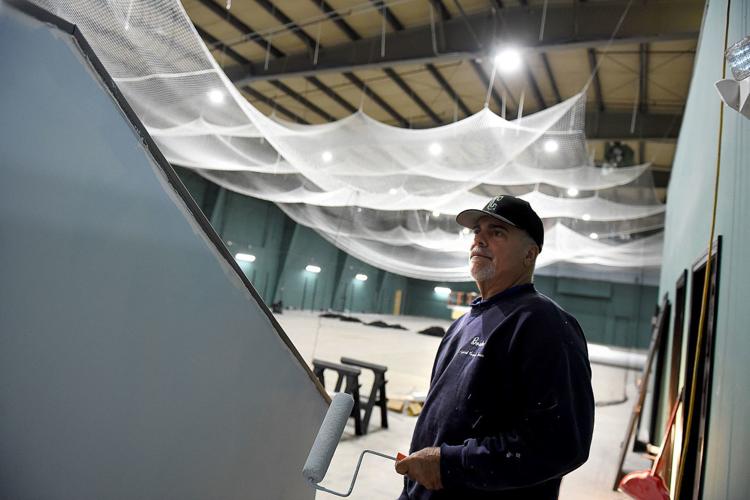 "There is a demand for it," Yerrington said. "I think the players here in New Hampshire are hungry to get this type of advanced training because of their love for the game and the fact they want to take baseball to the next level. And we want to be that conduit for them to be able to do it."
The company's four owners, who wish to remain anonymous, have invested about $200,000 into converting the space.
One advantage of the building is its height allowing for netting to be 18½ feet with no beams in the middle of the space.
"You can work with your infield and outfield drills," Yerrington said.
A second floor observation deck features a lounge and an area for coaches and others to film drills or practices. The entire building is equipped with WiFi for students to get homework done if they arrive early.
The space features two batting cages near the entrance that will have 24/7 access for members of the facility. Two other ventures, Granite State Athletics and Roots Athletic Development, will operate out of the space.
"We wanted to have a one-stop shop," said Justin Soryal, owner and head athletic trainer of Roots. The business is located in Hooksett right now.
Jeff Heisner, owner of HomeField Sports in Lexington, Mass., who is helping to convert the space into a sports facility, said similar baseball/softball facilities are popping up around the country.
"I think everyone from youth baseball to college players are very fortunate to have something like this here, to not only be able to work on their baseball skills but at the same time be able to use the strength and conditioning part as well," he said.
Yerrington hopes for the business to open by the end of this month.
"What I see is an opportunity to provide," he said. "I see players coming in loving the game, learning the game and aspiring to become better."