Since he began riding two years ago on a used 2006 Kawasaki motorcycle, Chad Fazio knew he wanted to upgrade to a Harley-Davidson.
Last month, the 22-year-old bought his first — a 2021 Low Rider S.
"I still don't have a thousand miles on it yet," Fazio said at a recent Bike Night hosted by Manchester Harley-Davidson.
"This is my first brand-new bike," he said. "This is going to be my baby for the rest of the time now."
He bought the Harley a little less than a year after landing a job as a Manchester police officer. Depending on the weather, he commutes to work on the bike and goes on rides to the Seacoast with his buddies, many of whom are also police officers.
Motorcycles have been a hot item during the pandemic, along with other recreational vehicles and boats. The Manchester Harley dealership saw sales jump from 560 bikes in 2019 to 1,330 in 2020. This year it's on pace to sell about 1,800 bikes.
"We've certainly seen an uptick in first-time riders," said Matty Laughlin, general manager of Manchester Harley-Davidson, which saw the most sales of any dealership for three months in a row. The dealership expects to be one of the top-performing in the country. Last year, it was second to a store in Riverside, Calif.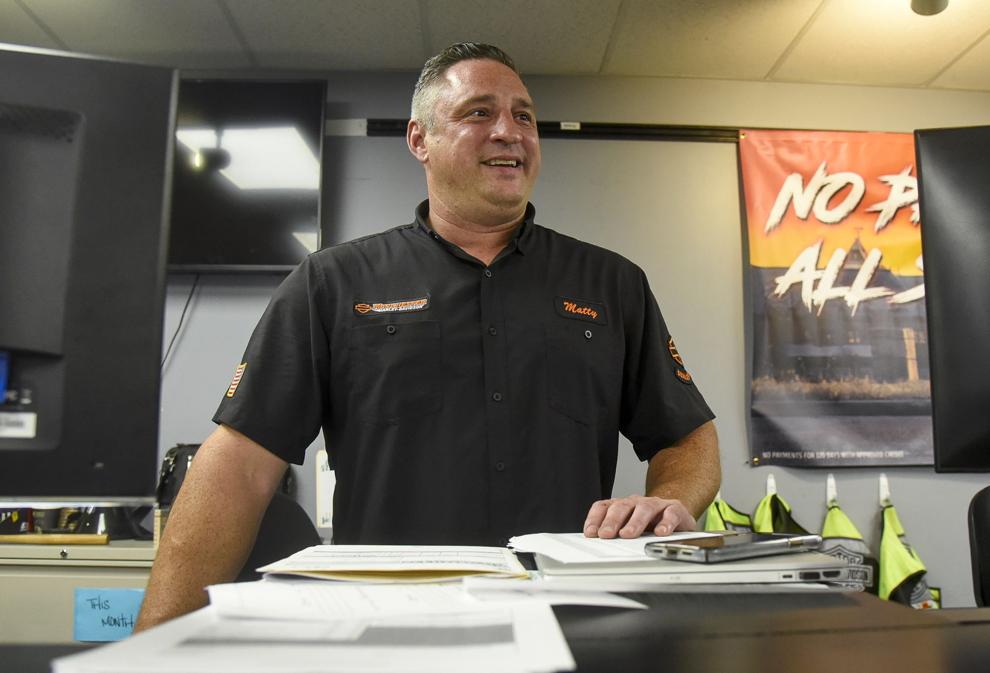 The showroom inventory is lighter than normal, with about 150 fewer bikes than usual on the floor.
"We joked for a while, 'You know what doesn't have COVID-19? The Kancamagus Highway,'" Laughlin said.
New Hampshire saw a significant jump in motorcycle registrations this year — 82,810 compared with 76,767 last year — a 7.6% increase, according to the Division of Motor Vehicles. Between 2019 and 2020, registrations inched up about 1.5%.
Larry Crowe, spokesman for the division, said it's hard to determine the ratio of people buying bikes for the first time to experienced riders adding to their "arsenal."
The state's Motorcycle Rider Education Program has waiting lists, Crowe said. The program offers basic, intermediate and advanced riding courses.
"We have not been able to even meet all of the demand," he said.
Across the country, motorcycle sales have spiked.
In the first quarter, nationwide sales were up 31.4% for on-highway motorcycles and 47% for dual-purpose motorcycles, according to the Motorcycle Industry Council. Dual-purpose bikes can be used both on and off the road. Even Harley-Davidson has added a dual-purpose bike to its line in response to the demand, Laughlin said.
Many people turned to motorcycles as a way to enjoy the outdoors during the pandemic, said Jacqueline Peterson, a spokeswoman for the council.
"The interest was there before the pandemic, but the pandemic accelerated the trend," she wrote in an email to the Union Leader.
Starting on Saturday, Laconia Motorcycle Week is expected to draw larger-than-normal crowds after last year's event was scaled back and moved to August.
Motorsports, not just motorcycles, are on the rise, said Jennifer Anderson, deputy director of Laconia Motorcycle Week Association.
She isn't surprised by the boost in registrations.
"It was pretty steady," she said. "That can easily be attributed to the circumstances of everyone having to do everything on their own. We kept telling people last year that riding is the best way to stay socially distanced."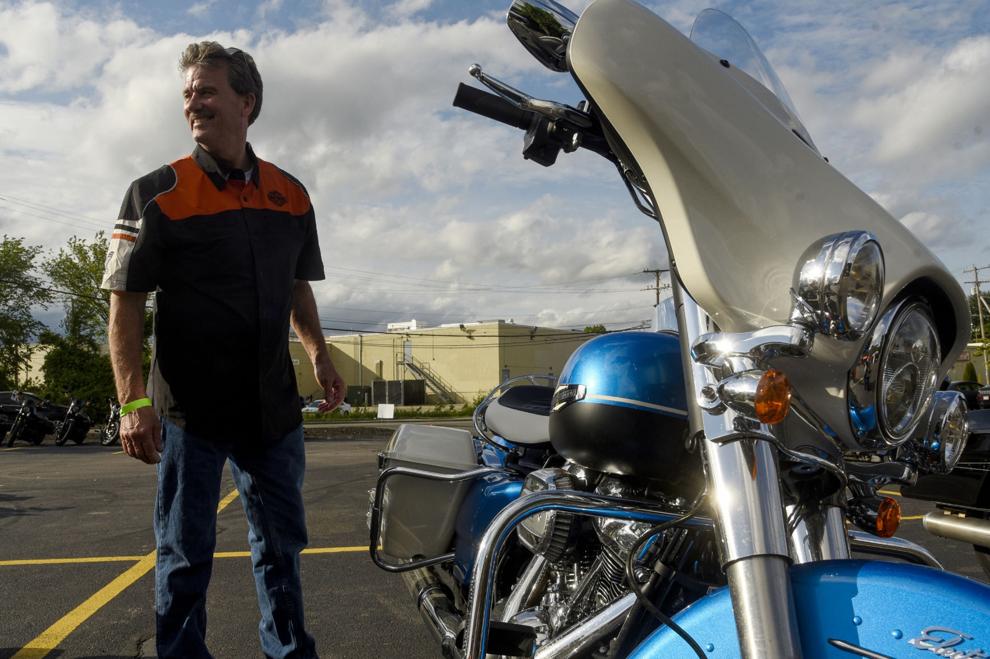 Pandemic boost
As it did with most outdoor activities, the pandemic helped spur the growth in motorcycle sales and registrations.
Fazio said many people wanted to be active after being cooped up for more than a year.
"You didn't have to worry about COVID guidelines," he said.
The boost in ridership is a mix between new riders and some who decided to get back into the sport after a hiatus, said Traci Beaurivage, president of the New Hampshire Motorcyclists' Rights Organization.
"With COVID, you could still get out and ride," she said.
National Powersports Distributors in Pembroke, which sells pre-owned bikes and new Triumph motorcycles, has also seen a spike in sales.
"It has been a little bit of a struggle. Inventory has been low," said Ben Smith, sales manager.
High demand for new bikes trickles down to the used market, where many buyers end up.
"A lot of times what they are looking for isn't available, or supply is low enough where they'll have to wait three or four months to get one, so they'll look for a used one," Smith said.
One challenge for Laughlin has been keeping stock on the floor. A lot of bikes are being sold in advance.
"We had to be resourceful," he said. "I called dealerships across the country and said, 'I'll buy everything you have.' We knew we could sell them."
Many riders used their stimulus check for a down payment on a new bike or to buy new gear.
"The lenders are really liberal right now, where they are giving larger advances so it can include parts and things like that," Laughlin said. "The rates are as low as they've been."
Reggie Ronzell, owner of R&R Cycles on South Willow Street in Manchester, has seen a spike in demand for service, which is the shop's main focus.
"They were either doing work on them themselves or bringing them in and wanting to get out and ride," he said.
The demand is from both new and old customers.
"Most of our customers have experience in riding, so they've done it before," Ronzell said. "They want to do more of it. Making trips. Going out West or down South."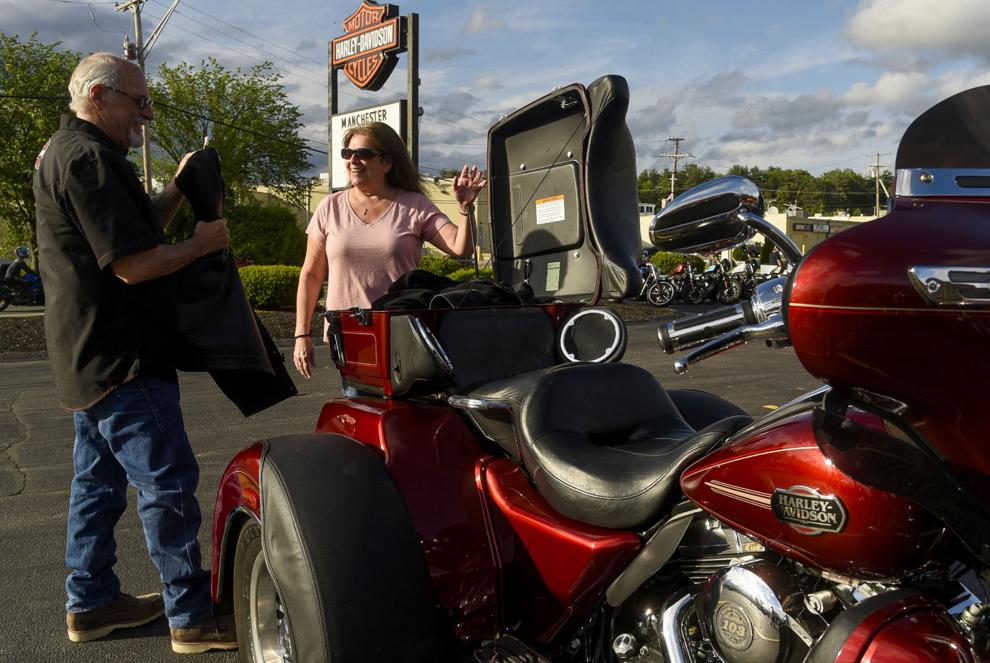 Rider safety
The DMV is trying to add additional basic courses to help prepare riders for the road, Crowe said.
"We usually get people to the point where they are ready to start really working on their skills on the road," he said.
He suggested new riders take the state's safety course before buying a bike.
'It looks easy, but it's not and it is not for everybody," Crowe said.
New bike owners should invest in the right equipment, such as helmets, jackets, gloves and boots. A used bike might require a fresh set of tires.
One tip for beginners is not to exceed their ability to keep up with other motorcyclists.
"We do see sometimes people getting themselves into trouble trying to keep up with their friends who have been riding for a while," Crowe said. "It is important for someone to say, 'You are just too fast for me right now, I am not going to do it.'
"Riding beyond your skill set is a very easy thing to do when you are new, and you don't want your friends pushing you to it."
A way of life
New Hampshire in particular and New England in general have been known for motorcycles, said Glenn Berube, 59, of Manchester, who has been riding since he bought his first bike in 1982. Other parts of the country are too flat or too warm to ride on a regular basis, he said.
"This is the place to ride right here," he said. "And you can ride eight months out of the year."
He isn't surprised by the spike in registrations. Many older riders have been trading in to buy newer models or adding to their fleet, and many young riders are buying their first bikes either new or used.
"Now is the time to buy," said Berube, who recently bought a new Harley-Davidson 2021 FLH.
Laughlin, manager at Manchester Harley-Davidson, said many riders are drawn to New Hampshire's landscape.
"There are just a lot of red-blooded Americans here," he said. "We have the highest percentage of veterans per capita. We have the highest percentage of motorcycles registered per capita."
The sport is for "hundredaires and millionaires" alike, he said.
Beaurivage, of the Motorcyclists' Rights Organization, said bikers come from all walks of life.
"They are not the bikers that people saw on television of old," she said. "They are not 'fight the man' of old bikers from way back. It really has changed over the years."
Like many other riders, she has a hard time expressing the draw of riding a motorcycle.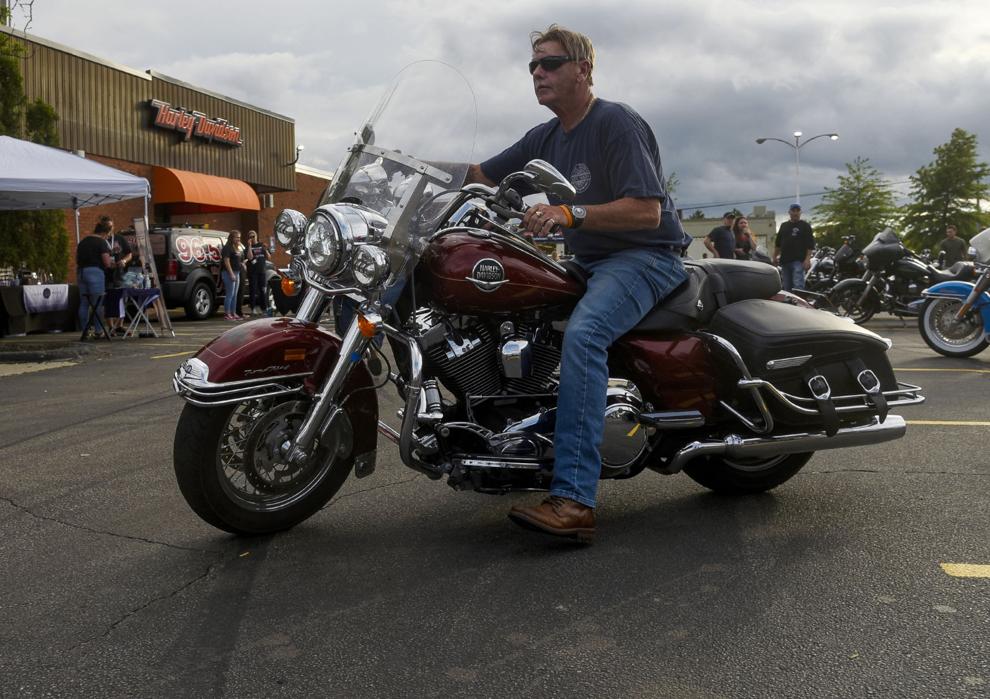 "It is a way of life," she said. "There is something freeing about riding a motorcycle."
Motorcycles are one of the few ways for people to get away from their phones, computers, social media and other life distractions, said Anderson, deputy director of Motorcycle Week. Full concentration needs to be on the road and staying safe.
Ronzell, of R&R Cycles, said many people say riding a motorcycle is the closest thing to flying a plane.
"The thrill and the exhilaration of it is what I think keeps people going back to it," he said.
It's tough to say how long the recent boost in interest will last, said Smith, of National Powersports. "The motorcycle market is always really volatile," he said. "I wouldn't say I am expecting it to dip, but I wouldn't be surprised if it does."
Fazio called his Harley a "present to himself." He plans to enjoy it for years to come.
"This will probably be the one I pass on to my kids," he said.