MANCHESTER — Dennis and Linda Mullen wore matching checker-patterned face masks and white cotton gloves while checking in for their Southwest flight to Tampa on Thursday.
"I've got wipes. I've got our snacks," Linda Mullen said inside Manchester-Boston Regional Airport. "You do the best you can, and you go."
More people are joining the Manchester couple in getting on an airplane these days.
Almost four times as many people flew out of the airport Wednesday (405) as Wednesday, April 15 (104) — but numbers are still way down from before the pandemic.
"We have seen a positive trend in passenger activity since the pandemic took hold of the aviation industry in mid-April," said Deputy Airport Director Tom Malafronte.
"Although passenger activity is still down significantly — here in Manchester and across the country — we are now down about 85% year over year vs. 95% in mid- to late-April," he said in an email. "While it is early in the recovery process, looking at some of our recent numbers and discussions with our carriers, there are some reasons to be optimistic."
He attributed the uptick to leisure travelers, many of whom are visiting friends and family.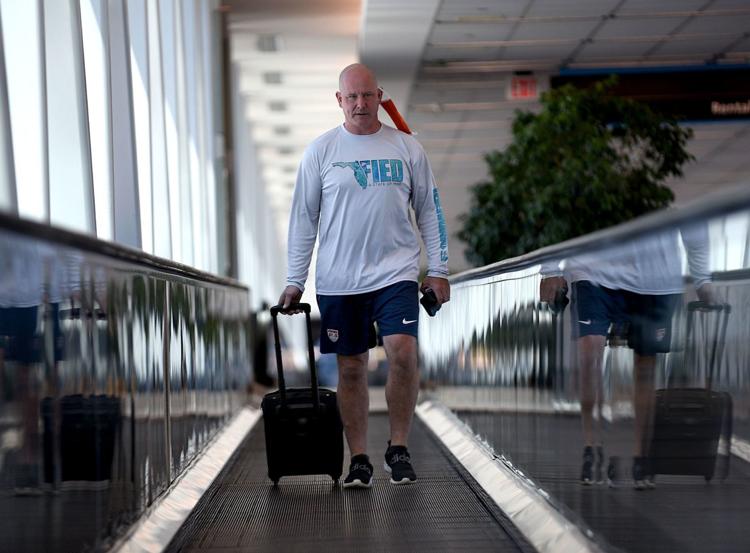 More people in recent weeks also are booking trips with Milne Travel American Express.
"May will be the first month since February with net new sales," president Scott Milne said. "Although new sales dollars are down about 90% compared to last May, they are 10 times (higher than) April sales."
Milne Travel, which operates seven offices from New York to Maine, including in Manchester and West Lebanon, is seeing more people committing to travel.
"For vacation travel, we are seeing a lot more action than a few weeks ago, with folks booking from August forward," Milne said.
More people are booking travel for the last three months of this year into 2021. Many are choosing Hawaii, Alaska and upscale Caribbean resorts, he said.
"In spite of what you might think from the news, we are selling cruises for later this year and 2021 almost daily now," Milne said.
United Airlines is restoring service from Manchester to Washington Dulles International Airport, with two daily flights starting July 6.
"Airline scheduling has been dynamic due to the impact of COVID-19 and its impact on demand," Malafronte said in an email. "We are currently projecting a 38% decrease in flights this summer (June, July and August) vs. the same time period last year."
Nationwide, airport security checkpoints Wednesday saw 90.7% fewer passengers than the same weekday a year ago, according to the Transportation Security Administration website.
TSA on Thursday said it was rolling out new changes in the coming weeks at airport checkpoints nationwide. Rather than hand boarding passes to a TSA officer at the podium, "travelers should now place their boarding pass (paper or electronic) on the boarding pass reader themselves," said a statement from TSA.
After scanning, travelers should hold their boarding pass toward the TSA officer to allow the officer to visually inspect it.
Passengers also should put their carry-on food items in a clear plastic bag and place that bag into a bin to lessen the chance of a TSA officer needing to open a person's carry-on bag. "This requirement allows social distancing, reduces the TSA officer's need to touch a person's container of food and reduces potential for cross-contamination," the TSA said.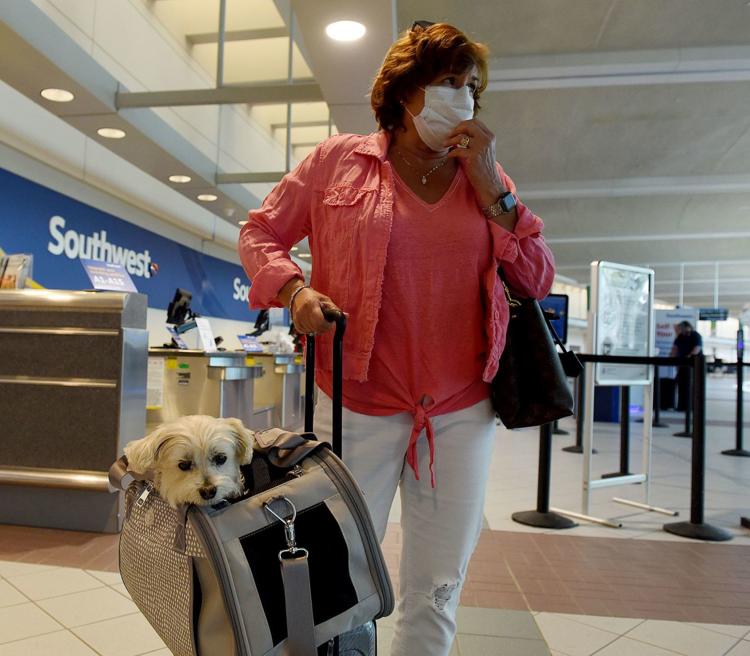 Travelers also are urged to use face protection at checkpoints.
At the Manchester airport, Ann Mahn of Salem had delayed her trip a month because of concerns over COVID-19.
"It seems like they're taking good care of the planes and cleaning them," she said. "I feel pretty comfortable."
Mike Skelton, president and CEO of the Greater Manchester Chamber, said airlines are beginning new health and safety procedures, and "the overall flattening of the virus spread curve is enough for many folks to feel comfortable enough to resume air travel."
He said many employers are reevaluating business travel in the short term, but he thinks air travel should "rebound as the public health situation hopefully continues to improve."
For those wanting to keep their feet on the ground, gas was 82 cents cheaper Thursday than a year ago, down to $1.914 for an average price of regular unleaded gas, according to AAA.