MANCHESTER — Southern New Hampshire plans to offer public parking at its new Millyard garage during off-business hours and will phase in using the garage to monitor any travel tie-ups.
"We are conscious of the impact the parking garage might have on traffic in the area," Lauren Keane, assistant vice president of communications, said in an email Monday.
"We plan to phase in use of the garage, observe the impact on traffic, and may adjust operations as needed," Keane said.
A traffic study submitted by the developer in 2017 said some intersections along Granite Street could be filled beyond their capacity by 2030 and suggested "the city may also wish to explore the feasibility of obtaining a future secondary access to Elm Street from South Commercial Street via a new railroad crossing."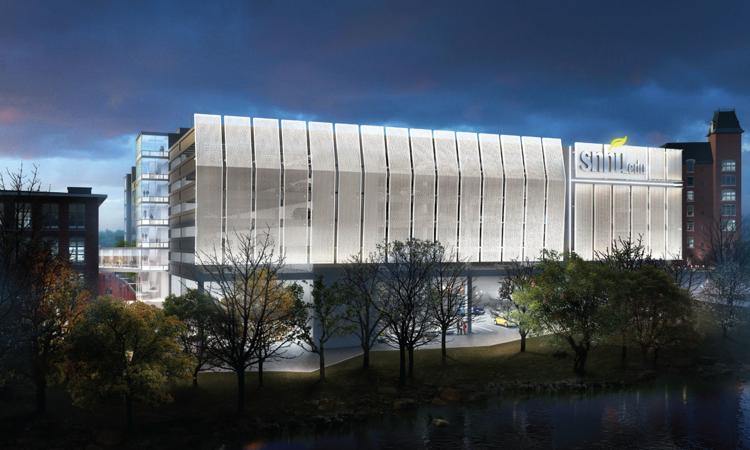 The 1,700-space garage next to Northeast Delta Dental Stadium will be used by university employees working at the Millyard, Keane said, and "we are working to make parking available during off-business hours."
Developer Peter Flotz on Monday said he plans to turn the garage over to SNHU, completed, by July 1.
Crews are putting on a perforated stainless steel facade facing the Merrimack River and Interstate 293.
A lit "SNHU.edu" sign also will be installed on the same wall, according to the developer.
The sign is being designed, and "we don't have a date yet" for its installation, Flotz said in an email.
The look of that exterior wall was a matter of discussion at the city Heritage Commission.
That commission in 2017 gave initial approval to a design inspired by an iconic 1914 photo of a giant flag hung on the side of a Millyard building where it was made. The flag was to go on the west side of the six-story garage.
But Flotz expressed concerns about that image, and his alternative designs didn't get approval from the commission, so a plain design was the commission's final decision last year.
"I love how the skin looks, so no regrets," Flotz said Monday.
The stainless steel wraps around the garage's southwest corner.
John Clayton, executive director of the Manchester Historic Association, had suggested the 1914 photo as well as other alternatives.
"I just think this is a missed opportunity," Clayton said. "It was a great chance to document an important image from Manchester's history on the historic Millyard."
SNHU's name also appears on the city arena a few blocks away, since the university purchased the naming rights.
Flotz previously estimated the garage would cost approximately $50 million.
Bob Gagne, chair of the city's board of assessors, said the city hasn't prepared an assessment yet for the garage that will help determine its June property tax bill.