N ot two miles from apartments renting for five grand a month, Junie Denaud collected canned vegetables and frozen meats from one of this border town's four food pantries.
"I can't find a better job that I need," the mother of three boys said outside the Saint Mary and Joseph Food Pantry on Main Street on a recent weekday.
More people from other states are moving into town, putting pressure on rental costs for locals who have had to pay more or relocate to cheaper communities.
A 281-unit apartment complex in the massive Tuscan Village development advertising units renting for $2,194 to $5,182 a month is 97% occupied.
"We might worry about being priced out of the market, but there are plenty of people that seem to be coming up here and voting with their feet and their money," Salem Planning Director Ross Moldoff said last week.
"That can only tell you how hot the southern border is," said real estate agent Moe Archambault. "I don't think Manchester supports $5,000-a-month rents."
Many employers along the Massachusetts border must decide whether to offer higher wages than at their locations farther north.
Merrimack County Savings Bank's Nashua branch pays at least a few dollars per hour more for the same job than some inland locations.
"It's because of Massachusetts … they're paid higher," said Holly Bilodeau, recruiting and talent administrator for New Hampshire Mutual Bancorp.
Meanwhile, employees are paid the same at all stores operated by Belletetes, a building products company with one store in Massachusetts and eight in New Hampshire, including one in Nashua.
Consider it "equity, fairness," said sales manager Eddie Olson, who employs more than 300 and could use up to 75 more. In the end, "you have to live with yourself."
Ocean State Job Lot said it must pay New Hampshire employees working near the Massachusetts border more than those in other areas.
"As we have learned through market research, to remain competitive in southern New Hampshire we need to use the same pay structure we use in northern Massachusetts," said the company, which operates 17 stores in the Granite State.
Overall, though, hourly wages in Salem — the seventh-largest community in New Hampshire — fall below the state average of $28.24.
That is forcing some families to reconsider their home address.
"The hard part is more and more people are having to move out of the area," said one Salem town employee. "We're seeing a lot of families that are having to double up. Pretty much husbands and wives have to work to afford the rents here."
Housing construction booms
In this town of 30,000, construction continues on single-family homes in northern sections and on the mixed-use Tuscan Village project, where the town already has conceptually approved 1,200 housing units, according to Moldoff.
Moldoff said he has heard about locals selling their homes and moving into the Tuscan Village apartments and newcomers "coming from all over the country" to register their cars, sign up to vote and pay "downtown Boston prices" for housing.
More than 100,000 Granite Staters commuted to Massachusetts for work in 2018, while 41,000 Bay Staters worked in New Hampshire, according to the latest data from New Hampshire Employment Security.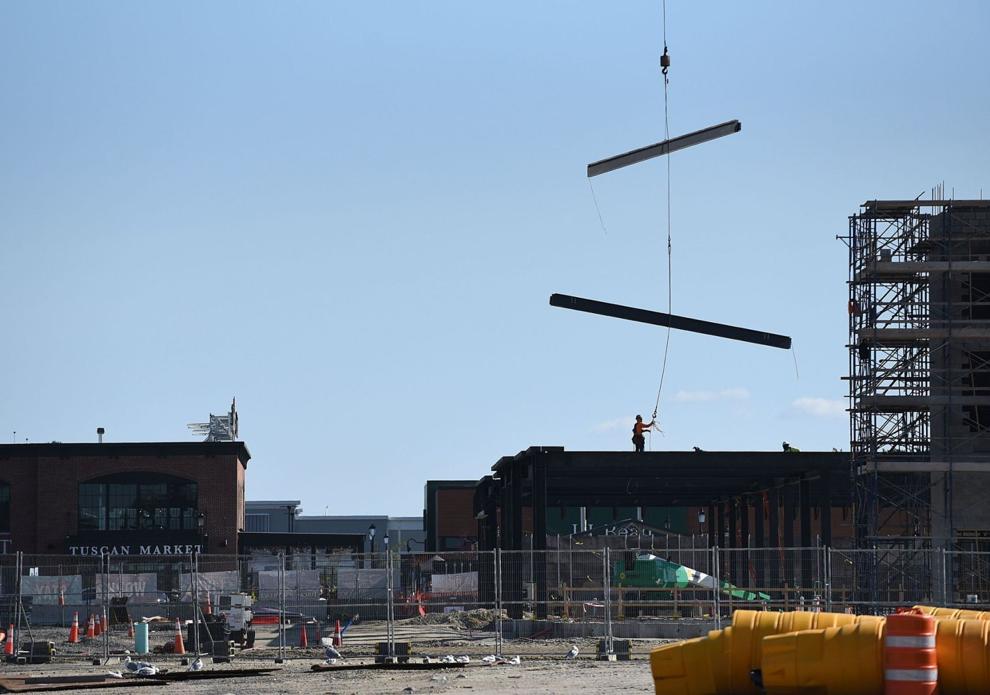 Wages are higher in Massachusetts — "often considerably so" — high enough for workers to cover commuting expenses and pay Massachusetts income tax, according to Brian Gottlob, director of New Hampshire's Economic and Labor Market Information Bureau.
Salem isn't even in the state's top five for the highest average wages as of last June, according to Employment Security. Salem residents' wages average more than $6 an hour less than Lebanon's and more than $4 less than Portsmouth's.
"Most NH border areas (at least those that border populated areas in other states), have an especially high concentration of retail and food services employment, two industries with generally low wage occupations," Gottlob said in an email.
"There are plenty of high-wage occupations and industries in those towns, but as the only state in the region without a general sales tax, border towns are uniquely positioned for retail development, and the food service industries that often accompany it," Gottlob said.
Donna Morris, president of the Greater Salem Chamber of Commerce, believes the enhanced unemployment benefits that Massachusetts kept in place about three months longer than New Hampshire this summer hurt hiring in the Salem area.
"Lawrence is a big hub for people that come up to work in Salem," Morris said. "A lot of people cross the border. If there's incentives not to, then, of course, that's going to have an impact."
But even within communities, the battle is on for workers.
In Londonderry, 17-year-old Colby Smith, son of the town manager, quit one job in town to work at the local Home Depot for an extra $5-plus an hour.
"Even for that age of workers, they're looking at what the employers are going to be paying," said Kevin Smith, Colby's dad. "Employers are definitely paying more to compete with each other."
Tuscan progress
When it's completed, Tuscan Village, next to The Mall at Rockingham Park, will have more than 15 restaurants, 75-plus stores, office and life science space, a Marriott Autograph Collection hotel and a six-acre lake in addition to the apartments, according to its website.
Salem's planning board conceptually has approved about 3 million square feet for the development — three times the size of the mall next door, according to Moldoff.
"What you have seen at Tuscan is not even half of what is going to be there," he said.
The development includes the site of the old Rockingham Park race track, where Secretariat and Seabiscuit once ran, which last hosted live racing in 2009 and closed for good in 2016.
Tuscan Village developer Joe Faro didn't return a message for this story.
Advertised rents at Hanover Tuscan Village — owned and managed by the Texas-based Hanover Company — range from $2,194 a month for a studio to $5,182 for a three-bedroom with 1,500 square feet. The prices could vary depending on the lease length.
Property manager Brigitte Agosta said renters needed to show they earn three times the monthly rent in income or have sufficient assets to qualify.
"We're now 97% leased in just over a year," Agosta said. "It's definitely been a good year so far."
Agosta said she wasn't allowed to describe who lives in the five-story building, but she said they could include retirees or people who have sold their homes and have proceeds to afford the rent.
The complex includes a fitness center and a "bark park."
By comparison, the average rent in Boston is around $3,500 — albeit for 810 square feet, according to rentcafe.com.
Oblivious to border
Hamid Saliba can see the "Entering Salem New Hampshire" sign from the parking lot of his businesses, Methuen Auto Care and Stateline Motors, in Methuen, Mass.
Fewer people are interested in working on cars, though a few students from the technical school in Andover, Mass., recently have expressed interest.
Saliba said he doesn't compare his wages to those offered by New Hampshire competitors.
"We don't take that into consideration," Saliba said. "We pay whatever they deserve."
He said he has had to raise the pay of some workers by $3 an hour over the past year.
"If you pay someone minimum wage, they can't make a living. They can't eat," Saliba said.
Last month, New Hampshire's tight workforce situation led Pat McDermot to temporarily shut his Hudson restaurant, Kendall Pond Sports Pub, for lack of managers. He instead focused on his other Kendall Pond restaurants in Windham and Dover.
McDermot said he fired two new workers in Windham last month for smoking pot, and he questions the work ethic of some these days.
"We see a segment of the workforce that is a struggle to get ... to work and perform," said McDermot, who hopes to reopen his Hudson location by Dec. 1.
Despite operating two restaurants in border towns, McDermot doesn't look at what Massachusetts employers are paying.
"We do not have a hard rate for a specific job," McDermot said. "We evaluate the experience and age of the person. We really evaluate each person individually."
A changing town
On a recent sunny weekday, Luke Boisvert was working to complete a new townhouse on Central Street within Tuscan Village.
"Nobody that works in Salem" can afford $5,000 a month for rent, said Boisvert, who was raised in Salem and now owns a house on three acres near Canobie Lake Park.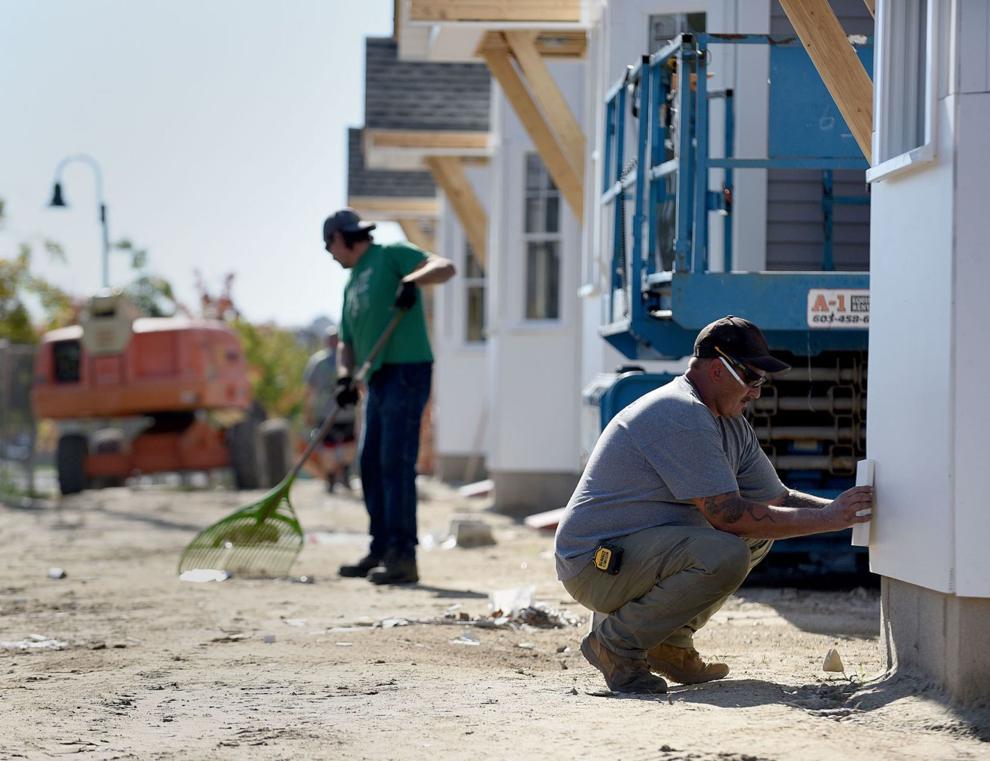 Someone would need a yearly gross income of $207,280 to devote 30% of their gross income for housing, the standard calculation, according to the New Hampshire Housing Finance Authority.
"People can buy a house for that rent," said Kellie Lavoie, a school bus driver and director of the Saint Mary and Joseph Food Pantry.
For a 13-town area that includes Kingston, Raymond and Salem, the median monthly gross rents for a three-bedroom apartment ranged from $946 to $2,811, with a median of $1,952, according to a survey released earlier this year by the finance authority.
Distance often dictates price.
Archambault, the Bedford real estate agent, said people pay upward of $150,000 more for the same size house in Windham on the Massachusetts border than in Concord 35 miles farther north.
"How far are you willing to drive?" from your job in Massachusetts to live, Archambault said. "You might have to get a smaller house."
Biking the town
As a teenager, Brittany Cook remembers riding her bike all around Salem. Now 30, the single mother of two daughters would rather not see the town so built up.
"I wish they were able to explore more like when I was a child," Cook said.
She also wonders when she can return to the workforce. She can't find affordable day care for her 4-year-old, Paisley.
"I'm in a catch-22," Cook said outside her grandmother's house, where she is living.
"It's about cheaper for me to stay home," she said. "I'd rather be at work."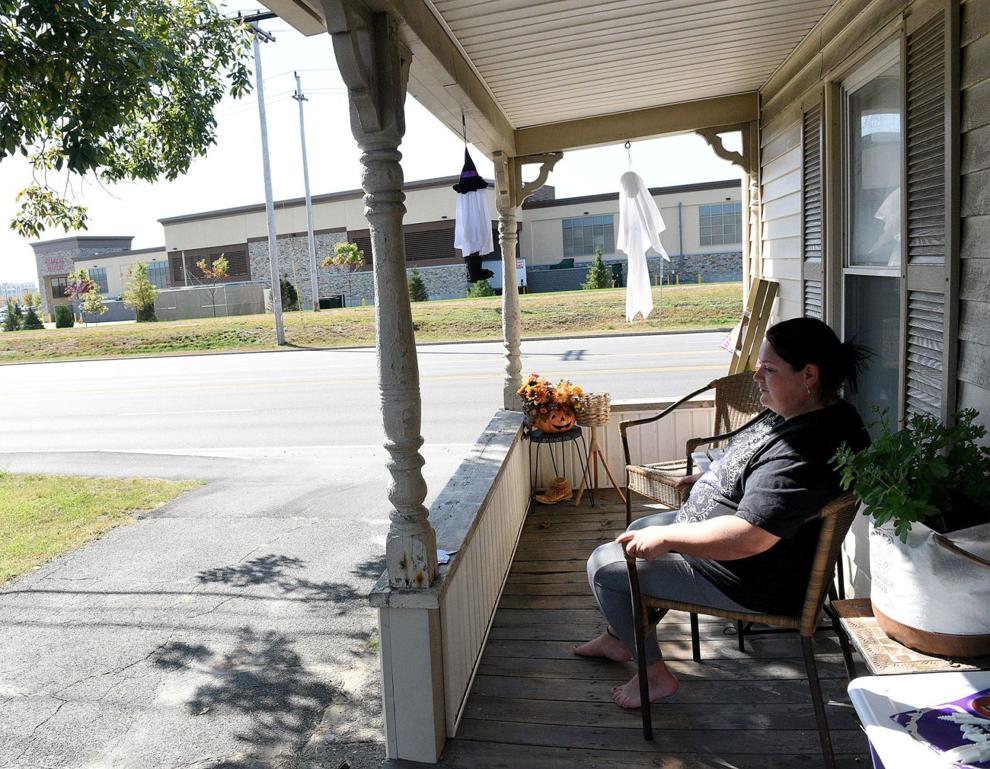 According to the Economic Policy Institute, child care for a 4-year-old averages more than $10,000 a year in New Hampshire.
Cook isn't the only one sensing Salem's small-town feel slip away.
"It's more like a city now than a town," said Salem resident Michelle Gearin, a shopper at the Market Basket in Tuscan Village
"Salem has grown by leaps and bounds since the '60s when I moved to town," said food pantry worker Deborah Antoniewicz.
"I guess there's still room to grow. Better to keep the small-town feel than a big-city feel," said Antoniewicz, who thinks Salem falls in between.