So few people flew from Manchester-Boston Regional Airport in April that all the passengers on an average day could have fit on a single Southwest Airlines jet with seats to spare.
The state's largest airport had 95% fewer passengers last month than a year ago because of government restrictions related to the coronavirus pandemic, airline cutbacks and fears of flying.
"This is a ghost town," said Elaine Troxell, a Manchester-area renter who owns property in Florida, while waiting for a Southwest flight to Tampa on Tuesday.
About 120 people a day flew out of Manchester last month.
This month, the airport is operating about a dozen flights a day, 60% less than a year ago. Most airlines are reporting planes between 10% and 20% full, according to Deputy Airport Director Tom Malafronte.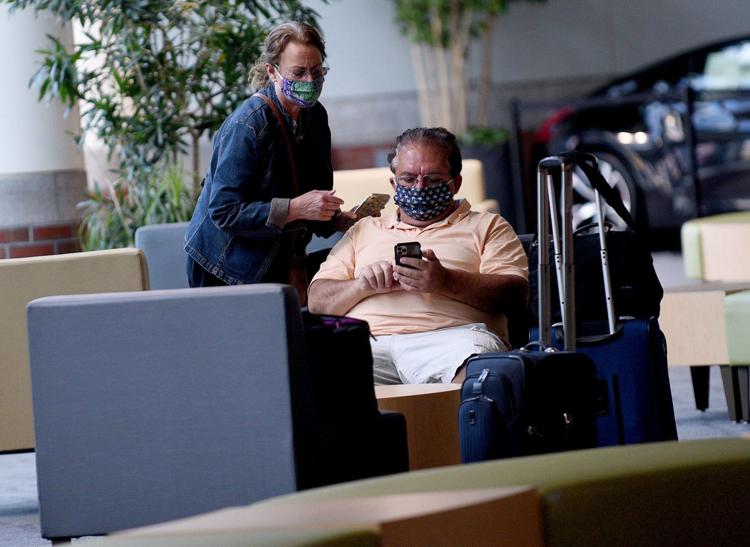 The airport deferred airlines' rental payments for April and May and plans to recover that money before June 30, he said.
Nationwide, airline passenger traffic is way down. Screening checkpoints at the nation's airports handled 93% fewer passengers Monday versus the same weekday one year ago, according to the Transportation Security Administration.
Returning to pre-pandemic traffic levels could take Manchester years. "It is hard to determine exactly when we will return to 'normal,' but we are forecasting a slow recovery," Malafronte said by email. "The most likely scenarios are that we do not return to pre-pandemic levels until the end of FY 22 (June 2022) or FY 23 (June 2023)."
In April, Manchester's airport handled an estimated 7,200 passengers, compared with 152,536 in April 2019.
The March numbers plunged 51.8%. Logan International Airport in Boston dropped 52.7%.
Two airlines have reduced routes from Manchester: United suspended its flights to and from Dulles International Airport outside Washington, and Delta cut service to Atlanta.
Malafronte said the airport could face losses of $2 million to upwards of $15 million in the next fiscal year.
The airport will focus on recouping lost passenger revenue through its land leases, Malafronte said.
The airport also is looking at reducing expenses and will offset its losses, if necessary, with $12.1 million in federal funds from a coronavirus-aid package.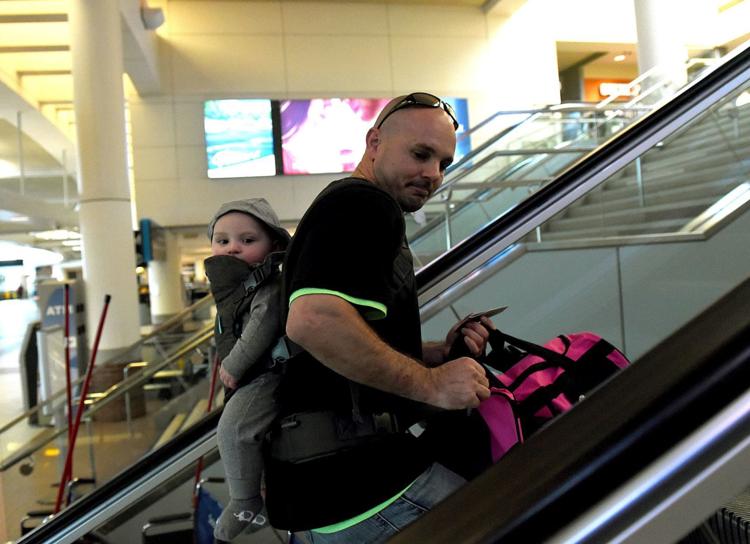 Keep flying
"The best way for us to recover — as airline capacity returns — is to support our carriers and fly from Manchester," Malafronte said. "By supporting our carriers, we support local jobs and businesses and keep airline, airport revenues and the federal airport funding here in New Hampshire. This will become more important than ever as airports across the country compete for airline service in the post-COVID-19 era."
The airport saw a rebound Monday, with about 40% more fliers than a week earlier, according to Airport Director Ted Kitchens.
At the airport Tuesday, janitorial staff were seen wiping down plastic bins at a TSA checkpoint after a burst of passengers, many of whom weren't wearing masks. Many airlines are starting to mandate passengers wear face coverings or masks while flying.
Tampa-bound Troxell, who said she remains a New Hampshire resident, said she was "a little leery" of flying but came prepared with a face mask and sanitizer wipes for her flight to Florida, where she owns a home with her husband, Chris.
Passenger Heather Landry of Sacramento, Calif., landed with her dog, Riley. She said her two American flights Tuesday were about three-quarters full with about half the passengers wearing masks.
She said she didn't have qualms about flying.
"No, I'm not really a nervous person," Landry said
Deals are out there
Travel deals are out there for those willing to fly, according to Milne Travel American Express, a regional travel agency that suffered a 95% drop in business.
"Good news for corporations and vacation travelers: Deals are really good, and a lot of the non-refundability sort of restrictions have been relaxed," said President Scott Milne.
Travelers can fly to the West Coast for less than $200 round trip this summer and to Hawaii for about $500 through early 2021 with "some of the best deals in 10 years at Caribbean resorts, European hotels and luxury cruise lines," Milne said.
The pandemic shutdown has hit companies like Milne Travel particularly hard.
"This has been much more significant than 9/11 and the 2008 recession combined," Milne said. "In April, and even in March, we refunded more than we sold."
Milne Travel, which operates seven offices from New York to Maine, including in Manchester and West Lebanon, is operating remotely. A couple dozen workers have taken voluntary furloughs, and the rest are on reduced hours.
About two-thirds of its nearly $100 million in yearly revenues come from business travelers.
Bookings for the first three months of next year are up about 30% compared to a year earlier, Milne said.
"I think there's a lot of folks that had things on the books this year that canceled them and pushed them out" until 2021, Milne said.