GOFFSTOWN — Gov. Chris Sununu criticized Bedford officials Wednesday after praising an affordable housing project he recently visited in Walpole.
"There's a lot of cities and towns that really get this. I won't pick on the ones that don't," Sununu said during a housing forum at the New Hampshire Institute of Politics at St. Anselm College.
Housing availability and affordability is an issue across many parts of the state — affecting people's monthly budgets and employers' ability to find workers or to expand.
"I've been very vocal about that and I get, 'Governor, stop picking on us,' but yeah, there's some towns that don't get this, right?" Sununu said.
"I was talking about the one that rhymes with Red-ford," Sununu said, drawing laughs from the audience of around 150 people. "Please, right? 'We have too much multifamily housing in Bedford already.' No, you don't. No, you don't."
Businesses "are coming in left and right, and they're not going to be able" to house families there, the governor said.
Bedford's planning board in June approved a workforce housing project that had been debated in town for more than a year. The project, which had garnered more than 1,100 signatures opposing it, features 93 apartments to be built behind the high school.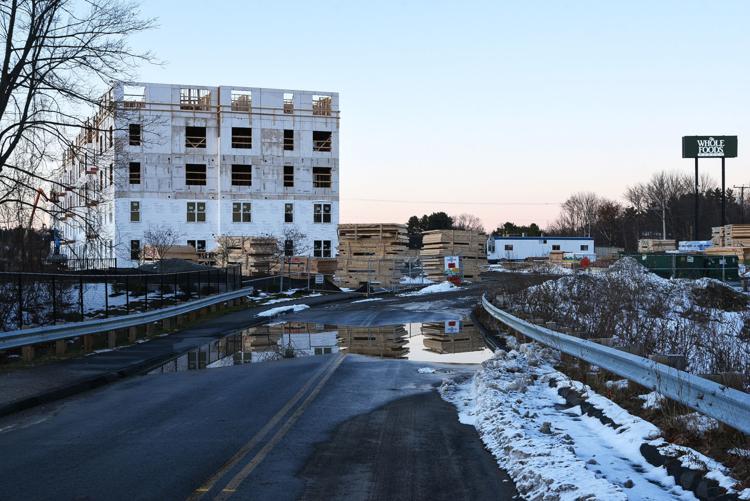 Another apartment complex proposed for South River Road would feature 270 units, including a portion reserved for workforce housing.
Bedford's planning director and town manager weren't available Wednesday to respond to the governor's comments.
In an email, Sununu spokesman Benjamin Vihstadt said: "Governor Sununu believes Bedford, and much of New Hampshire, needs more multifamily housing that is affordable."
Vihstadt didn't address why the governor singled out Bedford.
The statewide vacancy rate for two-bedroom apartments has fallen to below 1 percent.
"That is having a fundamental impact on the state's ability to retain and recruit additional workforce to continue to grow the economy of all the jobs and all the employers that we're working with on a regular basis," said Taylor Caswell, commissioner of the Department of Business and Economic Affairs. "I think it is reasonable to say that this has reached a crisis point here in the state and it needs to be addressed."
The governor's task force assigned to address the state's housing shortage has produced two pieces of legislation, including one to improve the predictability of the development process at the local level.
Forum participants developed a list of recommendations for steps local communities can take to influence local decision-making and increase the supply of housing.
Many of us know "one of the biggest obstacles to increasing the housing supply — and maybe the most intractable obstacle to increasing the housing supply — are found at the local level," said Max Latona, executive director of the Center for Ethics in Business and Governance at St. Anselm.
Ideas included getting people elected to planning and zoning boards who are more housing-friendly and convincing local officials that more housing doesn't necessarily translate into more school children.
Christopher Davies, principal of Great Bridge Properties in Portsmouth, said Massachusetts communities often offer an "easier path for approvals and funding" to build housing than many cities and towns in New Hampshire.
Davies said he appreciates the governor devoting efforts to improve housing stock.
"Just to have a governor talk like he did is huge," he said.