Ron and Melissa Shattuck wanted to give four of their older children plots of land to build homes near them in Francestown.
But what they thought would be simple — adjusting a lot line and subdividing property — led to a fight with the town that landed them before the new state housing appeals board as its first case.
"As parents, I think it's important to help our kids as much as possible," Ron Shattuck said last week.
The Shattucks thought they would get approval from the town's planning board soon after filing their request last fall, but after multiple meetings and the growing expense of having an attorney return for repeated meetings, the town rejected the couple's plans in January.
The Shattucks filed an appeal with the new housing board later that month and received a positive decision in just over three months. A comparable case took 19 or 20 months to get through Superior Court, according to the Shattucks' attorney, Jason Bielagus.
"I think the housing appeals board is definitely essential," Shattuck said. "I think there's way too much power in the planning board to drag this process out for months and months."
The housing appeals board was created as one solution to the state's housing shortage, making it possible for developers to more quickly get a final answer on a zoning issue holding up construction.
Building permits for new housing in New Hampshire are well off their highs for single- and multi-family housing. In 2000, nearly 6,100 permits for new single-family homes were issued. That fell to 1,606 in 2011 after the Great Recession. There was something of a rebound last year, to 3,000.
For years, property owners and developers have complained that local zoning and planning boards needlessly slow down approvals or incorrectly interpret local ordinances.
The appeals board operates under strict time limits to hold hearings and render decisions.
"It's efficiency, expense and expertise, if I were to give three words to describe it," said board chairman Gregory Michael, a longtime part-time judge who has worked on land-use cases for 40 years.
People who lose a housing case before a town planning or zoning board may still file an appeal in Superior Court, or they can take their case to the state housing appeals board, a three-person panel with housing and land-use experience.
"It certainly will move things along faster," said attorney John Cronin, who's involved in multiple cases before the hearings board and who prevailed in an effort to overturn a decision by the Windham Planning Board.
No matter which track people take, a loss can be appealed to the state Supreme Court.
After Windham rejected his client's plan to develop a 16-unit workforce housing development, Cronin appealed to the state board. He had a written decision in 129 days.
Compare that to an appeal of a Bedford case filed last fall that Cronin says is "still wandering through the courts" and has yet to have a hearing.
"Superior Court is really not designed to hear land-use cases," he said.
So far, the appeals board has heard nine cases and issued four decisions — three of which have gone in favor of the appellants.
The average time from filing to decision — 120 days — is months quicker than the courts.
Pros and cons
Not everyone is happy with the board's rulings so far.
"We have heard some concerns about the decisions," said Cordell Johnston, government affairs counsel with the New Hampshire Municipal Association.
Johnston said he didn't have specifics.
The board's mission is to decide whether local boards applied regulations appropriately.
"We have no power to change or amend local zoning," Michael said. "We have no power to change master plans."
He thinks regulations should be clear and understandable.
"There are times when people's opinions don't quite match what the regulatory scheme is in town," Michael said.
By state law, at least one member of the new appeals board must be an attorney and at least one either a professional engineer or land surveyor. All members must "be learned and experienced in questions of land-use law or housing development or both."
"The chairman is very well versed" in land-use law, said attorney Matthew Serge, who appeared before the board in July. "I am comfortable with him at the helm guiding things."
Board members earn from $63,494 to $88,387 a year.
Impact on shortage
Opinions are mixed on how big a dent the appeals board will be able to put in the state's housing shortage.
The municipal association's Johnston said it "may help a little bit."
"I guess the problem is the housing crisis is so severe there's really not any one thing that's going to make a huge difference," he said.
"I think it will help," Bielagus said. "I think you're going to get more well-reasoned decision-making. Sometimes at the town level some decisions might be more emotional rather than based on the law and reason."
He too expects decisions to come more quickly than from Superior Court.
"So you're going to be getting more lawful development ... and you're going to be getting it sooner," he said.
Walpole developer Jack Franks is in court challenging a decision in Swanzey to block a proposed 76-unit senior housing development. The appeals board wasn't in place at the time he was denied.
"It would have saved us more than a year of time and at least $150,000 in legal fees," said Franks, president and CEO of Avanru Development Group.
"It will be instrumental in helping developers like myself be treated with fairness and equity," Franks said. "Unfortunately, a lot of New Hampshire towns and municipalities have been infiltrated with self-serving activists that want zero or no growth and when there is growth it has to be on their terms.
"It's not a sustainable model that New Hampshire should or can live with."
Reasons for delays
Despite complaints from developers, local planning and zoning boards often have legitimate reasons for how long they take, according to the municipal association.
"If it's a big development, the developer needs to provide a lot of information to the municipality, and if it's someone who is very competent, they come in with a lot of information at the beginning, but frequently there is a lot missing and there is a lot of back and forth with the planning and zoning board," Johnston said.
"There are probably times when a local board may drag its feet, especially if there's a controversial project. You have abutters and other residents come in to do whatever they could to slow the process down," Johnston said. "The reasons for it taking so long can be any number of things."
Dean Christon, executive director and CEO of the New Hampshire Housing Finance Authority, said that speed is money, and a lengthy court process could be a deterrent to some developers.
"If my only option is to spend two to three years in court and a lot of money, I'd be less inclined to take on that project," Christon said.
The appeals board "was never intended where there would be an automatic decision in favor of the developer," Christon said. Rather, "Let's do this in a more efficient and more accessible way than putting things from the court system that's already overloaded."
Matt Mayberry, executive director of the New Hampshire Home Builders Association, said the group doesn't like the idea of the appeals board but thinks it's needed.
"We just want the municipalities to follow the letter of the law, not their interpretation of the law," he said.
Decisions in the details
Mayberry, a real estate broker for 25 years, thinks some boards get fixated on certain topics.
"It's amazing how much I talk about trees," he said. "They'll want to know the diameter of the tree, the species of the trees and where the trees are going to be placed."
The appeals board not only gets into the weeds of subject matters; sometimes, it tackles the trees.
In the Shattucks' case, the Francestown Planning Board's desire was for the Shattucks to "somehow restore the property" to the condition before trees on it were legally cut down, according to the board's ruling.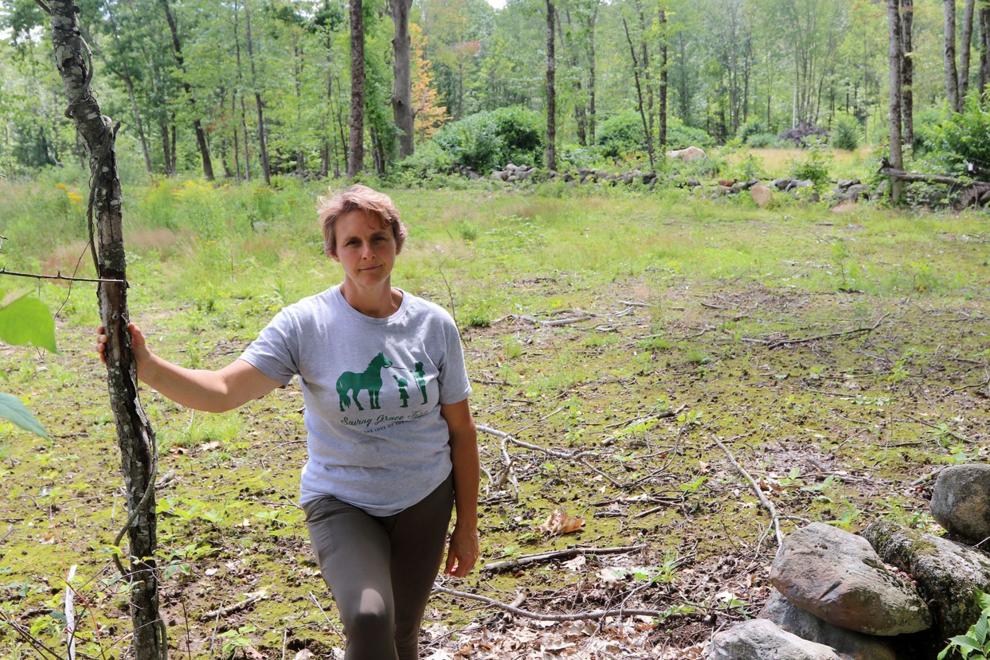 The housing board chopped down that argument.
"Based on the Planning Board's concerns about the prior-referenced tree-cutting, are future developments barred until all the trees grow back?" the housing board wrote in a follow-up order denying the town's motion for reconsideration. "What regulation or ordinance notifies an applicant of this precondition?"
Affordable housing debate
During two hearings this month, attorneys in separate cases argued over the role of affordable housing and how it fits into zoning.
A Pelham couple has proposed 90 units of housing with 23 restricted to workforce housing.
Cronin, representing the property owner, said developers should be permitted to build more units per acre than standard density allows in order to make a project financially viable.
"If you say under your ordinance that 'Look, we like workforce housing, we're all for it, but you have to have the same density as you do as a market-rate development,' you won't see any workforce housing being built," Cronin told the hearing board.
In another case, Matthew Serge, the attorney representing the town of Goffstown, said discussions of a regional housing shortage should be held elsewhere.
"I understand the idea of a housing shortage. I get the argument. It's a good argument, but that has nothing to do with the character of the area. That has to do with sort of, I guess, an idea of whether it's good for the community, but that's not the standard," Serge said.
"The fact that there's a housing shortage, maybe that makes sense for the legislative body to go back and perhaps amend the zoning ordinance, make more provision for residential. But that's where that would happen, the legislative process, not here," Serge said.
Michael thinks the appeals board will help residents and developers aiming to build housing — whether they win or lose before his board.
"What's important in many of these projects is to keep things moving," said Michael, who works part-time at the Bernstein Shur law firm.
If a developer loses, "the developer can pick up his Tinker Toys and propose something else. He's not waiting for that first decision (from the courts)," Michael said.
"That person can come in, that didn't fly, make some good solid adjustments, change modes with another good project that may satisfy the local criteria," Michael said.
"That to me is one of the ways the housing appeals board can keep things going," he said. "That certainly helps the housing situation."
The Shattucks won their fight, but not before their son Ryan gave up on one of the proposed subdivided parcels.
"He had his heart set on it," his father said, but he decided to build his house on a piece of nearby family property he fancied less.