Some of Nicole LaPierre's high school art students admit they don't get out of bed for Zoom classes and seem depressed.
Meanwhile, the Portsmouth mother thinks her younger son, Theo, is not learning all he should in first grade, splitting time between in-person classes and remote learning.
"It's a nightmare," LaPierre said in a recent interview. "How many jobs can you do at once? Something's got to give, and what's giving is Theo is not getting as much schooling as he should. We as working parents don't have the energy."
Parents in communities across the state have been forced to make unforeseen choices as they try to balance work and remote learning.
For the LaPierre family, that meant hiring a babysitter they share with a neighbor to watch three kids while they aren't in class.
In another case, a Nashua father cut off from unemployment benefits reconciled with his ex-girlfriend, who agreed to help their daughter learn remotely while he returned to work.
"I have to keep money coming in," said the father, who didn't want to be named because he was challenging the halt of unemployment payments. "I have to pay the bills or we'll have no place to live."
Nearly 16,000 New Hampshire parents — primarily women — "cited the need to care for a child not in school as a reason for not working" as of late November, Brian Gottlob, director of the state's Economic and Labor Market Information Bureau, wrote in a recent weekly update.
"At times during the summer that number had reached over 30,000," he said.
Parents are stretching their days longer than before the pandemic. Kristin Hardwick sees them in off hours visiting her Coworking House, a Milford business offering shared and private work spaces.
"They were remote-schooling during the day and coming in late evenings or early mornings to get their work done," Hardwick said. "Remote schooling is a huge burden."
The pandemic and current events have taken a toll on parents.
"We're so mentally exhausted from this pandemic and this government," said LaPierre, who teaches in Tewksbury, Mass. "I have a lot of guilt about him (Theo) getting the short end of the stick."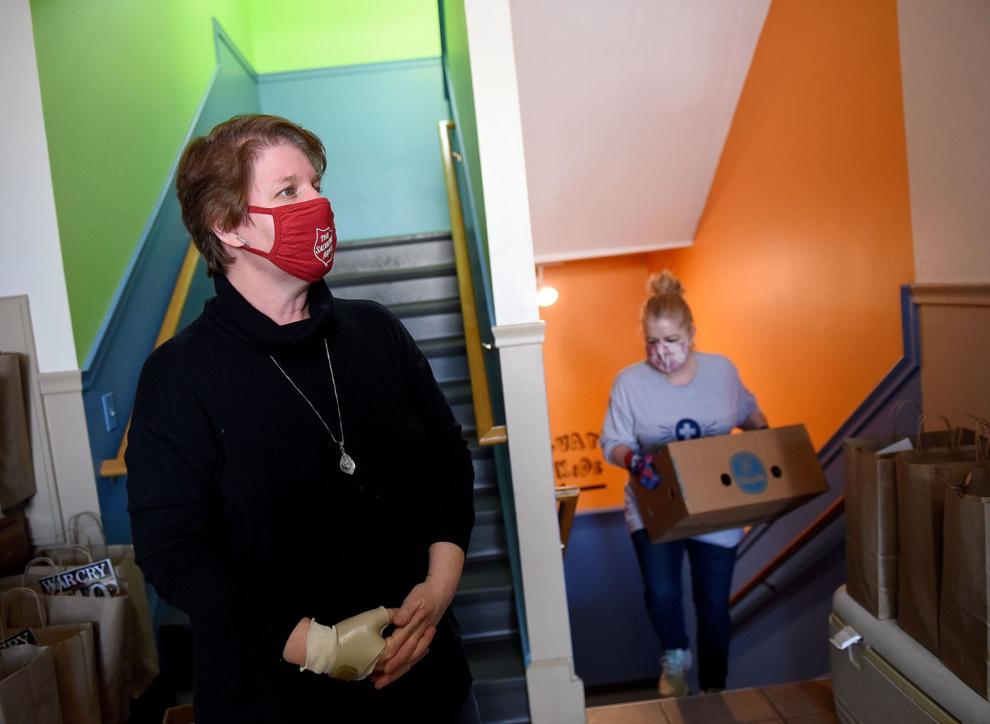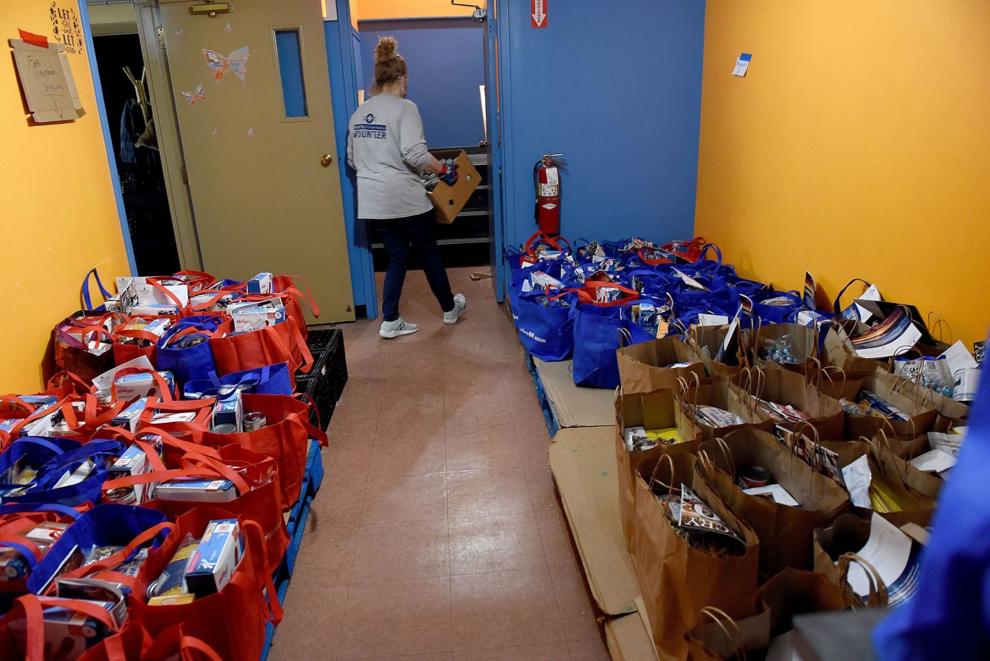 Tired and hungry
This month, a mother of two children stopped by the food pantry at the Nashua Salvation Army for the first time for free food because it was difficult for her to work and oversee remote schooling at the same time.
Her daughter, she said, will watch a Zoom class for an hour, and then the second-grader is left to do assignments.
"I'm more teaching," said the mother, who declined to be named. "They're just not getting enough direction."
Grace Tavares, home school coordinator at the Dr. Crisp Elementary School in Nashua, also stopped by the food pantry. She helps arrange for food, clothing, furniture and internet access for families with children at the school, which offers remote and hybrid learning.
"Parents are not happy," she said. "They want their kids at school."
Students are missing socialization by learning at home.
"Some don't have adult supervision to help with their learning," she said.
Tavares and the Salvation Army are still fielding requests for help getting internet access.
Demand for food has tripled since the pandemic hit, according to Rosemarie Dykeman, director of social services at the Salvation Army in Nashua.
"We've seen a lot of people even coming with their children," she said. "We do have a lot of families."
Some grandparents are raising kids or overseeing their remote learning, Dykeman said.
Parents who choose to stay home to care for children may qualify for unemployment benefits under the federal CARES Act.
Celeste Burns, who co-owns Burns Automotive and The Village Station in Moultonborough, said she has had employees take unpaid time to be home with children. One even quit.
"I don't want to fire them and replace them because they want to come back, and they're good employees," said Burns, who finds herself cooking and cashing out customers at the convenience store.
"It's crazy. It's week-to-week. You can't plan," Burns said. "I'm doing all the jobs that I would normally have my employees do."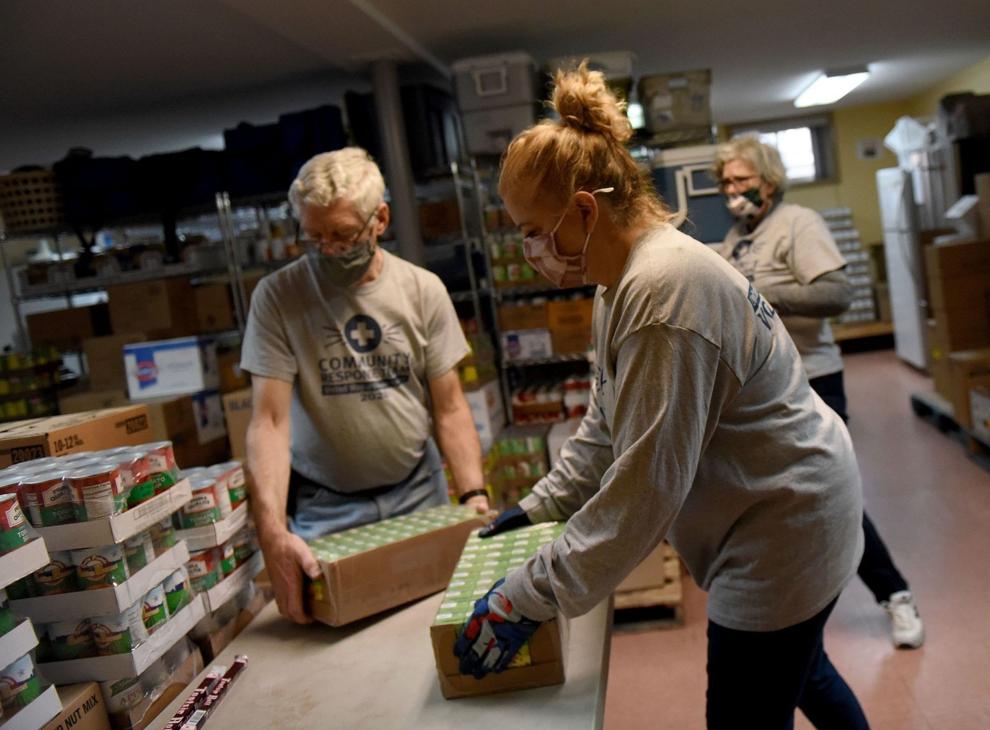 Home-school spike
State figures show more students were classified as home-schooled this school year.
That number more than doubled last fall to 6,110, compared with the previous year, according to the state Department of Education website. Enrollment in public schools totaled 167,836 as of Oct. 1, after topping 176,000 each of the three previous years.
Some private and religious schools have reported higher enrollments because students could attend in-person classes.
Child-care programs are seeing fewer vacancies during the pandemic, according to state figures.
This month, there were 2,000 openings among the 45,644 licensed spaces for child care programs in New Hampshire, compared with about 4,000 vacancies among the 46,000 spaces available last March, according to Jake Leon, spokesman for the state Department of Health and Human Services.
During last spring's stay-at-home order, "there were still many essential employees who needed child care and many centers remained open during the emergency to meet this critical need," Leon said by email.
Since the stay-at-home order was loosened last June, "supply and demand have increased considerably," he said.
But many child-care providers are reporting lower figures.
On a recent conference call, 13 centers reported being between 60% and 80% full.
"We all have vacancies because parents are making choices," said Christiane Casserly, executive director of the Rochester Child Care Center.
Enrollment pre- and post-pandemic, she said, is "like night and day."
Before the pandemic, the Rochester center was overseeing 440 children attending before- and after-school programs at the city's eight elementary schools, in addition to caring for 150 younger kids at the center.
Between September and November, the center handled 220 children in before- and after-school programs with another 90 younger kids at the center
"There's no before- and after-school students because that program takes place in the schools, and the schools in Rochester are remote-learning," Casserly said.
Her staff has been reduced from 92 before the pandemic to 65 through furloughs and layoffs.
Returning to class
Recently, Casserly received good news: Rochester schools were resuming full-week, in-person learning. She hoped to bring back another 15 workers last week.
"We only have enough staff to have five (schools with child care restored) right now," Casserly said. "We're looking to hire, but finding it hard to find qualified people that are ready to work right now."
Not knowing when schools would reopen for students has proven difficult for her and parents.
"The uncertainty is very, very, very difficult," Casserly said. "Obviously, we need to know when we can commit to staff coming back to work. The parents need to let their workplace know if they can go back to work."
The center, which is losing $80,000 a month, received about $300,000 in government financial help, said Casserly, who noted smaller programs didn't fare as well.
The nonprofit center ended up with a $400,000 loss for the year ending last Aug. 31, but she hopes some or all of a roughly $400,000 Paycheck Protection Program loan gets forgiven this year.
"It was able to keep you going," Casserly said.
Statewide, child care programs received more than $45 million in federal CARES Act funds, Leon said.
The pandemic has created different demands for programs, according to Jackie Cowell, executive director of Early Learning NH, a nonprofit that represents child-care programs.
"We hear folks have waiting lists and some have openings," Cowell said.
Planning is difficult with uncertain enrollments, she said.
Christina D'Allesandro, state director for MomsRising, an advocacy group for children and paid parental leave, said child care issues have "created a huge challenge for women" who would prefer to remain in the workforce and often would make less on unemployment.
Some parents began the pandemic working from home, but employers eventually wanted them to return, forcing some parents to choose between their children and work.
"I think we've realized school was providing a lot of child care for families," D'Allesandro said. "I think intermittent closings and shutdowns make it real difficult for parents to adapt."
For months, the pandemic and world events have left children and parents to process a lot psychologically.
"I think it's so much to take in. The students are numb like we're numb," LaPierre said. "I think everyone is in this permanent state of shock… an entire year of intense stress."