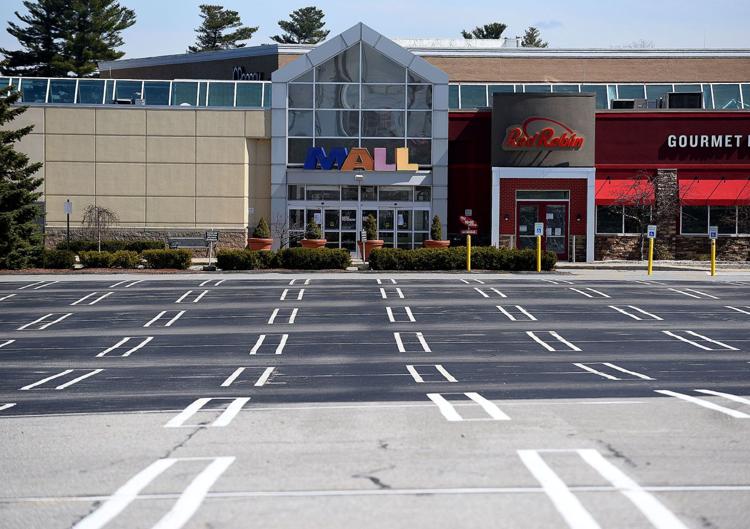 UPDATE: Simon Property Group has asked at least three New Hampshire communities to defer for a year paying nearly $6 million in property taxes due in July for their malls. Salem received a letter with a request to defer a $2.2 million tax payment due in July for The Mall at Rockingham Park, joining Manchester and Merrimack.
---
MANCHESTER — The owner of the Mall of New Hampshire and the Merrimack Premium Outlets is asking municipal officials to defer for a year more than $3.7 million in property taxes due in July and to cut property assessments, according to letters sent.
It couldn't be confirmed whether Simon Property Group made similar requests regarding the Pheasant Lane Mall in Nashua and The Mall at Rockingham Park in Salem — all temporarily shuttered by the coronavirus pandemic. But Simon is already suing the city of Nashua to reduce the assessed value of the Pheasant Lane Mall.
In Manchester, "They have requested their July 2020 tax bill be deferred until July 2021, and they've asked us to reduce their value 40 percent," said Robert Gagne, chairman of the city board of assessors.
Simon won't get any immediate relief.
"There's no legal authority to defer a tax bill," Gagne said Tuesday.
Simon is asking for a year's delay to pay $1,917,107.91 in property taxes on two mall parcels, according to two Simon letters obtained by the New Hampshire Union Leader.
A similar letter sent to Merrimack officials asked for a one-year delay on paying its property tax bill of $1,859,813.50 due in July.
Government orders to help stem the coronavirus pandemic have shuttered most malls and stores in New Hampshire and around the country, though some businesses are trying to offer delivery or curbside pickup. Simon closed all of its malls in mid-March.
"This unprecedented crisis is on top of the massive economic challengers brick & mortar retailers are already confronting due to the effects of e-commerce and the retail apocalypse, which has led to sales declines, record bankruptcies and store closures," Simon Property Group Treasurer Donald Frey wrote to officials in both communities.
"COVID-19 will have a major impact on mall traffic, tenant sales, tourist activity, and general demand for services within our property, all warranting a proportionate reduction in the tenants' tax burden," Frey wrote. "This critical challenge for the property will significantly alter the property's short and long term viability."
Requesting a reduction in a property's assessment is considered an abatement and wouldn't be appropriate for the city to consider until after the December tax bills are mailed, Gagne said.
No other commercial property owner in Manchester has requested a deferment or abatement, he said.
The city of Manchester received Simon's request March 25.
A few anchor store parcels at the Manchester mall are owned separately, including the former Sears store, which has become a Dick's Sporting Goods store and a not-yet-opened Dave & Buster's. Simon owns the building housing Best Buy, Gagne said.
A Simon mall spokeswoman didn't immediately respond for comment. Salem and Nashua officials couldn't be reached.
"We Are Temporarily Closed by Government Mandate," reads the website for each Granite State mall.