A killer pandemic sweeping the world left more than 23,000 New Hampshire health care workers seeking unemployment benefits within six weeks.
Kaitlin, a 30-something mom from Greater Nashua, was among them.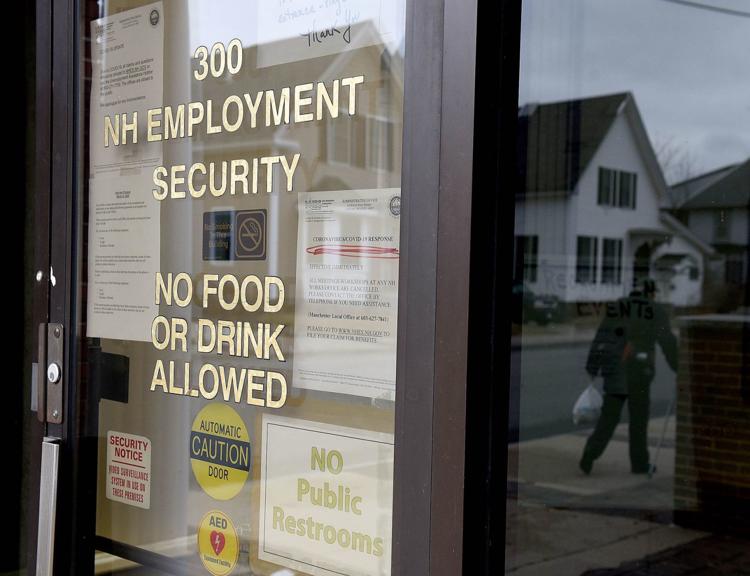 Like her co-workers, Kaitlin's hours were cut and she applied for unemployment in late March. They shared their progress and frustrations about the unemployment process, but everyone received a check.
Her maternity leave — mainly unpaid — to care for her newborn son last summer cost her an unemployment check this spring.
"If I hadn't had a child last year, I wouldn't really be hurting right now from a financial perspective," said the mother of three, who didn't want her last name or employer disclosed.
Being out on leave lowered Kaitlin's income for last year, the basis for determining her unemployment eligibility.
She could still earn up to 30% of her weekly benefit amount working part-time and be able to collect unemployment, but she makes $40 a week too much in her part-time job compared to her lower income from last year.
Not only does that disqualify her from state benefits, she misses out on the supplemental $600 federal payment.
When someone files for unemployment, the state goes back five quarters and looks at their earnings during the first four. Using a table in the state law, a weekly benefit is calculated from the total.
People who work part-time can earn up to 30% of their weekly benefit amount, and "anything above 30% then reduces your benefit dollar for dollar," Richard Lavers, deputy commissioner at Employment Security, said in an email.
That's why Kaitlin received no unemployment check.
"Your weekly benefit amount is based upon your earnings because it is those earnings that were used to calculate the tax payments that the employer paid, which provides the money for the trust fund from which benefits are paid," Lavers said.
One state legislator wants the situation rectified for Kaitlin and others like her.
"I think the law should be amended to exempt maternity leave," said Rep. Chris Balch, D-Wilton.
Concord attorney Heather Burns said unpaid maternity time "counted against" a parent is "an unfortunate and likely unintended result" of the state law.
"New Hampshire's unemployment laws should not penalize women for taking maternity leave (and men for taking paternity leave) since a leave following the birth (or adoption) of a baby is such an important time for the mother's physical recovery and for the parents to bond with their new baby," Burns, an employment litigation attorney at Upton & Hatfield, said by email Friday.
It's unknown how many parents are in the same straits.
Earning too much
Government restrictions caused many businesses to shutter starting in mid-March in an effort to limit the spread of COVID-19.
In less than two months, more than 172,000 New Hampshire residents filed initial unemployment claims. Some eventually didn't qualify, and others returned to work. The state counted about 115,000 active unemployment filers for the week ending May 2.
Some filing new claims — including those who were downgraded from full-time to part-time hours — were eligible to apply for unemployment benefits but earned more than permitted to qualify for payment.
"I would expect it to be thousands," Lavers said last week.
"Earnings always impact how much you get from unemployment," he said.
Kaitlin said the person handling her appeal at Employment Security suggested she talk to legislators about changing the law. Her husband, Sean, a member of the National Guard, reached out to several for help, including Balch.
"I really would like them to take a look at who this is affecting in these situations," Kaitlin said. "I feel like I'm not just being lazy and trying to collect unemployment. All I want is to recoup the wages that I lost."
Unpaid then, unpaid now
Attorney Burns said most employers in New Hampshire don't offer paid maternity leave.
That leaves some mothers to use paid time off and others to collect only a portion of their earnings through short-term disability benefits.
"Many women in New Hampshire have to take at least some, and sometimes all, of their maternity leaves unpaid," Burns said.
During her maternity leave, Kaitlin said she tapped short-term disability benefits, coverage for which she had paid extra.
"During the quarter that I was on maternity leave, my earnings were about 10% of what they would have been had I been working full-time," she wrote in an email.
Lavers said he was prohibited by state and federal law from specifically discussing Kaitlin's case.
Back in March, Kaitlin remembered being "happy" she wasn't laid off from her job.
When she found out she wouldn't be getting any unemployment checks, Kaitlin recalled, "I thought I did something wrong."