MANCHESTER — OK, maybe there's at least a tiny generation gap in the workplace.
During a panel discussion on how various generations interact at work, Tim Long, owner of Meridian Construction Corp. in Gilford, elicited laughter when he referred to people listening to cassette tapes.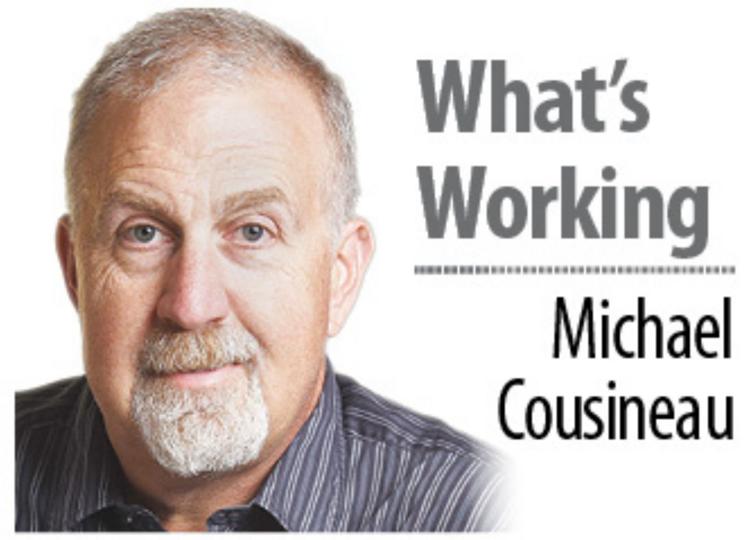 "I'm sorry. Did you say cassettes?" said the younger Jeff Comeau, a millennial and an estimator at Specialty Services of New England in Salem, "or a podcast?"
During the generally serious discussion at the Derryfield Country Club, six panelists from various industries, from banking to construction to auto sales, shared their thoughts.
There were a few laughs — and agreement as well.
Ryan Pope, vice president, retail market manager, at Kennebunk Savings Bank, shared a story about a 20-something customer.
"No one knows how to balance a checkbook, and I know that because they come into the bank and ask why there is no money in there when they still have (blank) checks," said Pope, who lives in Hampton and works in Maine.
"It's really sad, but at the same time, like, that's the future now, and it's because no one taught them how anything works," said the 32-year-old Pope.
Comeau said high schools need to teach "real world skills" to teenagers.
"Teach me how to be an adult, and then I can figure out school afterwards," Comeau told the audience of about 75 at the event, organized by the Bernstein Shur law firm.
The issues affect choices that people make about which jobs they take and how they manage their money.
H. Andy Crews, president and CEO of AutoFair, criticized high schools for not exposing students to shop classes, or the trades, and steering them to colleges.
"You've got all these plumbers that are about to retire with no kids coming into the pipeline to be plumbers," said Crews, who was labeled as a "veteran" panelist, older than a millennial (aged 23 to 38). "Those are six-figure incomes for a master plumber."
Long said there was some good news: the Associated Builders and Contractors, a construction trade organization, has helped start a pilot program in Manchester's middle schools to discuss the trades.
Speakers also said high school students — before choosing a college major — should consider what kind of pay they will make if they work in their college degree field and how much they will pay monthly in student loans.
Technology has helped the world move quickly for nearly everyone. This affects younger generations and their careers more than older folks, according to Crews.
"You see things moving quicker and faster, and when it doesn't move where they (millennials) want it to, it's easier to say, 'OK, I'm willing to make a change,' where generations before, it was like, 'OK, this is where I have a job, I'm going to stay here for 30 years because it's secure.' Crews said.
"It's like they don't really focus on the security piece," he said.
Yes, there also was talk — but not consensus — over whether it's better to communicate with customers and employees by phone (to build relationships) or by text (for speed's sake).
Advice to a future colleague
All six panelists had the chance to give advice to someone starting out or who might become a colleague someday.
Kristy Merrill, president of the New Hampshire Bankers Association and older than a millennial: "Don't underestimate the value of hard work, and being patient and being reliable."
Long: "My advice is just keep working hard. Always have a great attitude even when you don't feel like having one because superiors are always looking at the attitude first of every employee."
Crews: "Hard work — it's the basic foundation of trying to elevate yourself to the next level."
Alli Alosa, a millennial and corporate marketing manager at New England Kenworth, a chain of truck dealerships: "Don't wait for someone to tell you what to do."
Pope: "It's real easy to outshine a lot of people around you regardless of where you find yourself just by showing up, just by putting in the time, putting in the effort and wanting to be there."
Comeau: "Never be afraid to fail."
Here's another perspective on age from Jim Fils, instructor for the microelectronics boot camp at Nashua Community College:
"The younger students have all the enthusiasm in the world," Flis said. "The 55 and older, several things come into play: their level of maturity, their level of stability and greater patience, all of which are key to be successful in this environment."
And Norman Head of Wolfeboro came armed with an improved body and decades of experience at a recent job fair in Wolfeboro.
Now 73, Head once ran a dairy farm and dog kennel and worked as a quality control manager. He scanned employer booths looking for a part-time job he would love. He shared that he had both knees and a heart valve replaced.
"I'm good to go for another 50,000 miles," he said.