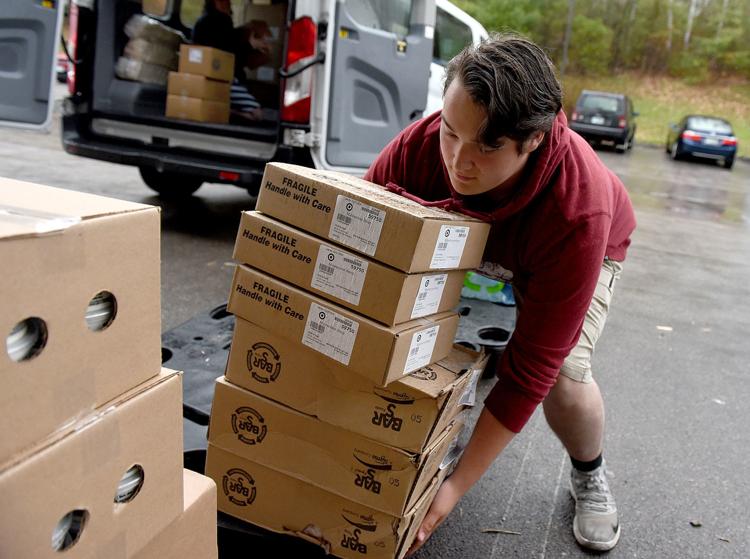 A Nashua food pantry has more than tripled the amount of food it gives out while seeing new faces during this period of record unemployment.
"We can't help with every person's utility bills, but we can help with food," said Amie Groff, development director at the Salvation Army of Nashua.
The organization gave out 1,350 bags of prepared food in April, compared to 400 in February. The food pantry now allows people to come more than once a month. Groff thinks kids away from school are eating more at home.
"We are expecting this to continue at least into the month of May and throughout the summer," said Groff, who welcomes donations of cash or nonperishable food for the pantry.
With many businesses shuttering or reducing operations because of government restrictions, nearly 160,000 New Hampshire residents have filed initial claims for unemployment since mid-March.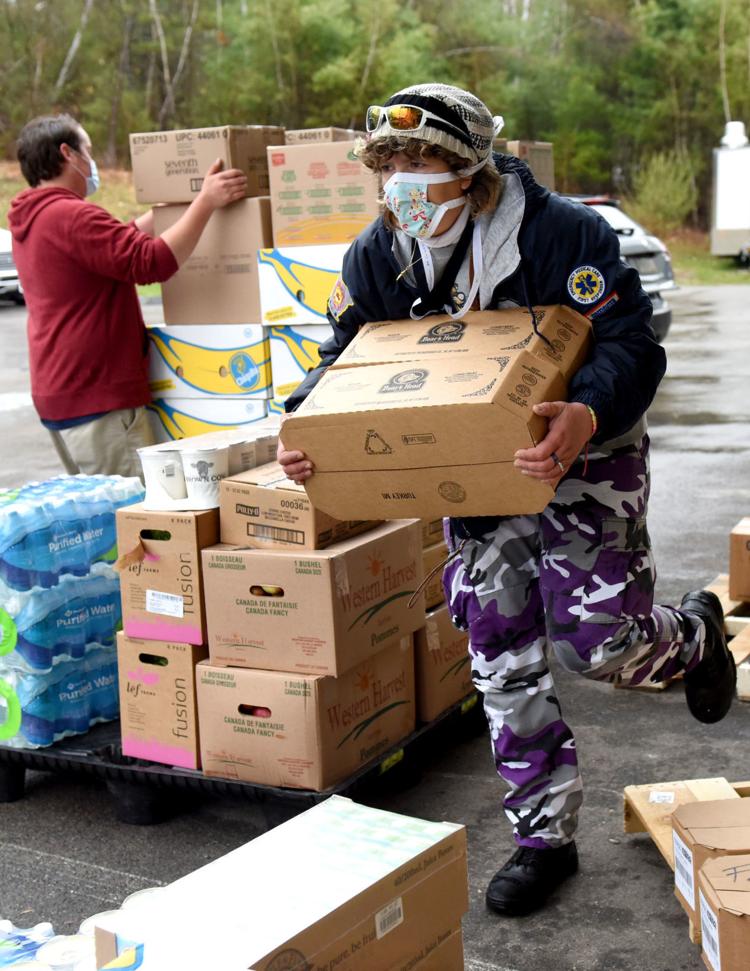 The New Hampshire Food Bank, which supplies food to more than 400 agencies, including Groff's, has sent out 44% more food than a year ago.
"Our agencies, they're seeing families they've never seen before, so there's an increase in demand due to the unemployment," said Executive Director Eileen Groll Liponis.
In the past six weeks, the food bank has spent more money buying food than in the past three years combined, Liponis said.
For a time, Food Bank drivers stopped picking up food "because of safety and not a lot of excess" food donated by supermarkets, which were doing a brisk business, especially at the outset of the pandemic. Those pickups have come back some.
College concerns
At Manchester Community College, students short on food money could have visited a food pantry when school was in session. Now they're getting Market Basket gift cards supplied by the Community College System of New Hampshire's foundation.
"During this COVID cloud, we have our doors locked, but food insecurity still exists," MCC President Brian Bicknell said by phone Thursday.
MCC staffers would direct dozens of students to the college's food pantry, Bicknell said.
Since the pandemic began, the school has given out 25 $100 gift cards from Market Basket. The community college system's foundation gave MCC $7,000 to cover the cost.
People working at MCC's academic success center typically make calls to students and monitor chat rooms to learn about students in need, he said.
"All the New Hampshire community colleges were addressing the needs of food-insecure students prior to the pandemic, and along with other emergency supports to students, the colleges have successfully transitioned into the realm of social distancing and enhanced need," said Shannon Reid, spokesperson for the Community College System of New Hampshire. "Each college is approaching this in ways that reflect local circumstances and capabilities."
River Valley Community College, with a main campus in Claremont, has kept its food bank stocked during the pandemic, Reid said. Nursing faculty on Friday will stuff bags on campus and give them to students who drive there.
The college also is "mailing gift cards supported through private donations out to students who cannot make it to campus to purchase food at local grocery stores," Reid said.
During a webinar before the New Hampshire College & University Council this week, the topic of student hunger insecurity centered on getting eligible students signed up for federal and state aid programs and convincing more students to share their needs with college staff.
The guest speaker said academic institutions receiving money from the federal CARES Act to counter the pandemic's economic fallout should target funds for hungry students.
"Perhaps, you're better coordinating those academic and financial and social service provisions together or you're co-locating those services on your campus, so that in the long term, it makes the process more efficient for students, and it really helps you all do a better job of serving them in the future," said Lauren Walizer, a senior policy analyst with the postsecondary education and workforce development team at the Center for Law and Social Policy, which advances policy solutions for low-income people.