W here handbags once hung, people checked in for their COVID-19 vaccinations inside the empty Lord & Taylor in Salem. Then they rolled up their sleeves for shots in the former women's shoe department.
And as the newly vaccinated made their way to a waiting area to be monitored for possible side effects, a female mannequin stood guard nearby, still wearing a black sweater around her neck with a dangling sale tag of $53.99. One arm held a sign directing people to the elevator.
"We use these old clothes racks to corral everybody," said 1st Lt. Graham Cox, the National Guardsman in charge of the state's Salem vaccination site.
Three retail relics around the state have been converted to vaccination sites, helping the economy to recover, people to return to their workplaces and families to reunite.
"I miss my grandchildren and need their hugs," Patricia Gilzinger, 66, said outside the Salem store after her first shot last week.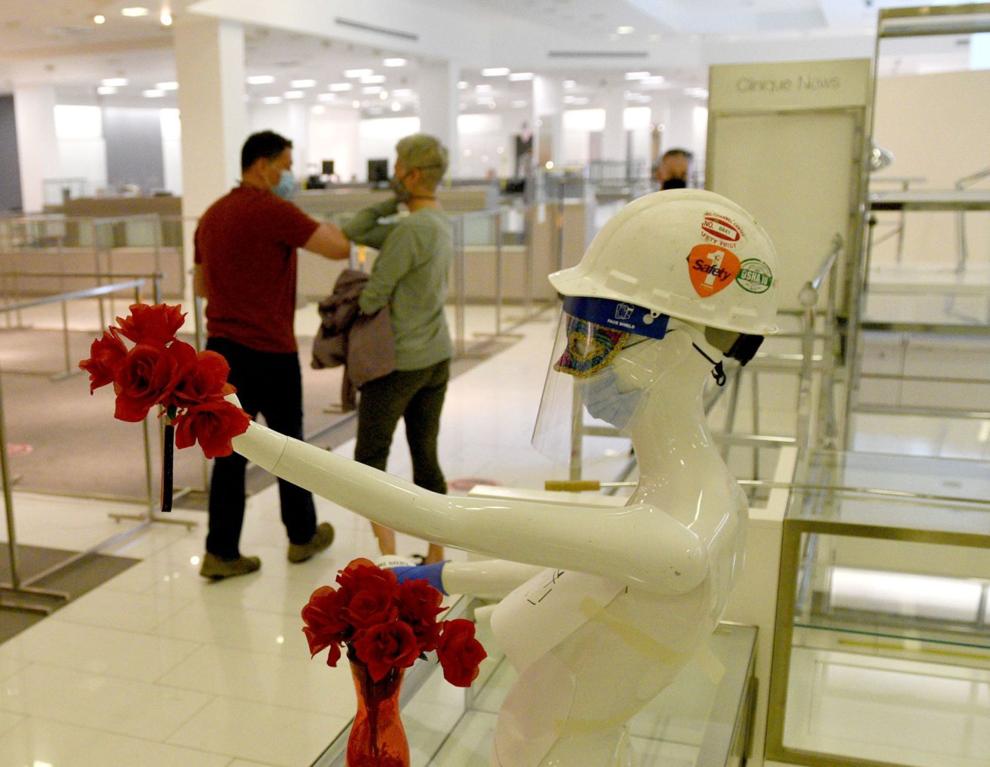 National Guardsmen oversee the vaccine operation in the former upscale retail store at The Mall at Rockingham Park.
Dennis DiGiovanni of Salem said he was overcome with emotion seeing the Guardsmen in their fatigues.
"I even had a tough time thanking them for their service," said DiGiovanni, who turned 60 two days later. "I was getting choked up. It felt patriotic. It was the government truly behind it or supporting it."
Designer names, including Coach and Michael Kors, could be spotted on walls or the remaining display cases. Empty jewelry cases sported orange liquidation price stickers.
Cox said there were discussions about what store items to keep, including whether to have mannequins guide people to the next vaccination station.
"Do you want to make it look more like a department store or make it look more like a hospital?" Cox said. "Might not be a right answer for that."
People heading to the post-shot area to await any possible side effects could spot piles of mall Christmas decorations in a blocked-off area.
Many people who came for shots recalled shopping excursions of years ago. Anna Boulia of Hudson recalled buying dresses for holidays and proms for her three daughters.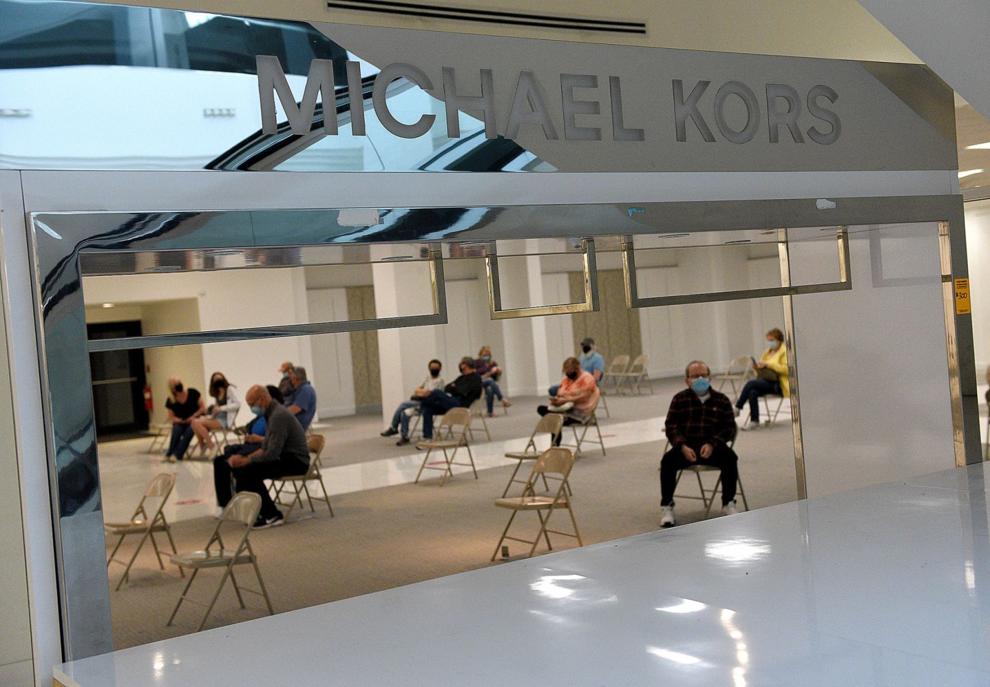 "It makes me sad" the store closed, she said.
"It's weird not being accosted by perfume people."
Most found it improbable to be receiving a vaccination where they once shopped for designer clothes.
"Who would have ever guessed," said Heather Sweeney, 63, of Amherst. "I loved Lord & Taylor."
Personnel from area fire departments administered the shots, including Londonderry fire Lt. Peter DeVoe.
DeVoe said seeing his Londonderry Fire Department shirt or a familiar face put people "more at ease" with the process.
Federal funds are covering the cost of renting space for the state vaccination sites, including the three in former big retail stores.
Fire department personnel can be paid at straight time, overtime or for detail pay depending on their individual department, according to Jake Leon, spokesman for the state Department of Health and Human Services.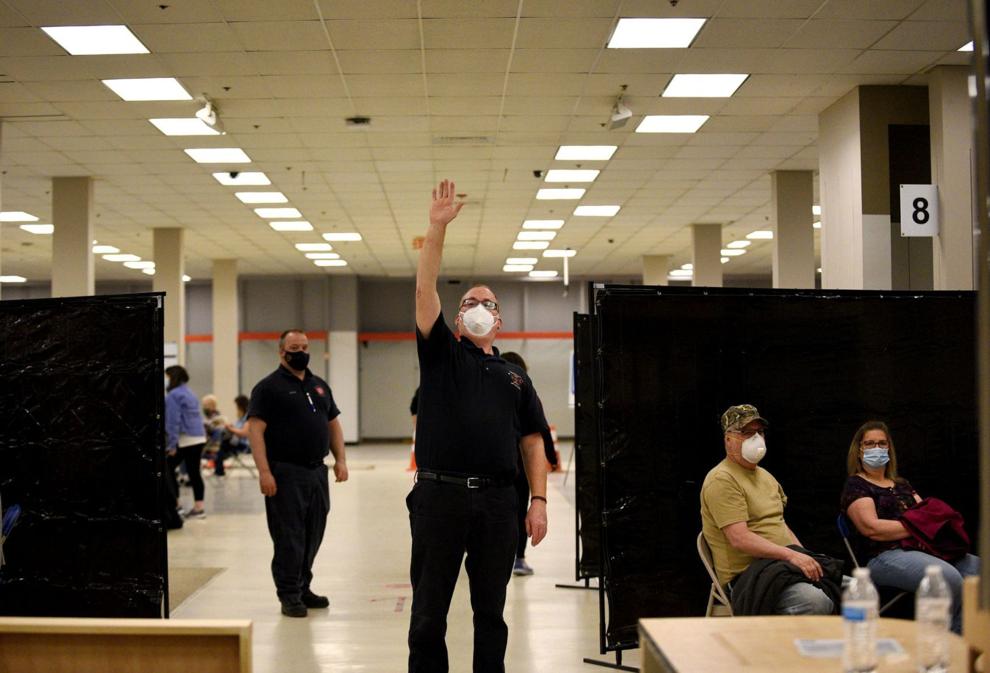 Those costs also are reimbursed with federal dollars.
Even the state's poet laureate, Alexandria Peary, stopped by for her vaccination Monday.
"What rhymes with shot?" she asked, though she had no plans to pen any vaccination stanzas.
Sweeney, 63, who was looking forward to seeing her grandchildren, planned to mark her shot with a different kind of shot.
"I'm going home to have a nice toast tonight," she said. "I'm toasting the day."
JCPenney, West Lebanon
Not far from empty jewelry cases, Lee and Evan Oxenham passed the post-shot waiting period on their phones and tablets.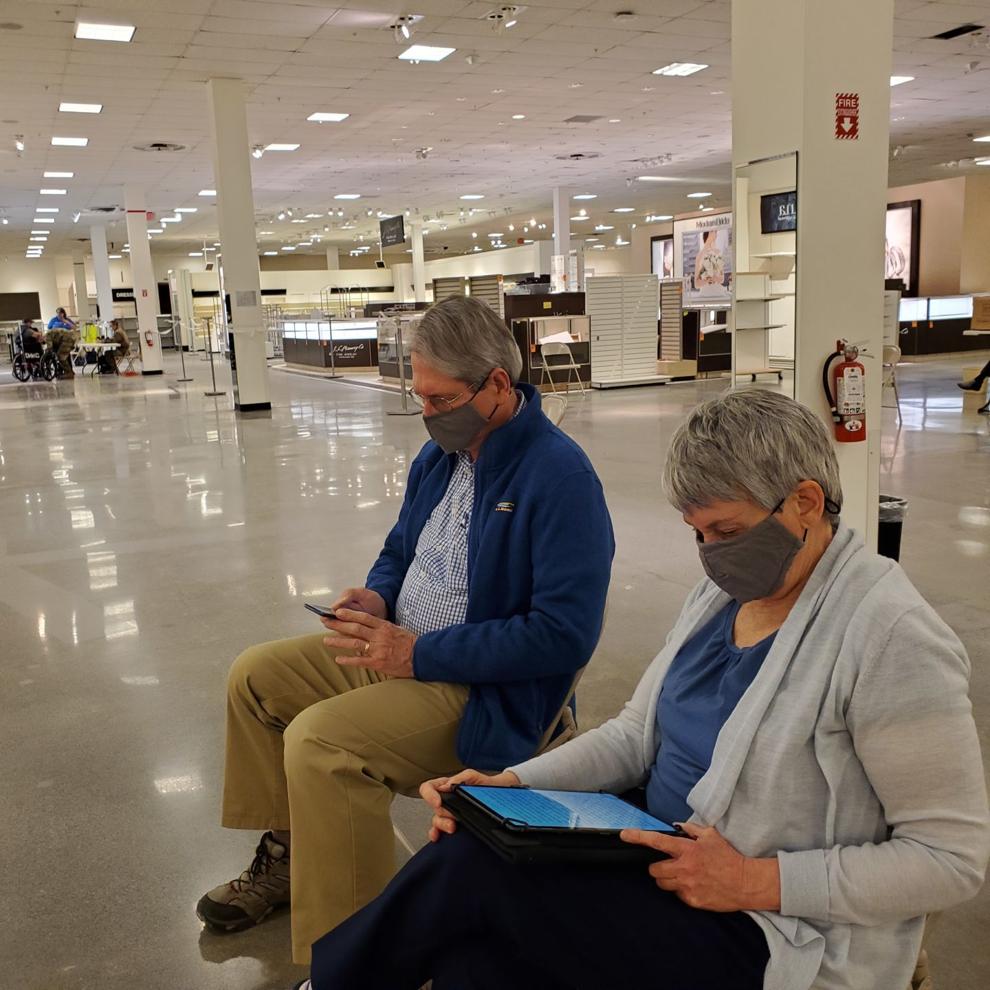 "I was surprised there were so many display cases here," said Mrs. Oxenham, 70, of Plainfield.
Calling JCPenney "our go-to store," she said there was nothing in the area to replace it.
"You have to go to Manchester and Macy's to have something on par with what there was here," she said.
Less than a mile away, on the other side of Interstate 89, Target is moving into an empty Kmart that closed last year.
Jim and Ellen Lynch of Hanover recalled buying housewares and clothes for themselves and their children at JCPenney, which closed last year.
"Our thought is, 'Where are we going to buy our underwear?'" Mrs. Lynch said.
Ed O'Leary was pragmatic about the change in circumstances.
"Never expected it, but that's how life is," said the Etna resident, who got his second dose of Moderna. "Life is always unexpected."
The site on North Plainfield Road alternates every other day with one in Claremont to dole out first shots. So on Tuesday, it was handling only those needing a follow-up dose, more than 200 in all.
Before it opened as JCPenney in 1977, the space housed a W.T. Grant, a mass merchandise store, according to Lebanon historian Fran Hanchett.
W.T. Grant "served all-you-can-eat chicken on Friday night," Hanchett said by phone. "It was a pretty popular place for people to go, especially if they had huge appetites.
"I had cousins go there and shut them down (one day) because they cleaned out all their chicken one night," she said.
Speaking of food, people lined up in their vehicles to receive free food from a mobile food pantry in the JCPenney parking lot Tuesday on a day worthy of sunburns.
Drive up. Say where you're from and how many families you are picking up for. Pop open your rear vehicle hatch, say "thank you" and drive off.
Call it another pandemic panacea made possible by a vacant retailer.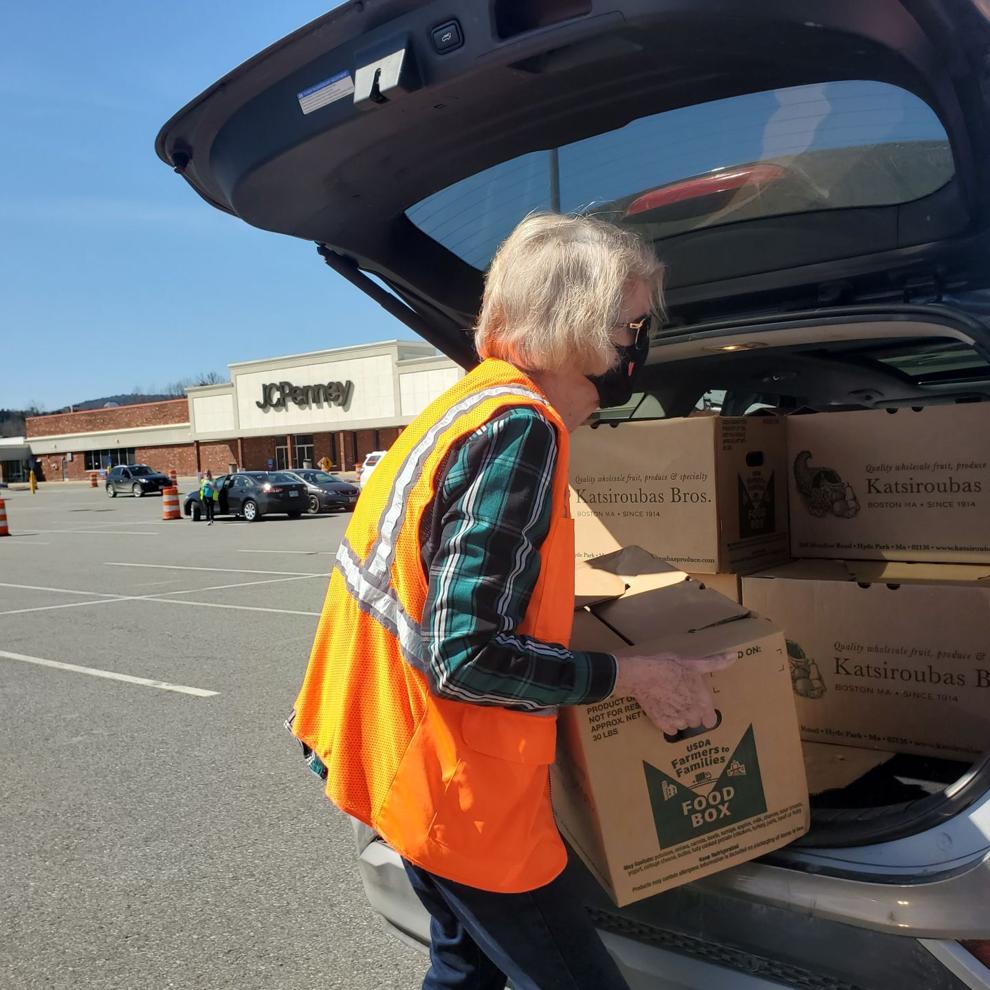 "It's amazing, helping families out who need it, especially in these times," said recipient Sean Trzesiara of Hartford, Vt., whose wife got her vaccine shot in the old JCPenney store.
Doreen Chapman of Meriden drove her sedan through the food line.
"We'd be going hungry" without the help, she said.
The food pantry served 215 families — three-quarters from New Hampshire and the rest from Vermont. More than 500 food boxes were handed out, containing 16,632 pounds of meat, produce, vegetables, cheese, yogurt and milk provided by the federal government.
Recipients "were all in pretty good spirits," said Luke Challis, agency relations coordinator for the New Hampshire Food Bank.
But like the vaccinations, there wasn't enough food.
"There was a larger need than we were able to have on hand, so we're going to bump up the number of boxes for the next delivery," said Challis, who led Tuesday's effort.
Sears, Concord
The former Sears store was the most active area at the Steeplegate Mall, which has about three dozen empty storefronts.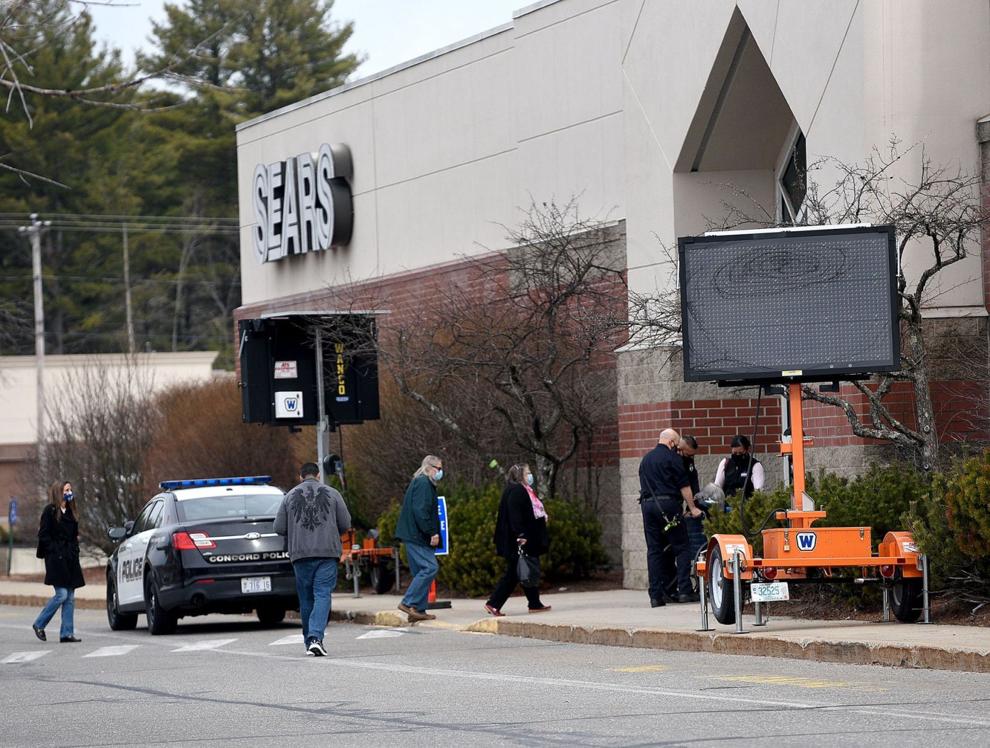 Getting vaccinated "is one of the few things in life that everybody experiences," said National Guard Capt. Ryan O'Neal, the site's officer in charge. "There's not a mission more important than this."
He recalled seeing two teachers the previous day unexpectedly meeting by the ladies' room.
"A cool moment to witness," O'Leary said.
Many of the people getting second doses at the old Sears found themselves going to a new place. Before March 1, people stayed in their cars and drove through the store's auto service center to get their shots, which many preferred.
Many getting vaccinated had shopped at Sears, including Sharron and Bob Raymond of Loudon.
"I knew where everything was as I walked through" the vaccination route, she said.
A few people said the kids' clothes section marked the area where people were receiving shots.
"It seems like an end of an era with Sears closing," said Cathy O'Brien, of Allenstown. "I wonder what will happen to these malls. They'll probably turn them into offices."
She and her husband, John, both got their first shots in the same Sears automotive garage where they bought tires years ago.
Both also had worked at Montgomery Ward, another retailer that closed in New Hampshire in the late 1990s.
"I opened it and closed it" in Nashua, said her husband, John, a 26-year veteran with the retailer.
The Doyle family from Concord remembered buying clothes, tools and outdoor furniture at Sears.
"I was surprised they stayed open as long as they did," said David Doyle, 66. "It was like a store without an identity. You had no idea what you were going to get when you walked in."
Was the vaccine the best thing he ever got at the Sears store?
"Time will tell," he said.