Buying a house in New Hampshire in 2021 required patience and persistence — and a lot more cash.
A family needed $20,000 more in yearly income in 2021 versus a year earlier to afford a 30-year-mortgage for a median-price home in Hillsborough County, which includes Manchester and Nashua.
That median home price (where half the homes cost more and half less) was nearly $414,000 in 2021 — or around $64,000 more than in 2020.
That price increase meant paying $2,745 a month for the loan's principal and interest, taxes and insurance in 2021, nearly $500 more than in 2020, according to calculations by the New Hampshire Housing Finance Authority.
The second year of the COVID-19 pandemic didn't do much to cool the hot market for single-family homes.
Buying a house often required outbidding other shoppers and offering above the asking price.
"I think it was surprising to pretty much everyone that it continued as long as it did as strongly as it did," said Dean Christon, the authority's outgoing executive director and CEO.
Outpacing income
The record housing market has implications for the state's economy and workforce.
"We don't have sufficient supply to meet the existing demand and to support the continued growth of our economy," said Christon's colleague, Ben Frost.
From January through November, the median price statewide was $392,500, up $58,500 or 17.5% from a year ago, according to the New Hampshire Association of Realtors. Meanwhile, the estimated household income grew by only $1,500, to $98,200.
"If you're a seller and you don't need to find a place to live, things are awesome," said Frost, managing director of policy & public affairs at the Housing Finance Authority.
"There's no problem selling your house," he said during a recent webinar. "But if you're a buyer, especially if you're a buyer who's using mortgage financing and competing against cash buyers, things are really tough."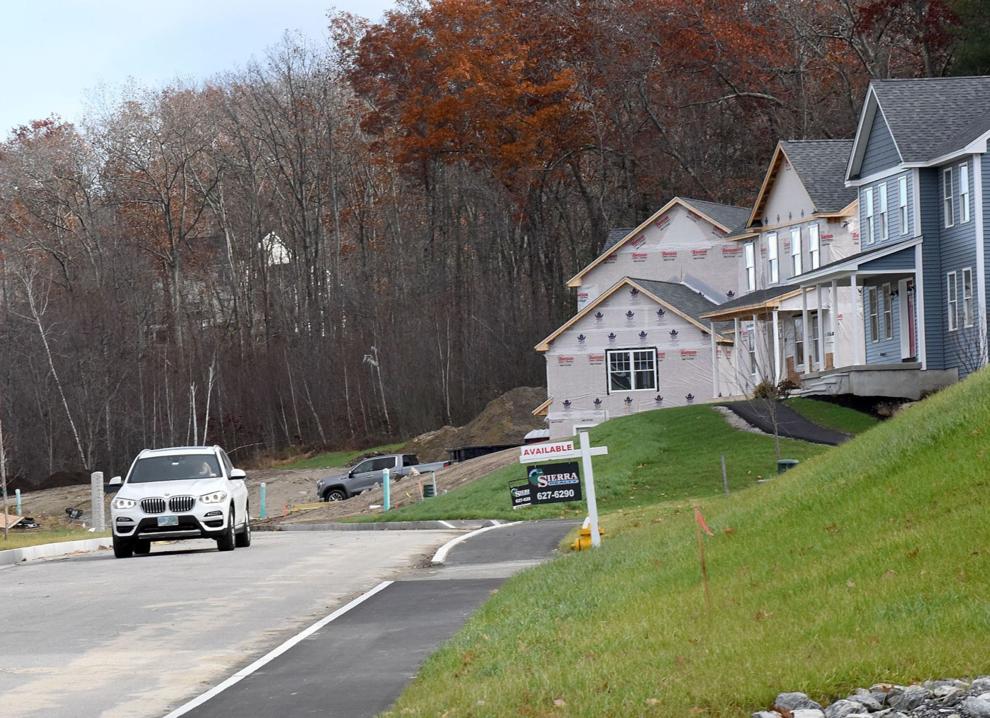 Who's buying
More out-of-staters are buying in New Hampshire in recent years.
In 2019, 75% of all single-family homes were sold to Granite Staters. In 2021 through mid-October, that dropped to 68%.
Massachusetts buyers accounted for a bigger piece of the pie, climbing from 15% to 19%.
After New Hampshire and Massachusetts residents, buyers from the top five other states hailed from Maine, Vermont, Connecticut, New York and Florida — the same cluster of states as in 2020.
"By and large most of the buyers in New Hampshire are already here," Frost said. "These are people already owning a home in New Hampshire, and they're choosing to relocate within the state, but you do see over the past two years, a modest, but statistically significant increase in the proportion of buyers coming from Massachusetts and other places, too."
A winter chill?
In recent months, several Realtors have seen a softening in the real estate market.
Shawna Phillips, a first-year Realtor at Coldwell Banker Realty in Bedford, said bidding wars haven't been as fierce as during the summer months.
"I would say now what I'm seeing is $20,000 (above asking) where before this summer we could go up to 50 (thousand) or even higher," she said.
The market typically cools during the winter months, but available buying options remain limited.
For November alone, there were one-third fewer houses on the market than a year earlier. Houses that sold in November went for 101.6% of their listing price, according to the Realtors association.
"I have some clients right now looking for new construction, and they're considering looking at another state and some options available close to the border" in Maine, she said.
Short supply
The short supply of homes on the market continues to drive up prices.
In the state's most expensive county for houses, the median price in Rockingham County was $500,000 for the first 11 months of 2021. Assuming a 5% downpayment, a buyer would need a yearly income of $132,677 to afford a $475,000 mortgage, assuming 5% down payment.
That monthly mortgage payment, with taxes and insurance, topped $3,300, more than $500 higher than in 2020.
Why aren't more new homes being built?
Several factors weigh on that calculus, Christon said.
"There's a labor shortage. (There are) cost increases of supplies and materials that have a direct cost to construction and make it difficult to produce housing at a price point that people can afford," Christon said.
"Our view is that the principal impediment to adding supply is overregulation of the construction industry" by local planning and zoning boards, he said.
Hoping to break that logjam, a relatively new state housing appeals board is more quickly settling zoning disagreements between developers and municipal boards than litigating the issues in the courts.
For Phillips, the effort to find a house and outbid others has proven exhausting.
"I have some buyers," she said. "They're just tired."