MANCHESTER — Michele Wood was filling in for Ms. Carlson's sixth grade language class at Southside Middle School — staring at 17 faces displaying varying levels of interest during a discussion about a diary of a young girl in war-scarred Sarajevo in the 1990s.
"Back then, you didn't have email. You didn't have texting," the 50-something substitute teacher told the class Friday. "You only had letters in the mail."
Manchester is fortunate that Wood is willing to work most school days for $85, in an economy where she could earn more at another job.
"For 85 bucks a day, it's kind of a volunteer thing," said Wood, who sported a red hoodie with the school's name for spirit day. But, she said, "What other part-time job do you basically get to pick your schedule?"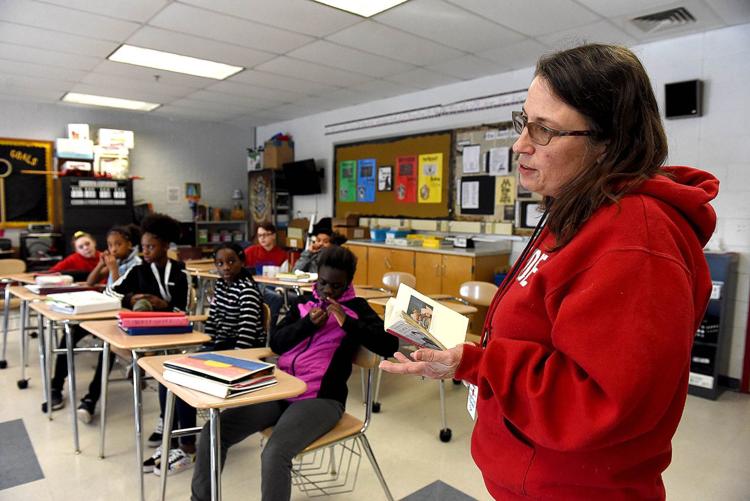 Like many other districts around the state, Manchester is having trouble hiring enough substitute teachers. Many districts both large and small are hiking the pay for fill-in teachers. Starting in January, Manchester raised the pay and lowered the minimum qualifications to lure more subs.
"We have seen an uptick in applicants," said Christopher Cody, the district's human resources director. "From what I understand, it was very difficult to hire them and retain them because other districts surrounding us were paying a little bit more per day."
The state's low unemployment rate means trying to hire substitute teachers across the state is "brutal," according to Carl Ladd, executive director of the New Hampshire School Administrators Association.
"Everywhere from the North Country to the Seacoast to the Monadnock Region, it's just almost impossible to find good quality subs, and sometimes it's just hard to find a warm body to put in front of the classroom," Ladd said last week.
In Nashua, the schools were able to fill less than half the openings they had for subs in February. For the first three weeks of the month, they needed subs for more than 700 shifts but filled only 45% of those. Staff was shuffled to fill the gaps.
"It is well known that people can make more money in the private sector than being a substitute teacher," said Nashua Superintendent Jahmal Mosley. "The great news is around New Hampshire, it's doing well, but it does have an impact on jobs. People looking for employment have options."
Nashua substitute teachers earn $67 a day for a seven-hour day, according to Dana O'Gara, the district's human relations director. Subs who fill in more than 20 days get bumped to $77 a day.
Starting Jan. 2, substitute teachers in Manchester saw the $70 daily flat rate increase to $100 for those with current New Hampshire teacher certification and $85 for those without certification. The requirement of at least 48 college credits was dropped to a high school diploma to increase the potential pool of applicants, Cody said.
"Most districts have gone the route of trying to raise the rate of pay," Ladd said.
Some districts offer up to $125 a day for subs with college degrees.
"Some of it is, 'You can't pay me enough to do your job' to the fact they don't want to be in the school," he said. "It's really just a lack of any kind of workforce."
The substitute shuffle
Districts try to minimize the impact on students, rearranging staff to cover classes.
"I think the PC (politically correct) answer is there's no drop in quality, but we all know that's not the case," Ladd said. "The reality is you have certified teachers in a classroom for a reason."
Teaching is more complex than years ago, he said.
"I think the working conditions in schools are harder now with more and more students coming in who have social-emotional needs that aren't being met at home for whatever reason," Ladd said. "It's a bigger job than it used to be."
In Manchester, hiring is done at the school level, and districtwide numbers aren't kept.
On Thursday, Southside had 12 teacher slots open. Eight needed to be covered. Four subs were hired, and four full-time teachers covered the other slots by giving up their prep period, according to Assistant Principal Lewis Cataldo.
"Am I able to fill all the holes with subs? No," Cataldo said.
He frequently relies on full-time teachers who give up prep periods for extra pay.
Last school year, the substitute teacher shortage occasionally forced classes to be combined and shifted to the cafeteria, where they were overseen by an administrator, Cataldo said. That hasn't happened so far this year.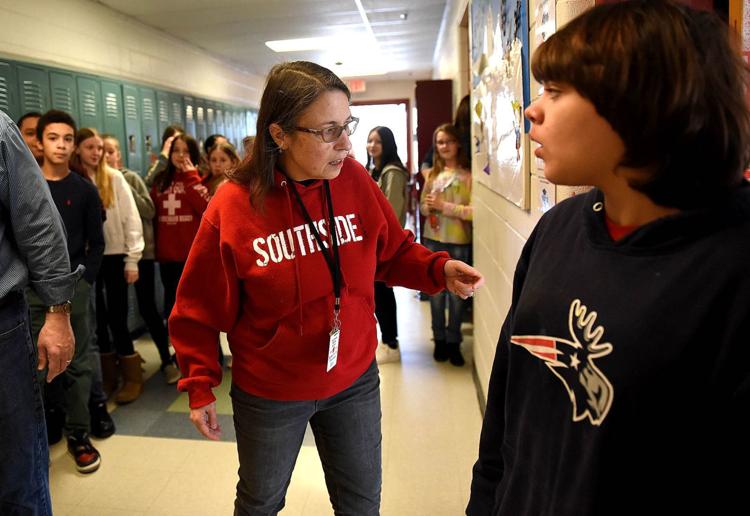 A different world
Wood likes the variety of subjects she teaches, typically working off a lesson plan left by the full-time teacher.
"It's neat because it's different every day," she said.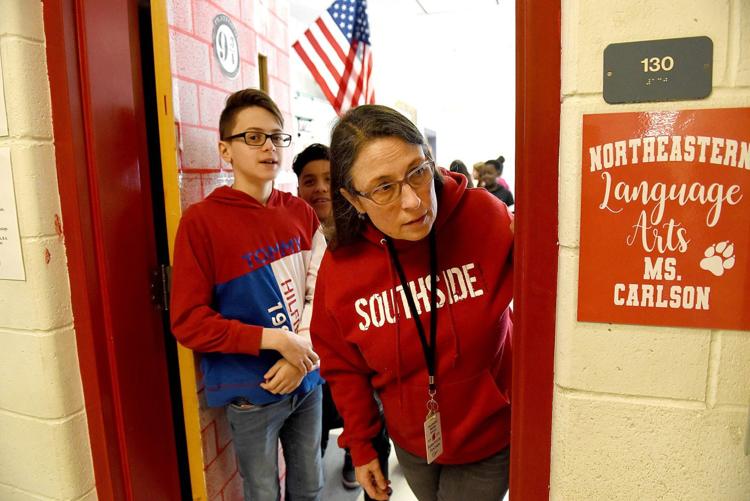 And the secret to success?
"A little humor goes a long way with these kids," Wood said.
Wood said she likes to see the students evolve.
"I found the cool thing about this job is you get to see the kids in middle school because people will say, 'Why would you want to do middle school? You're nuts,' " she said.
"But in middle school, the kids, they don't want to admit it that they still want approval and they still care what people think, but they want to be like these brave, I'm too-cool-for-school kind of thing, and each day, they're trying a different personality," she said.
"They're just trying different things, and watching them evolve from these little scared sixth graders that come in into eighth grade, they grow and mature," Wood said.
Working with numbers
Nashua's substitute teachers get phone calls asking them to work, or they can check online to see what schools, grade levels and subjects need to be covered.
Take last Wednesday. There were 114 subs who marked themselves as available. There were 59 teacher absences, 10 of which didn't require filling. In the end, only 29 subs committed to working, leaving school staff to figure out how to cover the other 20 teachers' classes, O'Gara said.
Subs "might want to work with elementary kids because they can handle them," O'Gara said.
"Everyone has their niche," she said.
Teachers include library staff, school counselors and school psychologists.
"This season, we've been hit pretty hard," Mosley said. "It's cold season, flu season. It's definitely been something that's had an impact."
"If we went up to $200 a day, I bet we'd get subs," O'Gara said. "We can't expend that kind of money with the amount of subs that we'd need."
O'Gara, who joined the Nashua district 12 years ago, said it was much easier to find substitutes during tougher economic times a decade or more ago. At that time, the district could meet 85% to 95% of its need.
"It was a different economy," she said.