Jeremie LaPlante started tinkering with the 1997 Honda Accord that his brother gave him at age 14.
"I'm not afraid of taking anything apart, no matter what it is," the Belmont teen said in an interview last week.
An interest in "taking things apart and seeing how they work and being able to repair it" is what drove LaPlante to work at Irwin Toyota in Laconia.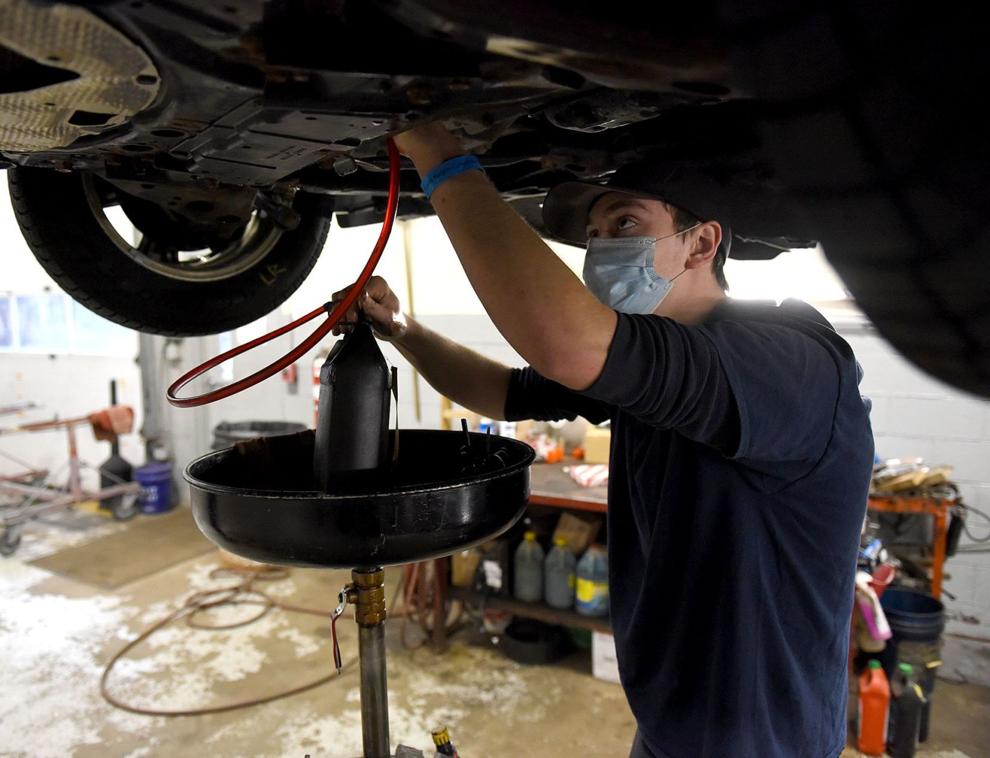 LaPlante, 18, already is impressing his bosses, working in the service department and getting his second year of automotive schooling paid for by the dealership and a grant from the New Hampshire Automobile Dealers Association.
"With the commitment we made to him, we expect that once graduated that he'll be part of our organization, hopefully, for years to come," Chris Irwin, president of the Irwin Automotive Group, said in an interview.
Technology looks much different than it did for auto techs 10 or 15 years ago.
Techs today are "almost a variation of a computer scientist," said Irwin, whose automotive group sells Toyota, Ford, Lincoln and Hyundai vehicles in the Lakes Region. "You have so many different onboard computers you're dealing with," dozens in many cases, he said.
Building a company's workforce through more training and skills is a chief goal.
"There's obviously a need to upscale the skill set of technicians in the field," said Jamie Decato, assistant professor of automotive technology and department chair of transportation technologies at Lakes Region Community College in Laconia.
"If you go to virtually any new car dealership or independent repair facility, they are looking for technicians," Decato said.
Any employer belonging to the automobile dealers association can apply for a grant, which will cover half the cost of classes successfully completed, according to Jessica Dade, executive director of the NHADA Education Foundation
"An employer can sponsor an employee for as many classes as they would like to or as few as they would like to," Dade said.
In LaPlante's case, Irwin covered 100% of LaPlante's second year, of which Irwin will get reimbursed 50%.
There are 27 students participating in the grant's fall portion and 33 who took part in the spring, according to Dade.
The association received a $64,999 grant from New Hampshire Employment Security that runs through Oct. 1, 2021, to help fund the program for 100 students.
"This is a work-based grant, so you have to be currently employed to qualify for it," Dade said.
Irwin decided to pay the remainder of LaPlante's second year.
The grant helps in building a pipeline "to be able to actively participate and support in this case technicians who are just starting their career," Irwin said.
The U.S. Bureau of Labor Statistics reported an average of 76,000 mechanics were going to be needed each year between 2016 and 2026, both to replace those retiring or leaving the industry and to fill some 46,000 projected new openings, according to Car and Driver magazine.
In New Hampshire, there are around 400 vacant tech positions at any given time, according to Dade.
In May, LaPlante will graduate from Lakes Region Community with an associate's degree in automotive technology.
By then, he also will be certified to handle recalled vehicles. He now works on cars in the service department, overseen by a mentor who also works there.
LaPlante, who participates in the Toyota technician education network program at the college, learns both on campus and at the Irwin dealership as part of his college studies.
At school, "we spent two to three weeks just taking engines apart and putting them back together," LaPlante said. "It all makes sense when you take it apart."
Decato said students can pursue a one- or two-year certificate or an associate's degree.
"That's the beauty of the way the grant is now working," Decato said. "It really is individualized to the skill set that the worker needs and the dealership needs."
"I think it's a fantastic opportunity for technicians to seek higher learning and build their credential to a point where they could earn a certificate or degree," Decato said. Dealerships benefit by having employees "who can do higher-level tasks, be more proficient at their work and better customer satisfaction and retention" of customers and workers, he said.
Automotive programs are offered at Great Bay, Manchester, Nashua, White Mountains and Lakes Region community colleges.