During one video conference call from home, Tom Daly watched his young son, Bryce, approach and proclaim he needed to go to the bathroom.
On another call, the Nashua executive remembers the son of a co-worker in the San Francisco area vomiting on his dad's keyboard.
File under the perils of remote working.
"Everyone laughs; no one's offended," said Daly, senior vice president of infrastructure at Fastly, a global internet cloud platform. "That's some of the trade-off with flexibility."
The state's worker crunch and the call for more flexible working conditions are sending more people out of the office, laptops in hand.
"The benefits to Fidelity is we're able to attract and retain top talent," said Kirsten Kuykendoll, Fidelity's head of associate experience. "Flexibility is increasingly in demand amidst the evolving workforce."
New Hampshire ranked fifth in the nation for percentage of full-time telecommuters — 6.1% of the workforce, according to a 2018 report by FlexJobs, which crunched 2016 U.S. Census data.
Just a few weeks back, health insurance company Cigna announced plans to sell its Hooksett building and require a majority of its 250 employees to work from home.
Technology in this day of WiFi and smartphones allows more workers to cut ties with their office cubicles and work from home or in places, such as coffee houses.
Everything "at the office is actually at my fingertips," said Larry Pelletier, who was working at the Restoration Cafe in Manchester one afternoon last week.
Pelletier, a real estate adviser from Bedford, and co-worker Dave Gambaccini drank coffee with their laptops nearby as they reviewed an offering for a proposed $20 million in equity funding for a New York developer.
"Everything's in the cloud and on the machine (laptop)," Pelletier said.
He says he spends 90 percent of his work day out of office, meeting with clients and spending time working elsewhere. His office is part of co-sharing space in Bedford, providing him with a mailing address and a conference room to rent.
Getting out of the office results in a "freshness of ideas," he said. "We're less distracted by what's going on in our regular office."
These guys aren't alone in bringing their work to the Hanover Street cafe.
"People come in at 8 a.m and stay til we close at 4," Restoration server Brooke Van Gurp said. "Sometimes, they get breakfast and lunch and get something to go for dinner."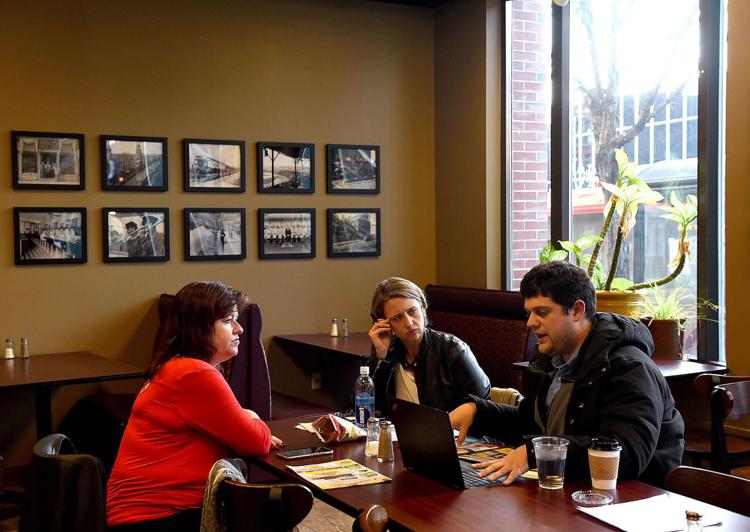 A recent survey of professionals who work in the life sciences and supporting roles in Massachusetts showed only 28% who said they could work from home at least one day a week; 74% said they could work from home at least occasionally, according to the Massachusetts Biotechnology Council.
A national survey conducted for Owl Labs, a video conferencing company, said remote workers were 29% happier in their jobs than on-site workers.
At the Bridge Cafe on Manchester's Elm Street, several people said they work more hours remotely than if they were in a traditional office with co-workers.
"My office is in my house, so it calls my name," said Nancy Bobek, associate publisher for the Merrimack Valley version of Community Values, a direct-mail publication.
"You are always working," she said. "The brain's always moving."
Sara Jean, owner/publisher of Greater Manchester Community Values, was meeting with Bobek and said much of her job involves meeting clients on the road.
"What's the point of sitting in an office all day?" she said. "Wouldn't get anything done."
Samantha Fox, manager at A & E Coffee & Tea on Elm Street in Manchester, welcomes the working nomads.
"If someone is taking out a laptop to set up, it's usually for a couple hours. We like to see bodies in the seats," Fox said. "It fits the vibe when people are sitting and getting work done. We encourage it."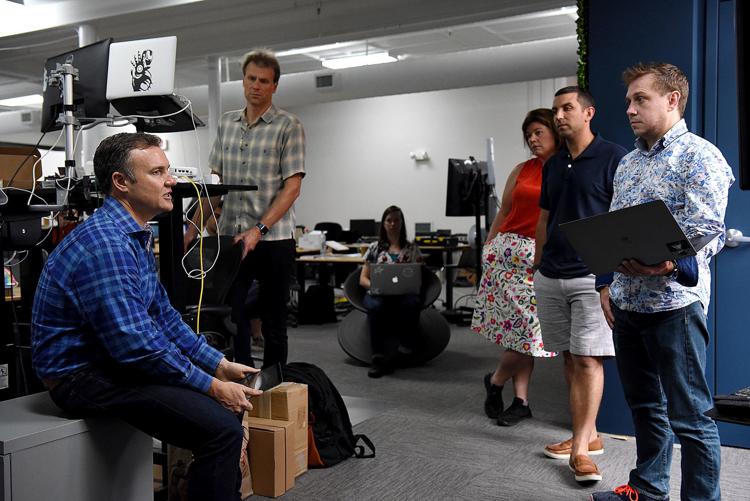 Minim, a startup that has developed a cloud-based WiFi and internet-of-things security platform for "smart" homes, is based in Manchester. But more than half of its 30 employees are scattered around the country.
Jeremy Hitchcock, the former Dyn CEO who founded Minim a couple of years ago, said it's taken him awhile to embrace a "distributed" workforce — the industry term these days for remote workers.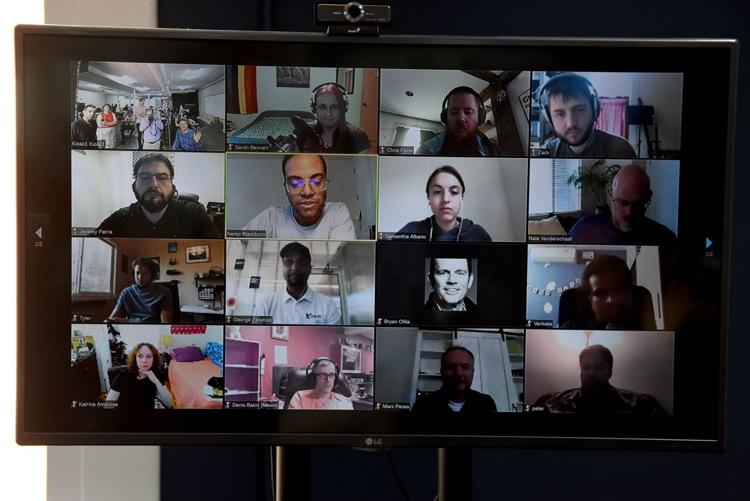 "If you want to go from a small workforce to a larger workforce or you want to have access to the specialization that you need a lot of times in companies, you can't just look at the geographic area," Hitchcock told the Union Leader in September.
At Fidelity, employees allowed to work remotely save time and money by commuting less often to the office, Kuykendoll said. Workers often can leave work for a personal appointment and finish their work from home. She said she didn't know the percentage of the company's 5,000-plus workers in New Hampshire who work remotely.
Daly said about 40 percent of Fastly's workforce works totally remotely — including workers living in Manchester, Bedford, Amherst, Hooksett, Hollis, Nashua and Henniker.
"I think of working remote as a skillset — figuring out how you're going to work remotely and how to be productive," he said.
Throwing laundry in during the middle of the day "is not a good remote working arrangement in my opinion," Daly said.
"There's a few keys to being a successful remote worker. Part of it is you need a space to go to that you identify as your workspace," said Daly, who has a room above his garage as well as separate office space he rents.
Daly said the company saves in renting office space around the world but spends some of that savings on increased technology, including video conferencing equipment.
Fastly workers also can book a plane ticket and show up in a company office and collaborate with co-workers.
"At the end of the day, there's nothing better than showing up and having a face-to-face discussion," he said.