MANCHESTER — A Salem man jammed on a guitar under a music store awning in the rain on the first day stores were allowed to welcome people inside.
A man visited an apparel shop for a funeral suit after making an appointment by phone.
And a woman sanitized her hands, then searched for a sports bra at a footwear and apparel store — its floor marked with blue and red tape for social distancing.
Welcome to the first new week of retailing along Elm Street.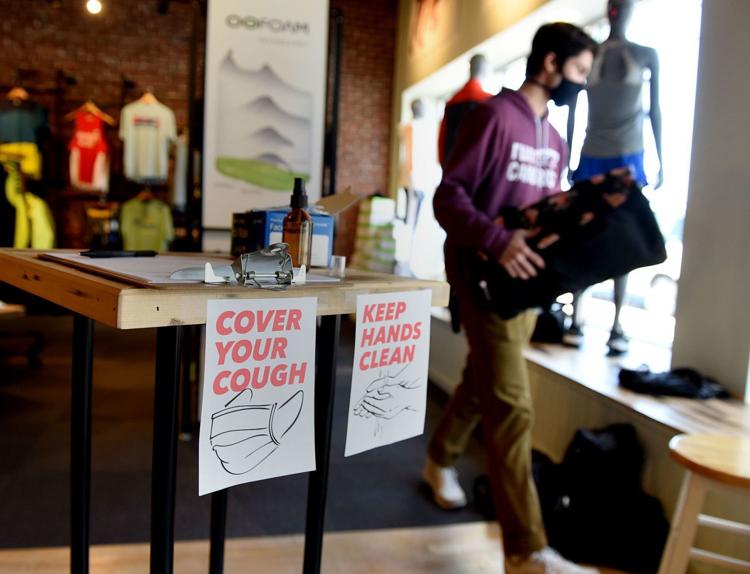 All three businesses worked on making the transition to a new normal of selling goods after the governor allowed retail stores to open last week at 50% maximum occupancy.
George's Apparel welcomed customers by appointment last week, with the goal of allowing walk-in customers as soon as this week.
"It's nice to be a little open," said owner Jay Wolf, who was optimistic about a rebound for his business. "Some people are going to go out of business."
Many stores opened their doors last week for customers to roam their aisles, but others, including some big retailers, remained shuttered. Phoning ahead seemed a smart idea.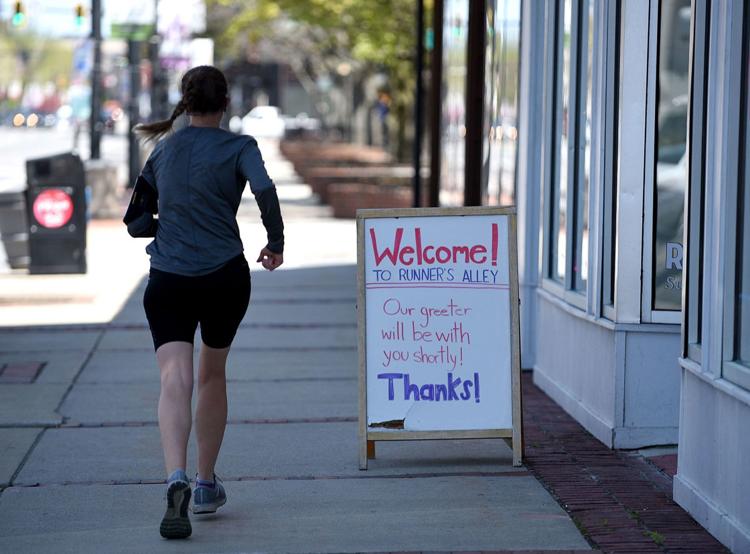 Getting up to speed
Some retailers avoided a full sprint.
Runner's Alley, next door to George's Apparel, didn't advertise its reopening on Elm Street near the SNHU Arena to avoid overcrowding.
"Rather lose a little money up front than ramp up too quickly," store manager George Harris said in an empty store on a recent morning. "I think a lot of people didn't want to be the first business that went too fast, too soon and ruined it for everybody."
The Manchester Runner's Alley saw about half its normal customer volume, matching its stores in Concord and Portsmouth, according to Dan Darcy, marketing director for owner Marathon Sports. Runner's Alley waited until Thursday morning to send out an email alerting customers that stores had reopened.
"The first four days have been successful in getting used to the new procedures, so we are comfortable letting more people know we're physically open and inviting them in," Darcy said in an email.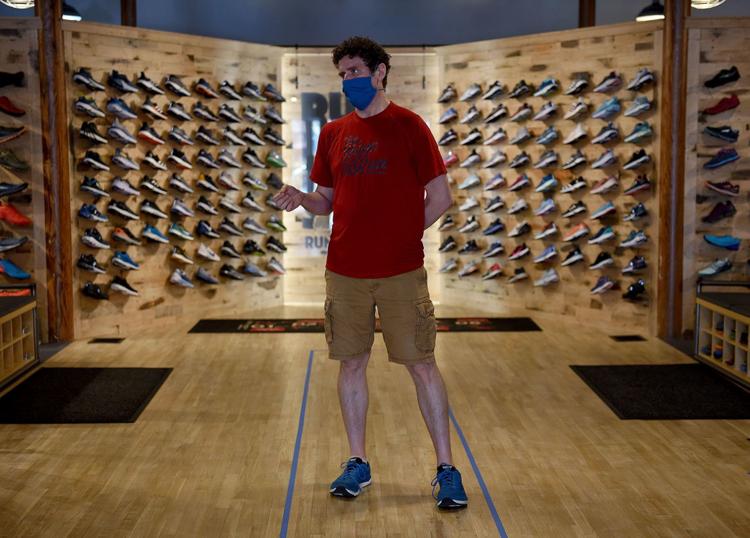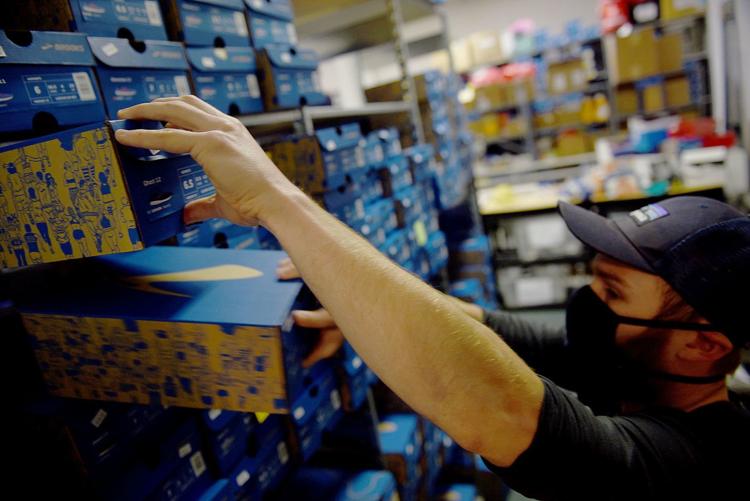 Store customers needed to don a mask and use hand sanitizer. Only two customers per worker were allowed, which meant a limit of six customers on a recent morning.
Elena Mills said she was glad to walk into a physical store and appreciated the new safety procedures.
"We should be doing this anyway, having hand sanitizer, because you don't know what hands have been where before," said the Manchester woman.
Runner's Alley had been doing curbside pickup and virtual shoe fittings while the physical stores were closed. Its new rules included no access to dressing rooms or bathrooms.
Hopeful but careful
George's Apparel hopes to open his shop to walk-in customers as soon as this week.
"I planned on having the doors open and being fully staffed this week," Wolf said last Monday. "A couple of my employees are nervous about coming back … I want it to be comfortable both for my customers and my employees."
Wolf said he closed his doors March 27 — exactly a year after he took over ownership.
"I think moving forward, business will return to normal, hopefully sooner than later," said Wolf, who estimated it would take eight months to a year to return to pre-pandemic revenues.
He put some of his own money into the business during the pandemic and said a loan through the federal Paycheck Protection Program proved "a big help."
Nearly 15,000 New Hampshire businesses have been approved for loans totaling more than $1.9 billion as of May 8, according to the New Hampshire Bankers Association. The loans later can be converted into grants for rehiring idled staff. The bankers group said 93,959 jobs would be saved in New Hampshire.
Adjusting to the situation
About five blocks south from George's Apparel and Runner's Alley, Manchester Music Mill continued to conduct business curbside last week as employees prepared for a new internal store plan. Doors will open Monday.
"We're outfitting the front part of the store with all the quick accessories most musicians would need or want, so they can come in and out, pay for their stuff and don't have to be waited on," said owner Joe Lacerda. "Then 90% of the store is going to be by appointment only, and we kind of sectioned it off. It's really making space for the customer."
Curbside pickup will continue through the rest of the year, he said.
The music store initially lost 70% of its overall business when its brick-and-mortar location closed, but curbside sales helped.
Troy LaBranche of Salem called ahead on Monday to make sure the store was open.
Under an outside awning, LaBranche traded two 1960s-era guitars and some cash for a Esteve acoustic classical guitar made in Spain.
"The guitar didn't get wet at all, that's what matters," said the Salem resident.
No quick fix
Businesses won't return to pre-pandemic times quickly, according to Mike Skelton, president and CEO of the Greater Manchester Chamber.
"The climb back to pre-COVID-19 levels of activity will be slow and incremental, however, and businesses will be smart and cautious about trying to scale up too quickly until they see consumer demand returning," Skelton said.
Retail sales nationally dropped a record 16.4% in April, according to figures announced Friday.
Lacerda figures it probably will take a year for his store to match its previous sales.
"We have to take it day by day and make sure we don't alienate any customers," Lacerda said.