BEDFORD — A gift and specialty shop has finally found its forever home in Bedford.
Loft Fifty 5 recently opened its doors at Bedford Square, 25 S. River Road, Suite 111.
"We have found our home, and we love it here," said Helen Sage, co-owner of Loft Fifty 5.
For the past year, the gift shop had been operating from a temporary space in Bedford after it was forced to leave its original location at the Langer Place Mill in Manchester when the building was leased to Southern New Hampshire University.
"This space is exactly what we needed," said Diane Sage, Helen Sage's daughter and the other co-owner of the business.
The gift shop is housed in space that was once occupied by Integrity Health Coaching for Women, next to the local post office.
It has been transformed into a farmhouse chic boutique filled with unique gifts, home decor, jewelry, handbags, furniture, spa products and more.
"This is stuff that you cannot find anywhere else. We carry personalized items and custom items," said Diane Sage. "We work with vendors and smaller businesses to bring a different vibe to people searching for the perfect gift."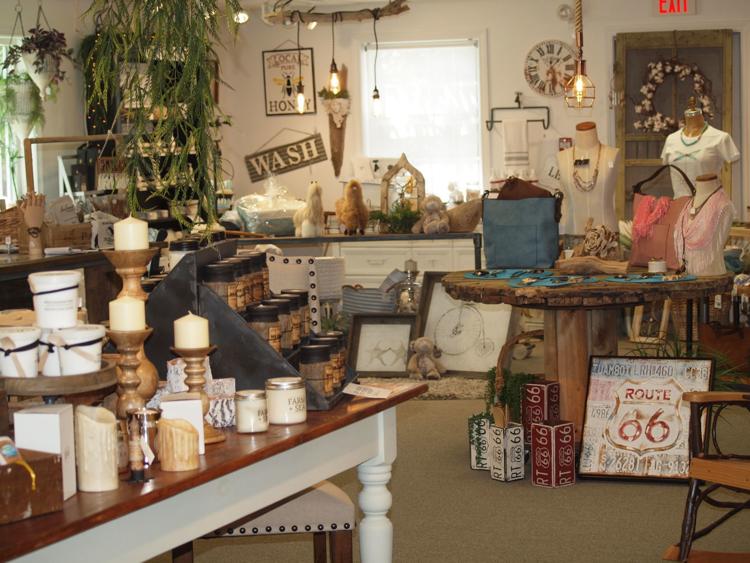 Although the store is not an antique or consignment shop, she said they work hard to bring in one-of-a-kind pieces that aren't sold elsewhere — touching on a rustic and vintage flair.
Handmade wall clocks and homemade candles adorn the shop, as well farmhouse dining tables, jewelry pieces, soaps, handbags, ottomans, pillows, eclectic chairs and lighting.
"We like to surround ourselves with beautiful things, and we just want that special little touch," said the younger Sage.
The mother-daughter duo has worked hard to find the perfect location for their shop, and they said Bedford is the ideal place.
Nestled in Bedford Square where there are several other women-owned businesses, the Sages say it is the perfect fit.
At one point last summer, the Sages received approval to convert a vacant barn along South River Road into their gift shop; however, that plan never came to fruition.
Now that they are in a permanent location, Diane Sage said, she will continue to find the best items to fulfill the desires of her customers.
"We are always keeping our clients in mind. And we are so excited about our new line of merchandise," she said.