Four years ago this month, a federal judge sent Manchester-area resident Kosmas Koustas to federal prison for 11½ years.
Koustas had pleaded guilty to six charges in connection with a sophisticated international drug trafficking pipeline. Court records described an operation — named the Colgrove Organization — that moved Canadian-grown marijuana into Manchester and other New England locations. Cash from those regional sales went to California, where operators obtained cocaine, which was funneled back to New England and Canada, according to court records.
Newspaper articles at the time showed stern-faced police alongside photos of confiscated money, drugs and guns.
"It was a large case, international drug trafficking case, and you don't see them every day," said John Encarnacao, who headed the New Hampshire State Police Narcotics Investigations Unit at the time and is now a major with the state police.
Two months ago, Koustas stood before the same federal judge, Landya B. McCafferty, who sent him to prison. Faced with allegations of ethical violations by both Koustas' defense team and a top federal prosecutor, the judge vacated all of Koustas' convictions, which included drug trafficking and weapons charges. The judge ordered him released from prison.
At that hearing, Koustas did plead guilty to one felony count of conspiracy to traffic drugs. He was set free on Sept. 24 and ordered to return to court Nov. 26 for sentencing. The Union Leader visited three city properties in the Koustas family name but was unable to locate Kosmas Koustas for comment.
It's uncertain whether he will end up back in prison.
His freedom has aggravated police. Also fuming is the family of Koustas' partner, Alkis Nakos. Family members say Nakos remains in prison only because he befriended Koustas.
Koustas walked free after a court-appointed lawyer's argument that Koustas did not get a fair shake because both his defense team and the top federal prosecutor in New Hampshire at the time remained on the case despite conflicts that could have divided their loyalties.
Those allegations involve three well-respected lawyers in the state — former U.S. Attorney for New Hampshire John Kacavas and Manchester defense lawyers Michael Iacopino and Jaye Rancourt. Kacavas said he would never intentionally do anything wrong; Rancourt, speaking for herself and Iacopino, said they did not believe they had a conflict.
As a criminal defense lawyer, Kacavas had represented Koustas in a 2003 case for receiving stolen property and reckless conduct. In a blistering, 35-page filing, Koustas' new lawyer said Kacavas' conflict of interest infected the entire framework of the prosecution.
"Appointment of an interested prosecutor constitutes an error, which is so fundamental and pervasive that it requires reversal without regard to the facts or circumstances of the particular case," wrote Victoria Kelleher, whose office is in Boston.
She also wrote that Koustas' two defense lawyers had represented one of the informants in the case four years ago, which ended with a plea bargain and the 11½-year sentence.
"Had Iacopino and Rancourt been forced to try the case, or file motions to suppress that raised questions about the government's informants, they would have been required to inquire about or even cross-examine their former client … including statements related to his presence at Koustas' restaurant and the delivery of marijuana to Koustas' employees," Kelleher wrote.
Avoidance of any conflict of interest is one of the three pillars of ethics that lawyers operate under, said Anthony Sculimbrene, a Nashua criminal defense lawyer of 15 years who is not involved in the case.
Sculimbrene, who read documents provided by the Union Leader, said it's difficult to determine if the judge acted on an actual conflict of interest or a potential conflict.
"The sentence will tell us more. The fact that a conflict was raised, but no ineffective assistance of counsel claim was made is also telling," he said.
Sculimbrene said Kacavas, Rancourt and Iacopino are three of the best attorneys in the state.
Iacopino is the former president of the New Hampshire Association of Criminal Defense Lawyers and won the organization's Champion of Justice award in 2006.
Kacavas worked as an assistant New Hampshire attorney general and then in private practice before then-President Barack Obama appointed him as U.S. Attorney for New Hampshire in 2009.
Rancourt, a past president of the state Bar Association, is best known for her high-profile defense of St. Paul's School graduate Owen Labrie.
Both Kacavas and Rancourt gave brief statements to the Union Leader.
"Mike (Iacopino) and I would say we do not believe that we had a conflict of interest," Rancourt said. She noted that Koustas has not waived attorney-client privilege, so she and Iacopino, who are partners in the same firm, cannot share additional information.
"We wish Mr. Koustas well," she said.
Kacavas, who is now the chief legal officer at Dartmouth-Hitchcock, wrote in an email that his representation of Koustas as a criminal defense lawyer took place more than a decade before Koustas' federal prosecution.
The two cases were not related, and Koustas' final guilty plea took place after Kacavas left the prosecutor's office, he said.
"For 29 years, I have represented countless individuals and businesses, and served as both a state and federal prosecutor, and I would never intentionally impair or impede the administration of justice," Kacavas wrote.
In her written order releasing Koustas, McCafferty did not detail her rationale. She only referred to Kelleher's filing and reasons stated in open court.
The case has some irregularities.
Even though Koustas' lawyer questioned their ethics, there is no response from any of the three in the court docket. The federal prosecutor now attached to the case made no substantial filings in the case, according to the court record. McCafferty made her decision based on filings provided by Kelleher.
The office of Scott Murray, the U.S. Attorney for New Hampshire, would not answer questions for this article, noting the case remains open until the sentencing.
Usually a lawyer has a chance to respond when accused of ethical violations or of being ineffective, Sculimbrene said.
In fact, a provision of ethics rules says that attorney-client privilege is abandoned when a client attacks the professionalism of an attorney.
At the time of Koustas' arrest, police said he was part of a ring that brought an estimated 100 to 200 pounds of marijuana into the Granite State each week, according to Union Leader articles at the time.
In a media briefing, authorities showcased 30 pounds of confiscated marijuana, $85,000 in cash and semi-automatic and automatic weapons. Authorities said they also seized 2 pounds of the club drug MDMA at Koustas' Hooksett apartment.
The confiscated drugs themselves represented more than $1 million in value, prosecutors said at the time.
Such cases represent a lot of time and effort by police, Encarnacao said.
"It's usually months or years to do a case like that," he said. "These people are doing this for a living. They're good at it."
About a year ago — that's when McCafferty ordered a court-appointed lawyer to investigate Koustas' complaints of a conflict — Encarnacao said he got word that Koustas would likely be freed, he said.
"It's frustrating any time you put together a case and justice is not served," he said. "I was surprised. There was a lot of hard work that went into it."
He also disputed any notion that the case's significance has waned because it involved marijuana, which is decriminalized in New Hampshire and legal in every state and the Canadian province that borders the state.
It is still illegal in New Hampshire, and drug trafficking at that level is dangerous and can lead to people getting killed, Encarnacao said.
Meanwhile, Koustas' freedom is met with scowls at Amory Street House of Pizza, the tavern on the West Side that is operated by the family of his alleged co-conspirator, Alkis Nakos.
Although Koustas is free, Nakos remains in prison, said his father, Kornelios Nakos.
Nakos said police never found drugs when they searched his son's Arah Street home, and his convictions — conspiracy to distribute marijuana — were based on testimony of people facing their own legal challenges.
"It's not fair," he said. His son should be free to help care for his 5-year-old daughter, who has leukemia, and to help his father.
"I'm 70 years old, and I wish my son was here and could help me," he said.
Alkis Nakos had his own round of dismissed charges. In 2017, McCafferty dismissed two charges against him and issued a 7-year, 8-month sentence on a single charge of conspiracy to distribute marijuana. She did so after he raised issues with his conviction, which included another Kacavas-related conflict.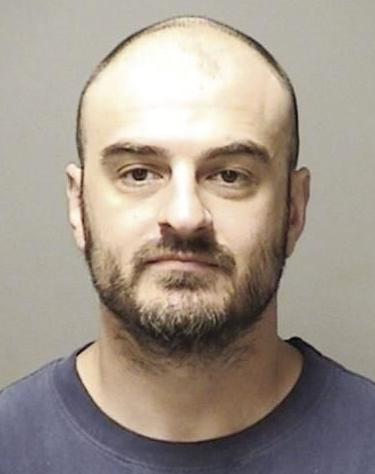 Nakos was granted house detention, but after a domestic dispute involving his long-term girlfriend, Nakos went back to prison. Kornelios Nakos said he thinks his son will be in prison for another year and eventually be released to a halfway house.
He said his son's biggest mistake was befriending Koustas.
"He did nothing. Kosmas did something," Kornelios Nakos said.
Encarnacao said state police have put the matter behind them and moved on to the next case.
"With narcotics cases, most of these guys don't get out of the business," he said. "They'll take another shot at it."