KEENE — John Riggieri, the Marlborough man who was convicted of two misdemeanor counts of animal cruelty, is getting a clean slate in exchange for allowing the 50 dogs seized from his home to be adopted to other families.
Riggieri, 59, was set to go on trial in the Cheshire Superior Court this week as part of his effort to appeal the two misdemeanor convictions. Instead, he is agreeing to relinquish his rights to the animals and, in exchange, the Cheshire County Attorney's Office is dropping the charges, according to the agreement filed in court on Friday.
Riggieri is to complete the paperwork to surrender all 50 Labrador retrievers and one cat to the Monadnock Humane Society. Police took 52 dogs from his Shaker Farm Road home in July of last year, but two of the dogs have since died.
As part of the original sentence handed down in April, Riggieri was supposed to undergo a psychological evaluation and serve two years of probation. He also had a 90-day suspended jail sentence hanging over his head for the next two years and he was ordered to pay $78,000 in restitution to the Monadnock Humane Society, which has been caring for his animals since they were seized last year.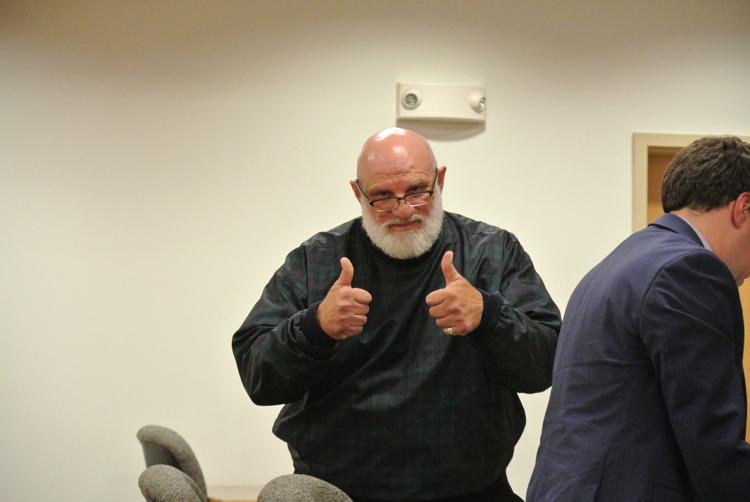 No restitution is part of the agreement document filed in court. Monadnock Humane Society representatives testified in court that the organization has incurred hundreds of thousands of dollars in costs caring for the animals. Some of the dogs needed extensive care when they were taken in by the society.
While all of the dogs have found foster homes, Riggieri has maintained legal control over the animals since he was first charged. He is the legal owner of the dogs, and tried to stop the Monadnock Humane Society from performing medical treatments on one of his dogs.
Mookie, one of the dogs, needed to be neutered as part of the recommended treatment for a bladder condition, according to court records. Riggieri, who is philosophically opposed to spaying and neutering animals, objected to the treatment. That objection was overruled by the court.
Police said the animals were living in filth in the home, and that some of the puppies kept in a bathtub were injured, according to court records.
Riggieri initially tried to get help with the dogs, months before they were taken, his attorney Keith Matthews said in court. Riggieri reached out to the Monadnock Humane Society to see about giving up some of the animals for adoption, but he refused to do it because the shelter wanted to have the dogs spayed and neutered, Matthews said.
As part of the original sentence handed down, Riggieri is not allowed to have any animals for the next 10 years. While there is no such stipulation in the new agreement, the Cheshire County Attorney's Office can bring the charges back if Riggieri commits any new crimes in the next two years.