CONCORD — A federal lawsuit brought by a documentary filmmaker can proceed against a company tied to security at Trump campaign appearances, a federal judge ruled last week.
But Chief U.S. District Court Judge Landya McCafferty dismissed claims against President Trump, one of his campaign organizations and the No Labels Problem Solvers group.
Several Manchester police officers remain defendants in the 2018 lawsuit, brought by Massachusetts resident Roderick Webber.
Webber, who attended presidential campaign events four years ago as "Flower Man," filed suit in 2018 after he was grabbed, thrown out of an Oct. 12, 2015, event and arrested by Manchester police.
Webber filed the suit and subsequent paperwork without a lawyer.
"I'm a terrible lawyer doing the best I can, pulling this out by the seat of my pants," Webber said Thursday.
No Labels promotes bipartisan problem-solving. The 2015 event drew former Utah Gov. Jon Huntsman, former Conn. Sen. Joe Lieberman, then-New Jersey Gov. Chris Christie and Trump.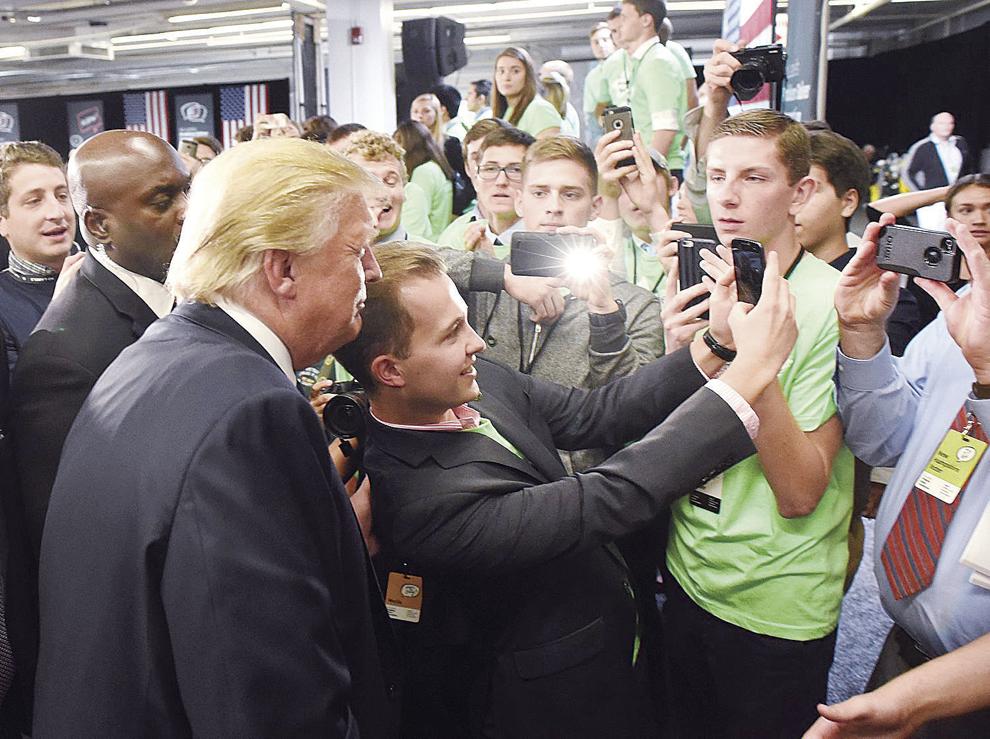 No Labels held a similar event in November last year.
Webber has posted video of the scuffle with campaign workers. In her order, McCafferty recounted the scuffle and events that led up to it.
Webber shouted a question after Trump finished his speech. Trump responded, and then Trump campaign associate Edward Deck tapped Webber on the shoulder and said that microphones were available in the rear of the hall, and he would have to go there to ask a question.
Once there, he was surrounded by Deck, who is a defendant in the suit, New Hampshire Trump campaign co-chairman Fred Doucette and others, who blocked him from returning to his seat. A Manchester police officer, James Pittman, and Deck grabbed Webber's arms. At one point, they crashed into a table while walking him out of the hall. None of the No Labels staff intervened.
Outside, Manchester police eventually arrested Webber. He said his complaints to the Manchester Police Department and the New Hampshire Attorney General went unheeded.
Authorities eventually dropped criminal charges against Webber, and he pleaded guilty to an ordinance violation and paid a $62 fine.
Manchester police spokesman Heather Hamel referred questions about the lawsuit Thursday to the city solicitor.
She did answer general questions about campaigns hiring Manchester police officers for security. Hamel said officers do not make arrests at the request of a candidate or campaign.
"If a campaign staffer or employee of a business hosting an event asks Manchester police to remove someone, officers will address that person and request that they leave at the direction of the employee/staffer," Hamel wrote in an email. "If a problem arises due to that request the officer uses his or her judgment as to what the next course of action will be."
Webber's suit claimed assault, battery, emotional distress and false imprisonment.
McCafferty issued various reasons for dismissing complaints against the several defendants.
Webber didn't show that Trump conspired with police officers to violate his rights, the judge wrote.
"Webber states that he has alleged that Trump had an express or implied 'meeting of the minds' with the defendant police officers to prevent Webber from asking a question and then to punish Webber for attempting to ask that question. The court disagrees," Webber wrote.
She dismissed the complaints against No Labels because the organization did not have continuous control over the Manchester police officers.
The judge dismissed a complaint against the Trump Organization Inc. because Webber could not link the organization with the actions of Deck and Manchester police. Last year, she dismissed claims against the Radisson Hotel, where the event was held.
But McCafferty said the suit can proceed against XMark, which Webber has identified as a security company paid for by the Trump campaign. Deck is represented by the same New Hampshire lawyer as XMark.
Webber said he will ask McCafferty to reconsider her recent decision.
"Donald Trump was threatening journalists and inciting riot against minorities. It (the suit) has got to be done on principle," he said.
A call to Doucette, the Trump campaign co-chairman, on Thursday was not returned.