CONCORD – The Director of Motor Vehicles, Elizabeth A. Bielecki, has released the following list of Driving While Intoxicated revocations. Please note the actual date of revocation may have preceded this announcement.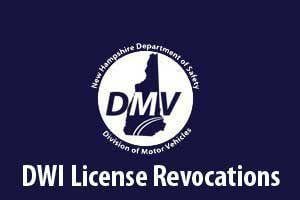 Justin Cannon, 45, Barrington; Nicole McNulty, 31, Belmont; Christie L. Sprenger, 35, Berlin; Logan H. Wikstrom, 37, Bethlehem; Whitney P. Roberts, 26, Bradford; Mitchell S. Glover, 23, Brookline; Nicholas L. Arone, 61, Center Ossipee; Crystal Mae Deveney, 59, Claremont; Evan D. Beasley, 29, Danbury; Carl Oehler, 26, Deerfield; Christopher James Hazel, 48, Jason Brian Ball, 40, and Kevin Martin Campbell, 19, all of Derry; Luis A. Leon, 51, and Zachary W. Watson, 26, both of Dover; Richard A. Stockwell, 54, Elkins; Kimberly Ann Vazquez, 45, Enfield; Anthony Michael Ferullo, 30, Epping; Constance H. Cho, 49, and Kaylee S. Defreitas, 20, both of Exeter; Timothy J. Larson, 35, Farmington; Joshua F. Wilhelm, 22, Fitzwilliam; Paul Martin, 55, Francestown; Kevin Bryant Gilman, 59, Fremont; Michael Robert Wright, 53, Gilmanton Iron Works; Benjamin Polan, 20, John E. Frost, 61, and Therese Mary Donovan, 63, all of Hampton; Kyle Steven Rajaniemi, 31, Hillsborough; Lynda Lee Sanford, 56, Michael J. Laflamme, 39, Virginia C. Boyce, 47, Jonathan E. Provost, 32, and Joseph F. Carr, 39, all of Hudson; Amber R. Mitchell, 34, and Christopher N. Charles, 28, both of Intervale; Amanda L. Michaud, 33, Kingston; Peter A. Bernhard, 55, Lisbon; Caitlin N. Lowry, 19, and Devin C. Quinn, 23, both of Litchfield; Skyler R. Endyke, 19, and Linda J. Abbott, 59, both of Londonderry; Roy Healey, 62, Stanley P. Pittore, 50, and Mwunvaneza Francis, 48, all of Manchester; Dany J. Michaud, 25, Mason; Kevin H. Kazmirchuk, 45, and Shannon L. Healey, 22, both of Merrimack; Joseph E. Gorgoglione, 58, Milford; Daniel R. Parent, 40, James A. Taylor, 35, John Michael Dyer, 25, Myriah R. Bliss, 27, Richard F. Caruso, 74, and Warren Robert Picard, 56, all of Nashua; Wendell W. Deuso Jr., 62, New Durham; Shannon Lee Cadoret, 42, New Ipswich; Brian R. Hammell, 57, Nathaen A. Dunham, 34, and Brian W. Putnam, 60, all of Newport; Daniel R. Kolias, 23, and George J. Fraser, 34, both of Newton; David R. Howard, 55, Nottingham; Kari Renee Williams, 33, Ossipee; Danielle M. Fortin, 28, Pittsfield; Jennifer L. Law, 45, and Christopher C. MacDonald, 28, both of Portsmouth; Jeffrey M. Long, 48, Sanbornville; Kenneth Paul Hallinan, 60, and Walter V. Messer, 66, both of Seabrook; Cole William Gagne, 21, Gerardo J. Martinez, 44, and Stephen J. Spofford, 52, all of Somersworth; Kevin L. Washburn, 33, Tilton; Laurie A. Howe, 60, Twin Mountain; Carl Earl Rackliff III, 48, Weare; Kaitlin Leigh Ann Compton, 24, Whitefield; Aaryn D. French, 43, and Michael F. MacDonald Jr., 24, both of Windham.
Out of state
Nicholas E. Paventi, 44, Kinsington, Conn.; Suzan A. Rago, 43, Boxford, Mass.; Aaron J. Inman, 40, Bradford, Mass.; Kevin T. Dobbins, 60, Burlington, Mass.; Derek L. Rondeau, 23, and Michael R. Purpura, 23, both of Dracut, Mass.; William Sponagle, 30, Haverhill, Mass.; Jason R. Laroche, 32, Luis A. Fuentes, 24, and Margarita J. Manon, 31, all of Lawrence, Mass.; Andrew L. Mendes, 32, and Alexis Nunez, 29, both of Lowell, Mass.; Kevin Deas, 32, Methuen, Mass.; Michael Rogers, 54, Middleton, Mass.; Joseph M. Pizzano, 29, North Billerica, Mass.; Mauro N. Caputo, 62, Rowley, Mass.; Branden C. Logan, 21, Buxton, Maine; Jaimie Overlock, 33, Harrison, Maine; Tecorie Maurice Green, 27, Seven Springs, N.C.; Brian S. Brooks, 41, Gilman, Vt.