CONCORD — The Director of Motor Vehicles, Elizabeth A. Bielecki, has released the following list of Driving While Intoxicated revocations. Please note the actual date of revocation may have preceded this announcement.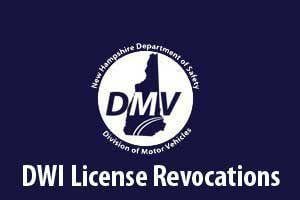 Daniel N. Segal, 42, Boscawen; Samuel L. Howe, 30, Center Conway; Shawn Demers, 38, Derry; Kayne S. Kreitzer, 27, Epsom; Chris Peterson, 56, Gilmanton; Hugh Edward McQuarrie, 54, Nicholas M. Zaricki, 28, and Nicole Anne Langelier, 39, Goffstown; Spencer D. Simonds, 21, Hampton; Michael D. Roberts, 20, Hinsdale; Kristopher G. Boudreau, 27, Hooksett; Frank Joseph Harzmovitch, 53, Laconia; Jeme A. Aguilar, 23, Lauren Maria Curtiss, 23, Samban Sambath, 38, and Tammy Jo Hollingsworth, 55, Manchester; Matthew T. Parlato, 47, Milton Mills; James J. McLaughlin, 59, and Victor R. Rosario, 27, Nashua; Brian F. Chisholm, 47, New Boston; Mark Steven Carlson, 57, New Hampton; Dustin R. Somero, 30, New Ipswich; Matthew S. Ingham, 37, Newton; Justin W. Degrande, 35, North Conway; Lauren M. Hennessy, 21, Northfield; Kimberly A. Gagne, 44, Plaistow; Daniel J. Sullivan, 30, Seabrook.
Out of state
Harry Clifford Magee, 57, Louisville, Ky.; Goran Sljuka, 51, Everett, Mass.; Nicole M. Dellacroce, 46, Haverhill, Mass.; Gordon Correia, 59, Hyannis, Mass.; Toby T. Lopes, 32, New Bedford, Mass.; Edward V. Alexander, 53, Newark, N.J.; Ben L. Parks, 47, Holland Patent, N.Y.; Michael Liam McBride, 42, Akron, Ohio; Zachary R. Wilkins, 24, Jamaica, Vt.; Ryan Chamberlain, 26, Winooski, Vt.