CONCORD — A former judge who resigned in 2008 after helping her disbarred lawyer husband hide money from the state, and who is now suing the state's judicial retirement plan to get a nearly $90,000 annual pension, has filed a motion for summary judgment.
Patricia Coffey, 64, who now lives in California, last June filed a federal lawsuit against the NH Judicial Retirement Plan and its board of trustees after they turned down her bid for a $89,600-a-year pension.
Coffey has asked the pension be retroactive to October 2013, when she turned 60 years old, which would entitle her to $400,000 in post-employment compensation.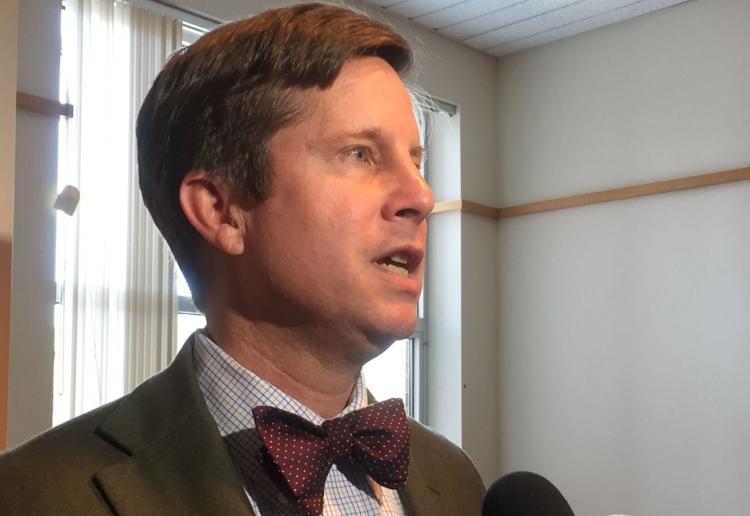 In a February 2015 decision against her, the board said state law requires someone remain on the bench until the date of retirement, said Scott Harris, a lawyer with the McLane law firm, representing the retirement authority.
Coffey resigned in April 2008 after more than 16 years as a Superior Court judge. At the time, the Supreme Court had suspended her for three years without pay for helping her husband — former state Rep. John Coffey, R-Rye — to create a trust to shield money while he was disbarred for financially exploiting a Rye woman.
The Judicial Conduct Commission reprimanded Coffey about six months after she stepped down for drawing a salary from a document retrieval company while she was sitting as a judge on the bench.
The JCC found that Coffey, acting as a judge and taking a salary from the New York firm, violated three canons of ethical conduct for jurists.
She had also come under investigation in 2006 following allegations that she fell asleep while court was in session and was ordered to submit to random monitoring of her courtroom.
Coffey had also served two years each as a district court judge and part-time municipal judge before her promotion to the Superior Court, where she presided mainly in Rockingham County.
Russell Hilliard, a Portsmouth lawyer and former chairman of the Legislative Ethics Committee, serves as Coffey's lead lawyer in the lawsuit.
He argues her years of service entitled her to a pension equal to 71 percent of her final salary, which was $126,200 annually. The retirement plan permits someone with at least 15 years as a judge to receive a pension upon reaching the age of 60.
Harris argued the law states judges must put in for retirement upon leaving the bench and that Coffey did not do that, choosing to resign instead.
Coffey then applied for her pension in January 2015, more than a year after she turned 60 on Oct. 7, 2013. Her lawyers maintained she legally "retired" from state service on April 21, 2008.
In their motion for summary judgment, Coffey's lawyers argue there is no basis in "statute, in the Plan terms, in the practices and policies of the Internal Revenue Service, in the Internal Revenue Code itself, or in the Board's practices for denying plaintiff her pension."
"The court should therefore grant summary judgment to the plaintiff, overturning the Board's denial of her application for pension, awarding her all pension payments to date from the age of 60, ordering that she be paid her pension in full going forward, and that she be awarded medical benefits and any other related benefits that she is entitled to along with her pension," reads Hilliard's motion.
Hilliard states the defendants have interpreted the plan as forfeiting pensions if a jurist has a break in service and does not retire from the bench.
"The board's entire basis for denying plaintiff's pension application requires reading into the statute language that is not contained in it, and that the legislature did not elect to include in the statute," writes Hilliard. "The legislature imposed only two express requirements that Plaintiff had to satisfy to receive a pension, and no others: that she be of the requisite age and have the requisite years of service. Plaintiff satisfied both conditions, and Defendants have never asserted to the contrary."