MANCHESTER — Lawyers accused each other of being untruthful at a contentious hearing Thursday seeking a new trial for a city man because two officers who testified against him were allegedly dating.
At issue is last month's conviction of Chasrick Soren Heredia, 24, of two felonies stemming from a confrontation last May between police and patrons of the now-closed GlowBar. The jury refused to convict Heredia of attempted murder urged by Assistant Hillsborough County Attorney Donald Topham, the lead prosecutor, but found him guilty of several lesser charges.
Now, public defender Julian Jefferson is seeking a new trial, saying he was not informed that officer Canada Stewart — whom police claimed Heredia tried to kill — and Michael Roscoe, who grappled with Heredia outside GlowBar and testified at trial, were dating.
Thursday, Topham insisted Jefferson disclose specifics of when he learned of the relationship between the officers and from whom. If Jefferson knew about the relationship during the trial and said nothing at the time, he can't use the information now to win a new trial.
Several times Jefferson said he learned of the relationship on Feb. 14, six days after the verdict. He said his investigator went on Facebook and confirmed it the following day.
Pressed by Topham and Judge Messer, Jefferson would only say the tip came from a colleague in his own office.
"Absent a court order, I'm not saying anything more than that," Jefferson said. He said he found it "insulting to me as an attorney" to have his word questioned.
"This is not personal and you shouldn't take a personal affront," the judge said. "You filed a motion for a new trial."
Emotions ran high, with both Topham and Jefferson accusing each other of being untruthful in the early going.
Topham insisted that Jefferson reveal the name of the colleague who told him of the relationship.
Judge Messer will hold a hearing Friday at which Jefferson's investigator will testify about his investigation, which involved visiting the Facebook pages of the two officers.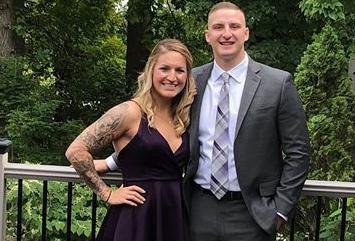 Stewart and Roscoe will have to testify if the prosecution doesn't obtain an acknowledgement from them that they were dating.
Jefferson contends he should have been informed before going to trial, and Topham claims he wasn't aware of a relationship, so there was nothing to disclose.
The Manchester Police Department doesn't prohibit officers from dating each other.
Judge Messer several times cautioned the two sparring attorneys to avoid personal attacks. She also seemed surprised when the assistant county attorney claimed to be unfamiliar with Facebook.
"Attorney Topham, have you ever gone on Facebook?" she asked at one point, to which he replied: Not really. She suggest he let fellow prosecutor, Patrick Ives, tutor him on the social media platform.
Heredia faced decades in prison had he been convicted of attempted murder for what Topham had described as the "jackhammer punching" of Canada Stewart while her head was against the pavement on Hanover Street.
With video of the incident playing a central role at trial, a jury cleared Heredia of that charge and two felony assault charges. He was convicted of felony riot, felony resisting arrest, two misdemeanor resisting arrest charges and one misdemeanor disorderly conduct charge.