Of all the holidays, Thanksgiving celebrates family best.
The weather is cold enough that we huddle together inside. Eat a good meal. Watch a little football. The home fire bathes loved ones in family warmth.
But it's not quite so comfy if you're recently out of prison or battling a drug addiction. Family time can quickly fill a plate with resentment, blame, fights, triggers, drinking, drugging and relapse.
So this past Thursday, a handful of women in Manchester spent family time with their new family.
They live at Dismas Home. It gives a short-term home to women getting out of prison or jail.
They may not share family DNA, but they share social imprints that can have just as powerful an influence on their lives. A felony record. An urge to scramble the mind with drugs or alcohol. A mental health problem. A background of abuse and family dysfunction.
They come together to live in a warm, safe, clean place where they can address those issues with fellow women and develop healthy friendships.
"The minute I walked in here, I knew I was home," said Pat Morrison, who is 68 and is in the final year of her three-year sentence for a drunken driving conviction.
"I get a sense I'm not alone. I'm where I should be," she said.
Dismas Home opened three years ago this month. Its founders, Julie and Jack McCarthy, are committed Catholics who had admired the Dismas approach to prisoner reintegration, which is named after the penitent thief found in St. Luke's gospel account in the Crucifixion. In various forms, the Dismas movement is found in 10 other states.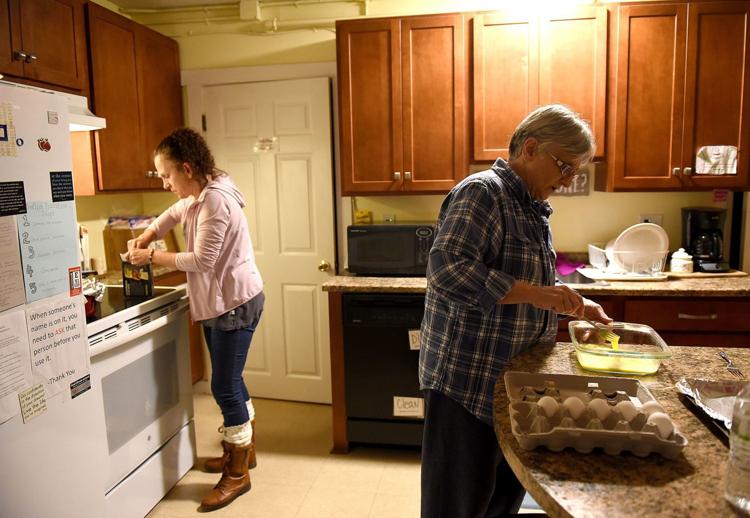 In Manchester, Dismas opened as a sober-living, transitional home. But the McCarthys quickly realized the prevalence of substance use disorder and childhood trauma among the residents.
So they upgraded Dismas. It is now a state-licensed alcohol and drug rehabilitation/transitional living program. That means the women get a bed, a clean home and counseling and group therapy.
"When I came to Dismas, I was broken down, beaten," said Joeline Horton, 32, a former Dismas resident who now lives in Concord.
Horton now lives with her mom, which allows her to rebuild the relationship with her 8-year-old daughter. She runs her own cleaning business, in part because as a felon, she couldn't get a job. And she's had her struggles, relapsing about a year out for a short period.
Photographer David Lane and I spent a couple hours at Dismas Home recently. We talked. We got a tour. We hung out while residents made dinner.
The program offers four stages, and people can stay for about a year and a half.
A few had jobs. A couple were on disability. Michelle Freeman, 56, had arrived two days earlier; her focus was on reacclimation and lining up doctor and counseling appointments.
There are rules. Smoking outside only. No slouching around in PJs. TV only goes on at night. Put the toilet paper replacement on the roll.
Lorenda Duquette, who did 90 days in Cheshire County jail for shoplifting a turkey sandwich, said residents would easily recognize if someone was using drugs. She would have no hesitation to tell the executive director, despite the unwritten code of jail inmates to never snitch.
"Somebody using (at Dismas) affects our sobriety. We gotta look out for us right now," she said.
Sundays are community meals, when benefactors such as Saint Anselm College students and volunteers sit down with the residents.
Executive Director Sara Lutat said Dismas spends about $25,000 a month. The money goes to staff and living expenses, such as food, rent and heat. The state covers about 40 percent of the expenses. Dismas has to raise the remainder through grants and donations.
Of the 44 women who have landed at Dismas, 18 have completed the entire four stages. Many leave early because they think they're ready. Only a couple of residents have returned to incarceration, and those involved technical parole violations, not new crimes, Lutat said.
The state Corrections Department regularly works with Dismas and finds its program beneficial to parolees, said Laura Montenegro, a spokesman for the prison system.
Dismas doesn't claim that everyone has stayed clean or kept out of trouble, she said. Lutat wants to be judged about how the women recover when they do stumble.
"We teach them how to ask for help," Lutat said. "When they first arrive, they don't do that. They're not willing to say they're vulnerable or to trust people."
Some went home to family on Thanksgiving. Morrison, who is serving the third year of her prison sentence under home confinement at Dismas House, can't.
Duquette can go home on weekends, but she was there on Thursday, along with a few community members and volunteers.
Duquette and Morrison expected to have some relatives on hand for Thanksgiving.
Freeman, who is estranged from her blood relatives, will be with family – her new family.
"I've spent a lot of time in prison, and I don't particularly care for women. We are drama-filled and petty," she said. But at Dismas, "I have never seen a bunch of people who are more compassionate, kind and supportive. People are taking the time to help me."