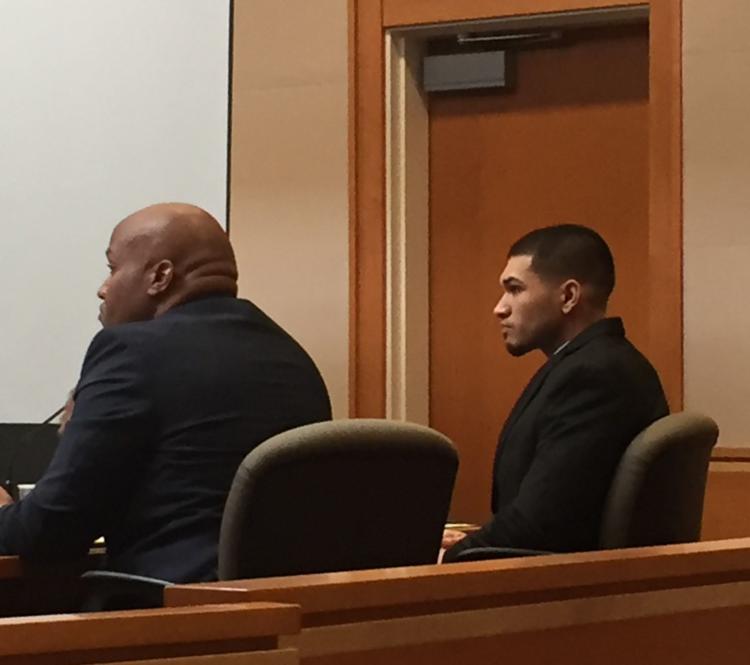 MANCHESTER — Video evidence does not support police claims a man celebrating his 24th birthday at GlowBar tried to murder a police officer, the defense argued as the trial got underway Tuesday.
Chasrick Soren Heredia is charged with attempted murder, felony assault, felony riot and six misdemeanor counts of simple assault and resisting arrest for the May 10, 2018 fracas outside the Hanover Street establishment.
The attempted murder charge alleges Heredia held Manchester police officer Canada Stewart down in the street by her hair and repeatedly punched her face.
At the time of his arrest, the assault on Stewart was characterized as she being "jackhammer punched" by Heredia.
Public defender Julian Jefferson was quick to counter that assertion Tuesday. Citing the video evidence, he painted a picture of police overreacting and turning violent as a crowd grew outside GlowBar and heaped scorn on the officers.
"The only one throwing wild punches, hitting his (Heredia's) head and hers (Stewart's) is officer (Michael) Rosce," Jefferson said. "(Heredia) sits before you now wrongly accused of attempted murder."
Prosecutors admit video of the incident does not support the "jackhammer" punching claim, but the officer's terror is clear, said Donald Topham, who is prosecuting the case for Hillsborough County.
"You can hear her screams. When you hear them, you can hear she is terrorized," he said. "She is afraid she is going to die right there on Hanover Street in front of the GlowBar."
At another point, Topham claimed, Heredia punched Stewart in the face as police tried to take his cellphone away.
Prosecutors claim Stewart lost consciousness at one point and suffered a concussion that caused her to miss work for an extended period.
However, the video paints a somewhat different picture, according to Jefferson. It shows Stewart in the immediate aftermath of the alleged attack interacting with the crowd and speaking to the person video-recording the incident.
The trial is expected to include testimony from police and witnesses that night, a doctor who treated Stewart, and a frame-by-frame analysis of the video.
In early testimony, police described a scene that quickly grew confrontational outside the bar, which was located on Hanover Street near the corner of Chestnut Street.
Initially at issue was a bouncer preventing Heredia's brother, Joshua, from returning to the bar.
Chasrick Heredia, who police said was intoxicated, first got into a shoving match with a friend who was trying to convince him to obey police and leave, according to officer Nathan Harrington.
Once they stepped onto the street, police felt they had to take action. But one of the men tried to grab officer Roscoe's belt, Harrington testified.
Police brought Heredia to the ground and while they struggled, others in the crowd were striking officers from behind, Topham said.
During this, Heredia, who was prostrate on the ground, kept his arms locked under his body.
Jefferson told jurors he was trying to hold on to "the only source of power he thought he had" — the video camera on his phone.
At one point all three officers — Harrington, Roscoe and Stewart — were atop Heredia.
With the angry crowd closing in, Roscoe got up to push them back, Harrington testified. Harrington then got up to assist Roscoe, who was being surrounded.
Harrington testified that backup was probably a minute away.
"I was just trying to hang on and persevere," he told the jury.
That's when Harrington said he looked to his left and saw Heredia grab Stewart's hair. The officer did not mention repeated blows during Topham's questioning.
Thirteen women comprise the 14-person jury pool, which will be whittled to 12 after testimony concludes.
Several friends and family members of Heredia were in court Tuesday morning, including his grandmother, Ann Barry. She called her grandson a good kid with a fondness for animals and his 4-year-old daughter.
"They're lying," she said of police, alleging they used excessive force in the arrest.
Correction: Due to an editing mistake, a previous version of this story had erroneous information. Prosecutors in the case were the first to publicly characterize the alleged blows to Officer Stewart as "jackhammer punches."