CONCORD — An Auburn man pleaded guilty in federal court this week to drug trafficking and firearms charges, officials said.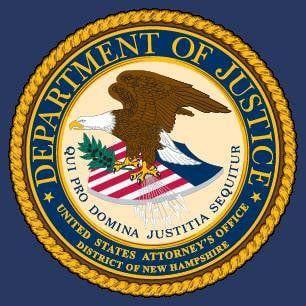 Joshua Simard, 31, of Auburn, is scheduled to be sentenced Sept. 16 in U.S. District Court in Concord on drug trafficking and firearms offenses, U.S. Attorney Scott Murray announced Wednesday.
According to court documents and statements made in court, law enforcement personnel arrested Simard last July at a Bedford hotel.
According to court documents, on July 31, Bedford police were dispatched to the Hampton Inn and Suites. An officer arrived on the scene and reported seeing a woman in the passenger seat of a vehicle and later arrested her for possession of crack cocaine.
Following the arrest, officers encountered Simard as he attempted to gain entry to the car. The defendant had two backpacks, which officers seized. Officers obtained a warrant to search the backpacks.
In one they reported finding, among other things, a Smith & Wesson M&P Shield .45 caliber pistol, 13 rounds of .45 caliber ammunition, more than $6,000, four folding knives, brass knuckles, a Hampton Inn & Suites key, a AAA card bearing Simard's name, and two plastic bags with white powder.
According to a press release from Murray's office, the white powder was determined to be more than 150 grams of cocaine.
In the other backpack, officers found digital scales; a suspected drug ledger; a checkbook bearing Simard's name; and items used to cook cocaine into crack cocaine, including a box of baking soda, lighter fluid and a torch lighter.
"Guns and drugs are a potentially lethal combination," said Murray. "When drug traffickers possess firearms, they pose a very serious danger to the community. In order to protect the public, we will aggressively prosecute armed drug dealers."