BRENTWOOD — Police are on the hunt for a brazen burglar who walked into a self-storage business late Tuesday morning and grabbed nearly $5,000 in cash from a register before running off when he was spooked by an employee.
Police Chief Ellen Arcieri said the man dressed in a hooded sweatshirt with Newburyport on the front and a red clipper ship on the back showed up at U-Haul Moving & Storage around 10:15 a.m.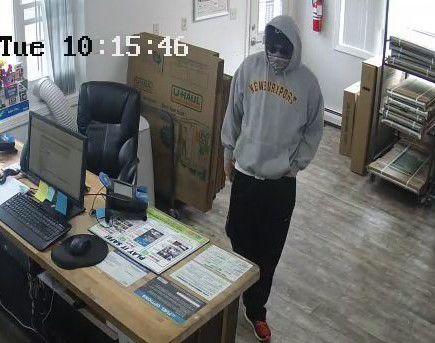 She said video surveillance showed the man walking directly behind the counter toward the cash drawer inside the business at 32 Middle Road.
One employee was doing an inspection in the parking lot at the time.
"When he saw the suspect go in, he thought it was a customer," Arcieri said.
The alleged thief had little trouble opening the register and was seen rummaging through the drawer when the worker came inside and caught him in the act, according to Arcieri.
Once he noticed the worker, the man allegedly took the wad of cash and fled the scene.
Arcieri said he fled the business on foot, but likely had a vehicle waiting somewhere nearby.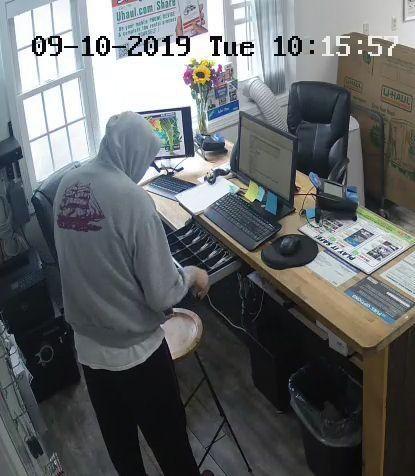 "We believe it was a strategic burglary," she said, adding that on Monday some storage bins were being auctioned off and the alleged thief likely knew that the business might have more cash on hand.
The man was described as being approximately 30 years old and 6 feet tall, wearing the gray hooded sweatshirt, white T-shirt, black pants, a blue ball cap, a reddish bandanna over his face, and red sneakers.
"There's no cause for alarm as far as public safety goes," Arcieri said.
Brentwood police were assisted by the Brentwood police dog, New Hampshire State Police who also used a police dog, the Rockingham County Sheriff's Office, and nearby police departments, including Exeter and Fremont.
Anyone with information is asked to call the Brentwood Police Department at 642-8817.