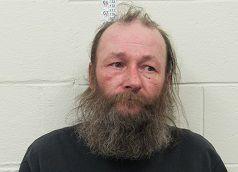 NEWPORT — A 2-year-old girl who was shot in the leg while she lay sleeping is recovering and the downstairs neighbor who allegedly fired the shot through his bedroom ceiling is now charged with felony reckless conduct with a deadly weapon.
The girl and her parents live in an upstairs apartment at 147 Laurel St. According to police their downstairs neighbor, Timothy Hale, lives alone in an apartment strewn with empty beer bottles and loaded guns.
The shooting happened about 11:30 p.m. Sunday as Cynthia Belrose and John Martioski were in bed and their 2-year-old daughter was asleep in her bedroom, Assistant Sullivan County Attorney Justin Hersh said. The couple heard a loud bang and rushed into their child's room to find her bleeding and crying, Hersh said.
Hale, reportedly shirtless and agitated, came to their door right after the shooting to apologize, saying it was an accident, Hersh said.
Police got to Laurel Street to find Belrose outside crying and holding her bleeding child. The girl suffered a gash in her leg from the shotgun blast and was taken to Dartmouth-Hitchcock Medical Center in Lebanon.
Hale told police he had a six-pack of beer before going to sleep. He awoke, he told police, thinking there was someone in the apartment so he had grabbed one of his shotguns — this one a 12-gauge loaded with bird shot — and fired it, Hersh said.
While police did not find any intruder, they did find many beer empties, as well as loaded and unloaded shotguns and ammunition, placed throughout the apartment. Hale also had a loaded .45 caliber pistol underneath the pillows on his bed, Hersh said.
Martioski told police that Hale was seen Sunday afternoon drinking beer in the yard and acting agitated, Hersh said. Hale's girlfriend told police that he got upset when someone questioned him about brush he was burning on Sunday afternoon, and that Hale ruminated on this for much of the day, Hersh said.
Hale is disabled with arthritis, according to Jay Buckey, his attorney.
Superior Court Judge Brian Tucker freed Hale on personal recognizance bail with the conditions that he not own any guns, that he stay away from drugs and alcohol, and that he move out of the Laurel Street apartment and stay with his sister in Georges Mills.