A Derry man was arrested Friday morning for negligent homicide and reckless conduct in the wrong-way crash that killed a retired police sergeant and his wife on Route 101 Jan. 10.
New details about the deadly head-on accident near Exit 7 emerged after Ryan Kittredge, 31, was formally charged in the deaths of John and Heidi Johnson of New Ipswich.
Kittredge, who suffered a broken back and other injuries, hobbled into Rockingham County Superior Court in Brentwood on crutches for a bail hearing Friday afternoon after surrendering to police about 8:30 a.m. He waived his arraignment and pleaded not guilty.
He was made to wear the handcuffs that the 58-year-old Johnson had used during his nearly 40-year career before retiring last July.
Judge Andrew Schulman agreed with county prosecutors that Kittredge, who has had two prior convictions for driving under the influence and two speeding tickets in recent months, was a danger to the public and should remain held without bail at the county jail.
"The conduct in this case was crazy," said Schulman, who later wrote in a bail order that prosecutors had established "overwhelming proof of wildly reckless conduct that resulted in two deaths by seemingly deliberately driving the wrong way" on the highway while showing signs of impairment.
State police have said they believe impairment was a factor, but are still awaiting the results of toxicology tests.
"He has a history of driving under the influence. He knows what he should and shouldn't be doing," Assistant County Attorney John Mara said.
Public defender Stephanie Arani acknowledged that the crash was tragic, but argued Kittredge should be released on personal recognizance bond given his injuries.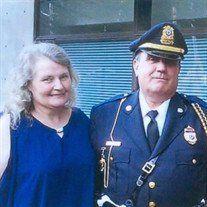 The Johnsons were killed while heading home to New Ipswich after attending their great-niece's basketball game in Maine earlier in the day.
State police say the couple was traveling westbound in a 2008 Chevrolet Impala when it was hit head-on by Kittredge's 1998 Dodge 1500 pickup truck. Kittredge had also been traveling west but at some point made a U-turn and began heading east in the westbound lane.
A third vehicle, a Ford Fusion driven by Andrew Neeper, 23, of Raymond, hit the truck because he was unable to see the crash when he approached in the dark. Neeper wasn't seriously injured.
In an affidavit, state police wrote that after the crash a trooper at the scene observed that Kittredge had an odor of alcohol, had "slow, mumbled, slurred speech," didn't know where he was, and had "watery, glassy eyes with constricted pupils."
A paramedic told police that in an ambulance, Kittredge said he had been at Bernie's Beach Bar in Hampton and a friend's house earlier, had two beers, and wasn't driving.
Despite that claim, state police said there were a number of belongings in the passenger's seat of Kittredge's truck that would have "precluded a passenger from occupying that seat." Also, an emergency room doctor who came upon the accident told investigators that he found Kittredge pinned in the driver's seat, which left "little to no doubt that he was the driver and sole occupant of the vehicle," the affidavit said.
Townsend Deputy Police Chief James Sartell and several members of the Johnson family attended Friday's hearing.
"We're elated that progress has been made in the investigation. Unfortunately, nothing dulls the pain of losing two fixtures of the community like Mr. and Mrs. Johnson," Sartell said.