CONCORD — Gov. Chris Sununu and top law enforcement officials confirmed Wednesday that for decades, the state has had a backlog of files on drivers whose licenses had yet to be suspended for driving infractions.
An exhaust audit by the agency over the last two months resulted in 3,852 in-state and out-of-state drivers getting their licenses suspending.
Flanked by Safety Commissioner Robert Quinn and Division of Motor Vehicles Director Elizabeth Bielecki, Sununu confirmed that the backlog has now been erased, resulting in license suspensions for seven commercial truckers and notices about out-of-state actions taken sent to another 904 New Hampshire drivers whose driving privileges were suspended by other states.
Those out-of-state notices went back to September 2017, officials said.
Further, the backlog included 9,230 default notices about drivers who failed to follow court actions such as pay speeding tickets or complete punishment for other petty crimes such as shoplifting. Among all those default notices, this review resulted in 2,941 of NH and out-of-state drivers having their licenses suspended.
From the default records, another 1,508 residents were sent notices that their driving privileges were suspended and the same default notices were sent to another 1,433 out-of-state residents.
Sununu announced a series of 10 short- and long-term reforms to improve the system, including getting the Legislature to end its longstanding aversion to sharing driver information with regulators in other states.
The goal is for New Hampshire to fully link up with the American Association of Motor Vehicle Administrators database now under development by June 2021, Sununu said.
"I am excited by the fact we are in a good place today, and going forward we are always going to challenge ourselves to get better," Sununu said.
The review was prompted by the revelation that the Bay State truck driver charged in the June crash that killed seven motorcyclists in Randolph should have had his commercial license suspended, but for a massive backlog of out-of-state notifications at the Massachusetts Registry of Motor Vehicles.
During a news conference Wednesday, Sununu said there was a "night and day" difference between the backlog in New Hampshire at the time of the Randolph crash and that in Massachusetts, where investigators found boxes of suspension notices that had never been reviewed sitting in a Quincy warehouse.
Sununu said the backlog suspensions processed in New Hampshire since the mid-June crash were not connected to any highway fatalities.
"There was massive systematic failure in the state of Massachusetts," Sununu said. He credited Mass. Gov. Charlie Baker, a fellow Republican, with cleaning house at his RMV and pushing for reforms.
"It is so big; so widespread; that was not the issue here. All the issues here were constantly being addressed," Sununu said.

Massachusetts resident Volodymyr Zhukovskyy is sitting in a New Hampshire jail charged with seven counts of negligent homicide in connection with the Randolph crash on June 21 that killed members and supporters of the Jarheads Motorcycle Club.
Officials have said that Zhukovskyy should not have been on the road.
In May, he had been arrested for driving under the influence in Connecticut but did not have his commercial driver's license suspended by Massachusetts, even after information regarding the DUI had been forwarded by Connecticut.
The disclosure led to the resignation of Erin Deveney, the director of the Massachusetts Registry of Motor Vehicles and firings of other officials.
Deveney had said New Hampshire also failed to transmit notifications about out-of-state drivers who should have their licenses suspended.
The white paper about the internal review Sununu released said the state DMV is now working with Massachusetts RMV to create an electronic exchange of conviction and suspension records.
For comparison, New Hampshire's white paper noted the backlog of notices about out-of-state actions totaled 13,015 at the time of the Randolph crash; in Massachusetts the number of records not acted on was more than 100,000.
While the DMV sent notices about out-of-state suspensions to 904 New Hampshire drivers, the Massachusetts review found it needed to send out at least 2,476 such notices.
"This issue goes back decades; just because our systems weren't electronic doesn't give us an excuse. We are more up to date on this than the state has ever been," Sununu said.
Sununu had been unaware of backlogs
While New Hampshire backlogs at the DMV were common, Sununu admitted that until the Randolph tragedy he was not aware of them.
"No, I was not made aware of it at all until the issue came to bear in the last 60 days," Sununu said.
Bielecki said many on her staff worked seven days a week and in 12-hour shifts during this review to erase the entire backlog.
She couldn't say how far back the suspensions went or how much the audit cost taxpayers.
Bielecki did add one stark statement that spoke to the difficulty matching state records up with the national driver license information system.
"We were not sending notices to other states since July 2016," Bielecki said.
During the review, she said the DMV mailed all these notices to out-of-state counterparts.
Safety Commissioner Quinn said prior to the Randolph crash there had been no specific deadline for erasing the backlog but said it was well in the works and driven by a new VISION system that will create automatic entry of all these records so they don't have to be brought onto the state's computer system manually.
"We were trying to eliminate this as quickly as possible," Quinn said.
Later he added, "We accelerated our timeline to eliminate any backlog."
Sununu said many city and town motor vehicle offices continue operating on paper; Nashua will come online soon and he encouraged local officials in all communities to explore electronic filing.
"We would like to see all the departments across the state to get on board," Sununu said.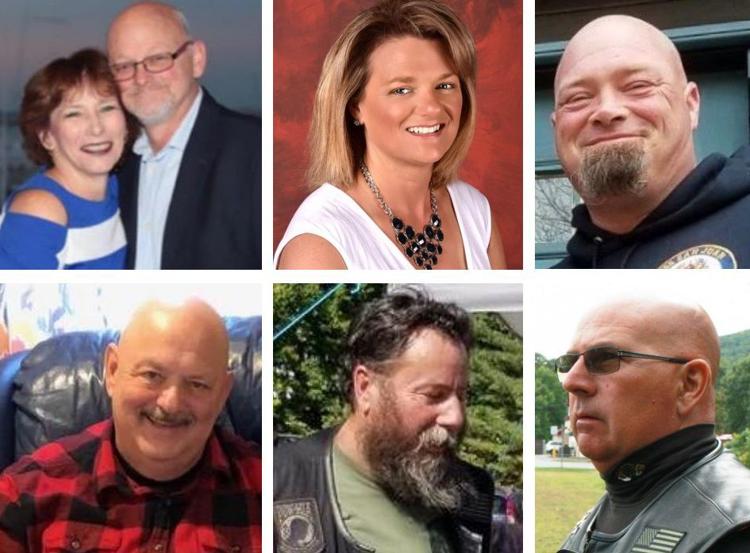 Zhukovskyy, 23, of West Springfield, Mass., was driving a pickup truck towing an empty flatbed trailer when he mowed down the line of motorcyclists.
A report of an inspection conducted the night of the fatal crash by the Federal Motor Carrier Safety Administration reveals that Zhukovskyy tested positive for a "narcotic drug/amphetamine." It cites that drug use as rendering the driver "incapable of safe operation."
Possession and use of drugs are "red flag violations" for commercial drivers, according to a manual for administration inspectors. Two red flag violations result in the suspension or revocation of a commercial driver's license. The manual states trucking companies are supposed to drug test new drivers before they start work.
The FMCSA report also cites "inattentive driving," stating that the driver "claimed to have been reaching for a beverage on the passenger side of the vehicle when the vehicle crossed over the double solid yellow line."
The seven motorcyclists who died, and three others who were injured, were members and supporters of the Jarheads Motorcycle Club, a group for Marines and elite Navy corpsmen, who were in the North Country for an annual gathering. Four of the victims were from New Hampshire, two from Massachusetts and one from Rhode Island.