CONCORD — The Director of Motor Vehicles, Elizabeth A. Bielecki, has released the following list of DWI revocations. Please note the actual date of revocation may have preceded this announcement.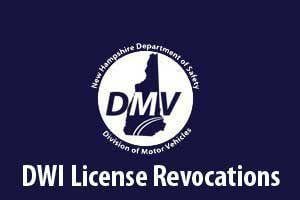 Kristy L. Lipke, 42, Bedford; Scott A. Martin, 53, Berlin; Scott W. St. Clair, 60, Chester; Jeffrey C. Biron, 35, and Cheyenne R. Lee, 24, Concord; David A. Jaskot, 51, Peter Mark Kershaw, 53, Tammy C. Langone, 47, Connor A. Lovejoy, 27, and Michelle S. McMaster, 37, Derry; Patrick James Somers, 54, Dorchester; Patricia J. Martin, 55, Fremont; Marcie M. Hyslop, 33, Gilmanton; Ryan P. Vickers, 26, Hampton; Drake E. Naples, 31, Hanover; Guy Milinazzo, 56, Hill; Stephen V. Giaconia, 20, Hollis; Daryl B. Frasch, 31, Hooksett; Anthony J. Salmon, 34, Hudson; Ronald Lester Higgins, 61, Keene; Aminata Henderson, 25, and Ashley S. Oliveira, 29, Laconia; Michael Madore, 59, Lancaster; Amy J. Hansen, 20, Lebanon; Javar N. Rochelle, 32, Littleton; Gordon W. Clarke, 60, Londonderry; Frederick Thomas Boyle Jr., 26, Rudy A. Morales, 33, Kevin John O'Neill, 58, and Kiran Rai, 25, Manchester; Joseph M. Brown, 26, Merrimack; Morgan P. Diltz, 26, Moultonborough; Amber D. Carpenter, 58, Antonio D. Franco, 31, Brittany M. Macintyre, 25, and Romilda M. Simas, 44, Nashua; John O. Moro, 19, Pelham; Chance Holton, 29, Portsmouth; Korah T. Desautel, 25, Daniel M. Foley, 48, and Sarah K. Roy, 36, Rochester; Michael J. Poplawski, 49, Rollinsford; Marc A. Glaser, 38, and Christopher S. Learoyd, 33, Salem; Paul G. Landry, 66, Sandown; Teresa Corona, 39, Seabrook; Michael L. Barrett, 33, Swanzey; Daniel P. Smith, 35, Westmoreland; Kimberly A. Larochelle, 24, Windham.
Jesse D. McKinney, 36, North Berwick, Maine; Daniel A. Ruidiaz, 25, Boston, Mass.; Jason M. Angove, 29, Dracut, Mass.; Daniel M. Reis, 38, Lakeville, Mass.; Gabriel Martinez, 56, and Katrina Santiago, 27, both of Lowell, Mass.; Nathan A. Forrest, 32, and Brianna Moon, 23, both of Salisbury, Mass.; Aaron McCammon Daughtry, 22, Southaven, Miss.; Donald H. McCree, 57, Rye, N.Y.; Michael Davis, 51, Lancaster, Pa.; Lora Graham, 66, Ascutney, Vt.