CONCORD — The Director of Motor Vehicles, Elizabeth A. Bielecki, has released the following list of Driving While Intoxicated revocations. Please note the actual date of revocation may have preceded this announcement.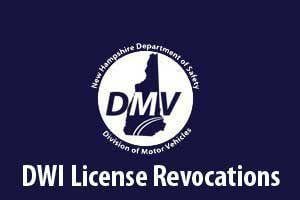 Danielle V. Vintila, 30, Alexandria; Spencer L. Dayton, 26, Amherst; Erika L. Lane, 32, Barnstead; Heidi Lynn O'Hara, 44, Belmont; Cheryl Lynn Conrad, 62, Bow; Susan Marguerite Rocke, 63, Canaan; James M. Hayes, 72, Canterbury; Sean F. Dunne, 50, and David E. Gilbert, 48, Center Barnstead; Maria L. Fogman, 52, and Keith Shane Macleod, 40, Claremont; Anthony J. Cicirello, 34, Charlene M. French, 41, Ivan V. Noordergraaf, 26, and Nicole M. Oliver, 25, Concord; Kelly J. Murphy, 21, Derry; Robert O. Fissel, 31, and Quinlan F. Payne, 21, Dover; Thomas J. Asaph, 49, and Kirsten Denise Moskowitz, 44, Epping; Chad L. Streeter, 37, Fremont; Kayla R. Johnson, 28, and Salisha Wobrock, 32, Goffstown; Corey B. Carpenter, 30, Harrisville; Lawrence O. Harvey, 60, Keene; Travis R. Oak, 37, Laconia; Nicholas Conte, 31, David Allen Littlewood, 55, Francisco A. Martinez, 50, Courtney F. Nolet, 25, Tyler S. Sargent, 24, Shelley A. Williams, 28, Manchester; Joshua P. Higgins, 32, Meriden; Catherine R. Aborn, 23, and Matthew P. Winslow, 39, Merrimack; Jacob M. Pizz, 21, Milton; Julie Guarino, 47, and Robert J. Trepanier, 35, Nashua; Ashley M. Leclair, 29, New Boston; Ashley T. Bean, 31, Pembroke; Sean W. Harmon, 49, Christopher Y. Jolin, 33, and William D. O'Carroll, 62, Rochester; Suzanne R. Scott, 40, Rumney; Lillian L. Page, 23, Rye; Donald Richard Houde, 54, Salem; Brenda Lee Nico, 36, Seabrook; Michael J. Brochu, 30, and Cora D. Long, 32, Somersworth; Isaias A. Muniz, 23, Tilton; Jessie M. Guay, 30, Washington; Anthony P. Marden Jr., 54, Weare; Aaron K. Morrison, 39, Winchester; Tricia C. Sibilia, 54, Windham.
OUT OF STATE
Justin Daniel Riley, 41, Loveland, Colo.; Renee Lynne Dockham, 33, Berwick, Maine; Elizabeth O'Neill, 23, Jamaica Plain, Mass.; Kasey Gilbert, 32, Methuen, Mass.; Brittany M. Sabonis, 23, Westfield, Mass.; Christian A. Cunha, 24, Bristol, R.I.; Richard S. Holsombach, 43, Saunderstown, R.I.; Robert A. Hinson, 45, Greenbrier, Tenn.; Jessica M. Oakes, 33, Rutland, Vt.