CONCORD -- The Director of Motor Vehicles, Elizabeth A. Bielecki, has released the following list of Driving While Intoxicated revocations. Please note the actual date of revocation may have preceded this announcement.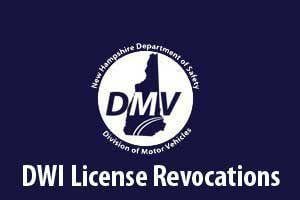 Wayne I. Sauerheber, 64, Allenstown; Kristen M. Provencher, 45, Barrington; Gary J. Larochelle, 48, Boscawen; Travis J. Dewees, 22, Center Conway; Michael L. Mansur, 34, Chester; Michael John Demars, 48, Claremont; Anthony B. Benson, 24, and Doug P. Hewey, 25, both of Concord; Nancy E. Russo, 54, and Roger A. Houle Jr., 45, both of Derry; Derek A. Dimartino, 38, and James A. Vincent, 34, both of Dover; Tyler F. Herrick, 23, Dunbarton; Laura Jean Sheehan, 43, Durham; Austin T. Downs, 24, Farmington; John Ramos, 58, Franklin; Jennifer L. Moquin, 41, Goffstown; Thomas James Noyes, 58, Greenland; Benjamin C. Stabler, 39, Hollis; Jason J. Barriere, 44, Hudson; Donald A. Pierce, 59, Kingston; Keith G. O'Day, 62, Laconia; Cole Robert Remillard, 22, and Paul E. Tobin, 54, both of Loudon; Abimael Adorno, 42, Carl C. Jacques, 24, and Kevin Thomas O'Brien, 28, all of Manchester; Angela Jean Snoddy, 40, and Margaret A. Williams, 54, both of Milford; Brett W. Ervin, 58, Mont Vernon; Dianna J. Kittredge, 40, New Durham; Sally S. Wilkins, 75, New London; Barbara A. Green, 55, Newmarket; Edward D. Dupell, 63, Newport; Mark Warrington, 36, Northwood; Kyle A. Lloyd, 20, Pelham; Glen Robert Isaacs, 50, Plainfield; Eleanor Grace Diemer, 60, Portsmouth; Diane M. Fahey, 30, Raymond; Jeffrey N. Prescott, 54, Rochester; Ian F. Stratos, 22, Rye Beach; Edward William Berube, 72, Salem; John W. Foley, 71, Wolfeboro.
Out of state
Jason T. Stopas, 36, Naples, Fla.; Keith A. Hawkes, 40, Billerica, Mass.; Thomas P. Moloney, 62, Lowell, Mass.; Donna M. Conant, 52, Augusta, Maine; Eric A. Poland, 39, South Portland, Maine; Ronald D. Gallant Sr., 61, Windsor, Vt.