CONCORD — The Director of Motor Vehicles, Elizabeth A. Bielecki, has released the following list of Driving While Intoxicated revocations. Please note the actual date of revocation may have preceded this announcement.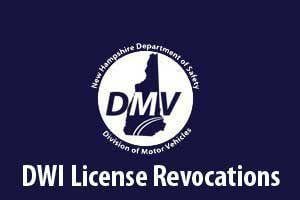 Kevin L. Lumbert, 48, Alton; Cody M. Fortier, 25, Amherst; Daniel W. Kelty, 30, Barrington; Gail M. Lynch, 53, and Laura Margaret Short, 34, both of Bedford; James Herbert Watkins, 65, Belmont; Trevor D. Theriault, 21, and Marissa Lea Hickbottom, 30, both of Berlin; Jason A. Potter, 41, Bristol; Jerry F. Palmer, 74, Canaan; Matthew J. Monaghan, 39, Candia; Ryan P. Sirois, 28, Center Conway; Jared M. Pernini, 34, Center Ossipee; Christopher D. Rothkopf, 37, Hunter M. Taylor, 19, Brandon M. Simpson, 22, Justin T. Pittman, 34, Kyle Lavalee, 18, and Sarah L. Davis, 39, all of Concord; Jason A. Marshall, 36, Dunbarton; Adrian D. Gross, 31, Dover; Tyler J. Richardson, 30, Epping; Joseph L. Reardon II, 28, and Chelsea C. Caisse, 26, both of Exeter; James A. Baldwin, 48, and Timothy R. Smith, 55, both of Fitzwilliam; Kristine M. Patten, 47, Franklin; Ian P. Rollins, 21, Gilmanton Iron Works; Zachary J. Couture, 25, and Robert John Lower, 51, both of Goffstown; David A. Leonard, 57, and Kathryn G. Harvey, 35, both of Greenland; Thomas Daniel Dwyer Jr., 57, Walter L. Sullivan, 63, and John T. Danahy, 28, all of Hampton; Brandon W. Theriault, 32, Hinsdale; Kimberly A. Brogan Patridge, 45, Holderness; Zack J. Gingras, 27, Hooksett; James R. Blaisdell, 42, Hopkinton; Jeremy J. Zamora, 26, and Robert J. Munroe, 48, both of Hudson; Dezmond J. Stevens, 20, David L. Lefebvre, 45, Mitchell L. Britton, 46, and Nicholas C. Lewis, 34, all of Keene; Cody Jacob Earnest, 18, Lebanon; Julian R. Bush, 32, Litchfield; John F. Hyde, 46, Lyndeborough; Daniel R. Houle, 29, James E. Greene, 44, John Carter Ritt, 33, Tyler S. Gagnon, 27, Jonathan Hurl Vance, 27, and Kenneth Scott Pfabe, 53, all of Manchester; Alacea R. Dyer, 34, and Hailey A. Eldridge, 22, both of Meredith; Angela Lynn Jewett, 51, Milan; Adam R. M. Bartlett, 39, Milford; Scott E. Harrington, 24, Moultonborough; Jason W. Stadler, 48, and Maryrose Dimauro, 35, both of New London; Meaghan E. Gregory, 30, North Haverhill; Jonathan E. Coon, 29, and Michael W. Roketenetz, 38, both of Nashua; John C. Gaudet Jr., 70, Northwood; Carl Patalano, 54, and Daniel M. Troville, 33, both of Pelham; Christopher J. Leal, 28, and Daniel H. Fowler, 22, both of Raymond; Christine M. Quint, 52, and Joshua M. Britt, 33, both of Rochester; Kristin Lisa Fili, 52, Peter K. Nightingale, 27, and Serge C. Mathieu, 57, all of Salem; Jason M. Fritts, 44, Seabrook; Michael J. Navoy, 39, Nicholas E. Hudson, 19, and Debra L. Burke, 60, all of Somersworth; Richard Flanders, 39, Stratham; Lydia B. Sarnevitz, 51, Sunapee; Jeremy A. France, 37, Swanzey; Nicholas Wayne Meattey, 20, Weare; Jason M. Mitchell, 30, Winchester; Maureen A. Cefalu, 48, Windham.
Out of state
Justin Isaacs, 36, Amesbury, Mass.; Madeline Henderson, 23, Billerica, Mass.; Jacob Hugh, 20, Chelmsford, Mass.; Craig D. Lundeen, 34, Fitchburg, Mass.; Nicholas L. Hamparian, 55, Hudson, Mass.; William Riley, 55, and Richard Chep, 25, both of Lowell, Mass.; Sarah Bendell, 21, Malden, Mass.; Michael A. Gallant, 29, Medford, Mass.; Carrie Thorburn, 50, Melrose, Mass.; Darin Crippen, 47, Plymouth, Mass.; Joshua Juliano, 26, Salem, Mass.; Carla A. Lemere, 37, Winchendon, Mass.; Harry R. Bean, 32, Kittery, Maine; Matthew C. Taylor, 61, Saint Paul, Minn.; Michael L. Miller, 52, Staten Island, N.Y.; Henri H. Gilbert, 49, White River Junction, Vt.