CONCORD — The Director of Motor Vehicles, Elizabeth A. Bielecki, has released the following list of Driving While Intoxicated revocations. Please note the actual date of revocation may have preceded this announcement.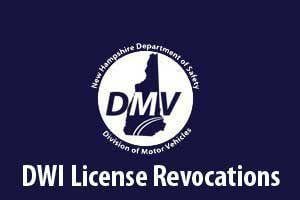 Don Hamilton, 60, and Tracy Lynn Sweet, 33, both of Alexandria; Jessica A. Spaulding, 24, Allenstown; Kristine Carter Westerlund, 27, Berlin; Brian D. Lemay, 37, Epsom; Tatiana J. Ledoux, 18, Franoconia; Brandon J. Shea, 33, Franklin; Logan W. Brander, 30, Goffstown; Ashley E. McClean, 31, Hampton; Christopher A. Nash, 24, Hillsborough; Robert W. Melaragni, 35, and Shawn D. Paprocki, 24, both of Hudson; Daniel R. Hazlett, 42, Dustin J. Hawkins, 46, and Michael J. Hamel, 64, all of Lebanon; Elesha M. Gaff, 34, Erika L. Wiggins, 26, and Nicholas M. Rice, 32, all of Manchester; Amy B. McDonald, 46, Jeffrey C. Leppanen, 46, and Louis Stanley Daniels, 48, all of Merrimack; John W. Carpenter, 32, Lise J. Tremblay, 57, Luys H. Rodrigues, 19, and Scott Alden Tibbetts, 51, all of Nashua; Adam Karr, 35, Newmarket; Conor J. Cregan, 22, Penacook; Brenda Towle, 57, Pittsfield; Mathew V. Simoes, 22, Rumney; Suzanne G. Bathalon, 37, Salem; Lindsay H. McLaughlin, 25, Stratham; Mischa A. Hoffman, 23, Swanzey; Dylan M. Miller, 23, Wilmot.
Out of state
David L. Six, 35, Haverhill, Mass.; Aimee T. LaPointe, 41, Winchendon, Mass.; Katelin J. Ellis, 31, Kittery, Maine; Robert L. Harris, 26, St. Johnsbury, Vt.