CONCORD – The Director of Motor Vehicles, Elizabeth A. Bielecki, has released the following list of Driving While Intoxicated revocations. Please note the actual date of revocation may have preceded this announcement.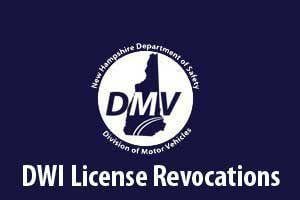 Eugene J. Kilchewski, 42, Bath; Christopher A. Moody, 47, Belmont; Aidan L. McDonnell, 37, Campton; Mae I. Marine, 64, Candia; Scott A. Lizotte, 53, Charlestown; Jessika R. Feeney, 39, Chester; Peter M. Coughlin, 43, Claremont; Ryan T. Johnson, 30, Conway; Courtney Leigh Cox, 26, Derry; Arlie J. Warren, 56, Derek A. Lapanne, 37, and Elizabeth N. Fortune, 56, all of Dover; Matthew Lane, 51, Epsom; Stephen C. Coombs, 23, Exeter; Tristan K. Waterhouse, 36, Farmington; Luke A. Robinson, 27, Franklin; Sonya A. Mason, 43, Greenville; David P. Marcotte, 52, and Matthew N. Famiglietti, 27, both of Hampton; Thomas A. Merkl, 56, Hill; William S. Boyd, 71, Hollis; Jennifer L. Marzolini, 47, and Nathaniel Ledwith, 30, both of Hudson; Robert A. Howe, 30, Laconia; Barry Jay Bresnahan, 69, and Michael E. Peacock, 56, both of Littleton; Alicia L. Strunk, 25, James C. Brauer, 20, and William Morin, 58, all of Londonderry; Gregory A. A. Hood, 27, Paul A. Raymond, 53, and Paul Edeh, 35, all of Manchester; James J. Rogers, 55, Marlborough; Cory Stephan Mangekian, 24, Merrimack; Katanna A. Murphy, 18, Milton; Alex C. Eaton, 25, Bruce Allen Goodwin, 59, and Karl Matthew Saunders, 36, all of Nashua; James S. Wassell, 62, New London; Drew H. Goinsalvos, 21, and Raymond N. Teague Jr., 52, both of Newport; Patrick J. Brassill, 51, North Hampton; Cheyenna L. Smart, 23, Nottingham; Edward C. Solano, 59, Pelham; Adam R. Schroadter, 40, Rye; Paul G. Landry, 66, Sandown; Delmar Archie Hopkins, 63, Swanzey; Yolanda Da Rocha, 42, Tilton; Matthew B. Morse, 31, Windham.
Out of state
Primo G. Vargas, 51, Paso Robles, Calif.; Michael Francis Delfino, 23, Trumbull, Conn.; William D. Fairlie, 53, Agawam, Mass.; John K. Kennedy, 36, Boston, Mass.; Briana J. Haygood, 28, Dorchester, Mass.; William A. Marston, 49, Dracut, Mass.; Janet L. Werder, 53, Haverhill, Mass.; Sergio Morillo, 39, Lynn, Mass.; Brian J. Wells, 23, Weymouth, Mass.; John W. Goff, 39, Lebanon, Maine; Darryl Reed, 46, Aulander, N.C.; Ann Fitzgerald, 25, Charlotte, Vt.; Hummingbird Takahashi, 48, Island Pond, Vt.